art/design
ロイ&エドナディズニー/カルアートシアター
ROY AND EDNA DISNEY/CALARTS THEATER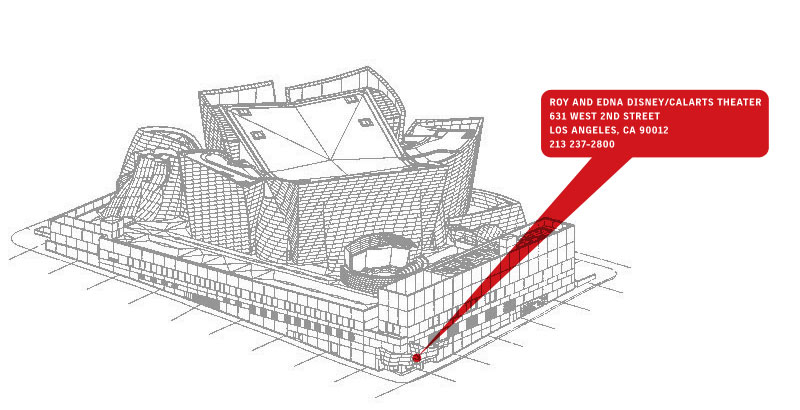 Although it is housed in the same complex as Walt Disney Concert Hall, the Roy and Edna Disney/CalArts Theater has its own unique mandate: to provide a Los Angeles home for new,ロイ&エドナディズニー/カルアートシアターは、ウォルトディズニーコンサートホールのような複合施設であるが、ロサンゼルスに新しく最新鋭なパフォーマンスやアートを提供するために、アーティストがディシプリンや文化、アイデアなどをブレンドさせて試したり、観客に披露したりするための支援を行っている。



1992年にウォルトディズニーコンサートホールの建設が始まった当初、レッドキャットは計画の一部に入っていなかった。プロジェクトが発表されたとき、ウォルトディズニー社の副社長で、ウォルトの甥であったロイはカルアートのチャンスに目をつけて、それから30年以上の月日が流れたが、ロイはカルアートへのサポートを惜しみなく続けていた。その後、ウォルトディズニー社のCEOとなったマイケル・アイズナーとロイは、社内の取締役会での承認を受けて、ウォルトディズニーコンサートホールとカルアートプロジェクトの実現へと動き出した。



ロイ&エドナディズニー/カルアートシアター、通称レッドキャットは、コンサートホールの工事が始まっている最中に、ロサンゼルス郡の承認を得て、建築家のフランク・O・ゲーリーに託された。そうして、レッドキャットは世界中から先進的なプレゼンを行えるスペースとして知られていくことになった。



ROY AND EDNA DISNEY/CALARTS THEATER
住所:631 West 2nd Street, Los Angeles, CA 90012
TEL:+1 213 237 2800
http://www.redcat.org



Translation: Kazunari Hongo cutting-edge performance and art–a laboratory where artists can push boundaries, experiment with forms, and blend disciplines, cultures and ideas.



REDCAT was not part of the original plan when construction began on Walt Disney Concert Hall in 1992. As the project unfolded, Roy E. Disney, vice chairman of The Walt Disney Company and nephew of Walt and Patty Disney, saw an opportunity for a CalArts presence within the complex. For more than three decades, Roy has been one of the most steadfast supporters of CalArts, continuing the good work of his father, Roy O. Disney, who had been Walt's partner in building The Walt Disney Company, and who, after Walt's death in 1966, had overseen the construction of CalArts' Valencia campus.



Roy and Michael Eisner, president and CEO of The Walt Disney Company and a longtime CalArts trustee and supporter, presented a plan to The Walt Disney Company Board of Directors, which approved the proposal. The company subsequently made a gift to both Walt Disney Concert Hall and the CalArts project.



Roy and his wife Patty personally matched the Disney Company gift for the new CalArts venue, which would be permanently dedicated in memory of Roy's parents as the Roy and Edna Disney/CalArts Theater-REDCAT. It was a fitting tribute: The names of Walt and Roy Disney were side by side once again, as they had been from the beginnings of The Walt Disney Company and the earliest days of CalArts.



With the concert hall already under construction, the County of Los Angeles approved the new project and lead architect Frank O. Gehry was asked to create plans for REDCAT. Gehry himself had longstanding ties to CalArts: Two of his children are alumni and he holds a CalArts honorary degree, awarded in 1987.



Gehry's high-tech, utilitarian design for REDCAT's multiuse space followed the mandate to support the full artistic vision of those who perform and exhibit there. As such, REDCAT stands as one of the most versatile and technologically advanced presentation spaces in the world.



Roy and Edna Disney/CalArts Theater
Address: 631 West 2nd Street, Los Angeles, CA 90012
Tel: +1 213 237 2800
http://www.redcat.orgRoy&Edna Disney/加州艺术学院剧场
地址:631 West 2nd Street, Los Angeles, CA 90012
电话:+1 213 237 2800
http://www.redcat.org
<!- Rubicon OS Player --> <!- /Rubicon OS Player -->