art/design
ニュークリアス
nucleus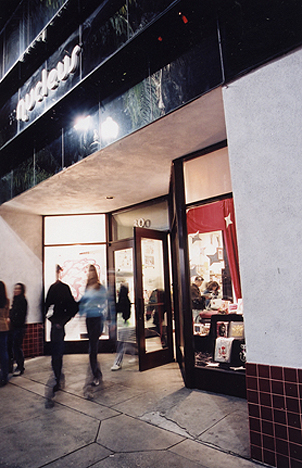 Nucleus is a gathering place for the art loving community. It 's a place that wishes to spark innovation and awareness of the current artistic culture and movement. Our manifesto is to inspire new ideas, gain exposure,「ニュークリアス」は、アート好きたちが集まる場所として、人々のイノベーションを刺激し、現代の芸術文化やムーブメントに対しての意識を高めていく。テーマは、新しいアイデアを生み出し、それをより多くの人に披露すことで、関係を築き、面白いものを創っていくこと。設立の目的は、若手アーティストの活動を支援、促進すること。
ギャラリースペース、ショップ、そして商品を通して、ニュークリアスはアーティストが自らの目標を超え、大衆やコレクターの目に入る機会を増やしていく。
アートブック、雑誌、アンダーグラウンド・コミック、収集品、厳選されたデザイングッズなど幅広く取り扱っている。



nucleus
住所:210 East Main Street, Alhambra, CA 91801
時間:日〜木 12:00〜20:00/金〜土 11:00〜22:00
TEL:+1 626 458 7482
info@gallerynucleus.com
http://www.gallerynucleus.com create relationships and obtain interesting products. The purpose of our conception is to support and promote upcoming artists to have an obvious dedication and quality to their craft. Through our gallery space, retail space, and products, we act as a platform to help people to excel in their goals as an artist and expose them to the general public and art collectors alike. Nucleus carries a variety of art books, zines, underground comics, collectables, and a healthy selection of artist designed products. Located in Alhambra California, we cater to a much wider and general demographic of people, thus not limiting ourselves to just collectors or art districts but truly appealing to the general public.Come visit the store in person, or click here to purchase products through the Nucleus online store.



nucleus
Address: 210 East Main Street, Alhambra, CA 91801
Open: Sun-Thu 12:00-20:00 / Fri-Sat 11:00-22:00
Tel: +1 626 458 7482
info@gallerynucleus.com
http://www.gallerynucleus.comnucleus
地址:210 East Main Street, Alhambra, CA 91801
时间:星期一至星期四12:00-21:00/星期五至星期日11:00-22:00
电话:+1 626 458 7482
info@gallerynucleus.com
http://www.gallerynucleus.com
<!- Rubicon OS Player --> <!- /Rubicon OS Player -->