art/design
ジャイアント・ロボット・ストア
GIANT ROBOT STORE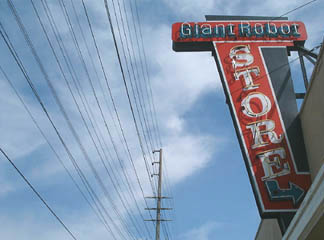 「ジャイアント・ロボット・ストアー」は、ロスの西部、ソーテル並木通りに見つけることができる。ここはカリフォルニアを夏に訪れるなら、「絶対にはずしてはならない」場所だ。Giant Robot Store is located on Sawtelle Blvd. in west LA, this place is a "must-visit" everytime being in sunny California.

現在ストアーでは、世界中から集められたデザインセンスが光るシャツや本等、幅広い商品が販売されている。アフロ犬やグルービジョンズのぬいぐるみから、ジェフ・マクフェトリッジのシャツや、奈良美智のスケートボードまで、新しいものを探し、手に入れるまでかなりの時間を費やしたそうだ。手作りのロボットを、ターンテーブル付きでジョージッテ・アーファーノの別名を使って作り、店で扱って欲しいと送ってきたケースもあったそうだ。その人の見ていて楽しくなるような作品は、今では店頭で販売されている。



訪れる度にいつも新しい商品が揃っており、どれが新商品か、いいものはないかな、と見るだけでもかなりの時間を費やしてしまう。品揃えが豊富なだけではなく、フレンドリーな雰囲気も、このストアーをユニークで特別なものとして作り上げている要因と言えよう。ただちょっと立ち寄っただけのつもりでも、店員さんとデザインについての話に花が咲き、前まではあまり知らなかったことについての面白い情報を聞き出すことが出来るのだ。どうやって世界規模になるか、といったような大計画等そこには無い。とにかく前進し、私には想像もつかないが、雑誌とストアーをいいものにしていけるように日々良いものを作ることが、彼等の将来的なプランなのである。



Giant Robot Store
住所:2015 Sawtelle Blvd., Los Angeles, CA 90064
時間:月〜土 11:30〜20:00/日曜 12:00〜18:00
TEL:+1 310 478 1819
store@giantrobot.com
http://www.giantrobot.com



Text and Photos: Daniel Goddemeyer from Parasonic
Translation: Sachiko Kurashina
Today the store sells quite a variaty of well chosen products, shirts and books in a design context from all over the world. By having such a large variety of products ranging from AfroKen and Groovisions dolls over Geoff McFedrigde Shirts to Yoshitomo Nara Skateboards, it costs a lot of time, as he told me, looking around for new products and trying to get a hold of them. Sometimes people even send stuff in asking them if there is a possibilty to sell it at the store such as the handmade plush Giant Robot robots with their turntable that were made and send in by Georgette Urfano aka. Geek Industries. Soon she stitched another plush robot-vespa and now her sewings are a quite an eye candy when visiting.



By spending so much time on trying to find new and cool products for the assortment, there is always something new to get when coming in. Besides this variety the friendly atmosphere is another thing that makes this store so unique and special. Even if you are just coming in to look around you can always start a little design chit-chat with one of the people working there and hear interesting news about things that you probably did not know too much about before. Although there is not a big masterplan how to conquer the world or such, the plans for the future are to keep going and make the magazine as well as the store better with each day although i could not imagine what there can be done better yet.. So, if you should be in Los Angeles sometimes, you should definatley check out the Giant Robot Store, it is worth more than a visit.



Giant Robot Store
Address: 2015 Sawtelle Blvd., Los Angeles, CA 90064
Open: Mon&Sat 11:30-20:00 / Sun 12:00-18:00
Tel: +1 310 478 1819
store@giantrobot.com
http://www.giantrobot.com



Text and Photos: Daniel Goddemeyer from Parasonic
巨型机器人商店
地址:2015 Sawtelle Blvd., Los Angeles, CA 90064
时间:星期一至星期六11:30-20:00/星期日12:00-18:00
电话:+1 310 478 1819
store@giantrobot.com
http://www.giantrobot.com
<!- Rubicon OS Player --> <!- /Rubicon OS Player -->