art/design
カーペンター・ワークショップ
Carpenter Workshop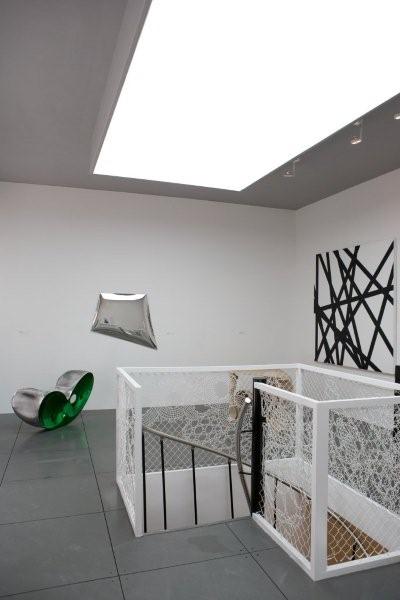 ロンドンのメイフェアギャラリーセンターの中心部、カーペンター・ワークショップは伝統あるギャラリーが多いこの地域でひときわ際立った存在である。2008年3月に新しくオープンしたこのギャラリーは、In the heart of Mayfair's gallery center, the Carpenter Workshop vibrantly stands out amongst the traditional Mayfair galleries.デザイン力のあるアート作品を一極集中させているアルバマールやコルクストリートに軒を連ねる伝統的なギャラリーからは異を放っている。



各々のユニークなシリーズの限定作品は、ギャラリーのフィロソフィーである「機能性のある彫刻」に焦点を当て、デザイン、アート、そして機能面の境界線において、誰も答えることのできない質問を投げかけている。



ロンドンの伝統的なギャラリー地域に新鮮で新しいビジョンをもたらすだけではなく、デザインアートの領域において1980年以降活躍したユルゲン・ベイ、ロン・アラッド、アトリエ・ファン・リースハウトなど名高いデザイナーの実績や作品を公開し、同時に革新的な新世代のデザイナーであるイングリッド・ドナート、テヨ・レミ、ロバート・スタードラー、チャールズ・トレベリアンの作品も紹介している。



また数人の所属アーティストと密に活動することにより、デザインに関するアート作品の構成要素は何かという問いへの導きを手助けしている。



ロンドンのチェルシーには2番目の「ショールーム」スペースも保有し(事前アポイント制)ますます今後の展開が楽しみなギャラリーである。



Carpenter Workshop Mayfair
住所:3 Albemarle Street, London W1S 4HE
時間:月〜金 10:00〜18:00/土曜 10:00〜16:00
TEL:+44 20 3051 5939
info@cwgdesign.com
http://www.cwgdesign.com



Carpenter Workshop Chelsea
住所:2 Michael Road, London SW6 2AD
時間:要予約
TEL:+44 20 3051 5939
info@cwgdesign.com
http://www.cwgdesign.com



Text: Aron Morel
Translation: Naoko Kawaguchi
The space, newly opened in March, diverges from the conventional art galleries of Albemarle Street and Cork Street focusing on works of art that "converge" with design.



Providing a unique series of limited edition pieces, each focusing on the galleries philosophy of "functional sculpture", one cannot but question the narrowing spaces between design, art, and functionality.



The gallery not only brings a fresh and new vision of creativity to the traditional heart of London's gallery center, but exposes the talent and careers within this field of design-art by incorporating celebrated post 1980's designers such as Jurgen Bey, Ron Arad, Atelier van Lieshout with a new generation of innovative designers, such as Ingrid Donat, Tejo Remy, Robert Stadler, Charles Trevelyan.



Working closely with some of their artists, the gallery helps provoke question of what constitute a work of art in relation to design.



The Gallery retains a second "show room" space in London's Chelsea, which can be viewed by appointment only.



Carpenter Workshop Mayfair
Address: 3 Albemarle Street, London W1S 4HE
Open: Mon-Fri 10:00-18:00 / Sat 10:00-14:00
Tel: +44 20 3051 5939
info@cwgdesign.com
http://www.cwgdesign.com



Carpenter Workshop Chelsea
Address: 2 Michael Road, London SW6 2AD
Open: By private appointment only.
Tel: +44 20 3051 5939
info@cwgdesign.com
http://www.cwgdesign.com



Text: Aron MorelCarpenter 车间切尔西
地址:2 Michael Road, London SW6 2AD
时间:需要预约
电话:+44 20 3051 5939
info@cwgdesign.com
http://www.cwgdesign.com
<!- Rubicon OS Player --> <!- /Rubicon OS Player -->