art/design
ビヨンド・ザ・ヴァレー
Beyond the Valley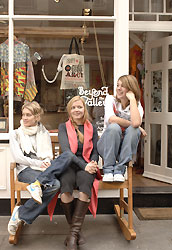 「ビヨンド・ザ・ヴァレー」は、ファッション、アート、デザインの世界の若い才能を支援するクエイティブ・コミュニティである。Beyond the Valley® is a young creative community in the centre of London that supports and promotes emerging new talent across the fashion, art & design industries.コミュニティに参加する100以上ものデザイナーが、より高いレベルで、多くの大衆に披露する前の足がかりとして、新しいアイデアを展示し、実験する空間を提供している。お店には、ファッション、本、ジュエリー、イラスト、家具、壁紙からデザインプロダクトやアクセサリーまであらゆる商品が並ぶ。全て限定生産。



Beyond the Valley
住所:2 Newburgh Street, London W1F7RD
時間:月〜土 11:30〜18:30/日曜 12:30〜17:00
TEL:+44 0 7711 200 320
info@beyondthevalley.com
http://www.beyondthevalley.com



Translation: Tatsuhiko Akutsu The starting point, a not-for-profit space next to London's famous Carnaby St, providing young designers with a centrally located retail, gallery and studio space where they can test out new products and sell at affordable prices without getting exploited by unfair commission rates.



This space is used as stepping-stone for the Community's +100 emerging designers, providing a platform to showcase and test out new ideas before developing them for larger scale production and general distribution.



Products in-store range from fashion, books, jewellery, illustration, furniture, wallpaper to design products & accessories. All items are produced in limited quantities.
Over 100 of the best recent graduates from Central Saint Martins, RCA, Goldsmith etc are currently participating in the store.



Beyond the Valley
Address: 2 Newburgh Street, London W1F7RD
Open: Mon–Sat 11:30-18:30 / Sun 12:30-17:00
Tel: +44 0 7711 200 320
info@beyondthevalley.com
http://www.beyondthevalley.comBeyond the Valley
地址:2 Newburgh Street, London W1F7RD
时间:周一至周六 11:30-18:30/周日 12:30-17:00
电话:+44 0 7711 200 320
info@beyondthevalley.com
http://www.beyondthevalley.com
<!- Rubicon OS Player --> <!- /Rubicon OS Player -->