art/design
メディアショップ
Medi Shop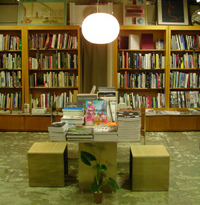 京都府京都市河原町三条に店舗をかまえる「メディアショップ」は、現代美術・建築・ デザインの洋書及び和書を扱う専門書店。"MEDIA SHOP" is a specialist bookshop for foreign books about modern art, architecture, and design.1981年のオープン以来、学生、先生、建築家、アーティスト、デザイナー等多くのお客様に愛されています。



近年、京都の若手クリエイターは総称で「メイドイン京都」と呼ばれるなど、度々雑誌で特集され、日本全国、さらには世界レベルで活躍を見せる者もおり、京都は日本屈指のクリエイターの育つ街になってきています。



京都という文化の歴史が色濃く残る街において、世界中の「最新のクリエイション」の中から良質のものだけをセレクトし、届けている「メディアショップ」は、そんな京都のクリエイターシーンの情報発信も積極的に行っています。



ウェブショップでも多くの商品が購入可能。



MEDIA SHOP
住所:京都府京都市中京区河原町三条下ル一筋目東入る
   大黒町44VOXビル1F
時間:12:00〜21:00(年中無休)
TEL:075-255-0783
mediashop@media-shop.co.jp
http://www.media-shop.co.jpSince its open in 1981, the shop is appreciated by many customers including students, teachers, architects, artists and designers.



Kyoto is becoming one of the best city that throw up many creators; Young creators in Kyoto are collectively called "Made in Kyoto", often featured in a magazine, and some are working worldwide.



"MEDIA SHOP" chooses only high quality things from "the latest creations" around the world, and puts out the information of creator scene actively.



MEDIA SHOP
Address: 1,2F VOX Bldg, 44 Daikoku-cho, Kawaramachi Sanjo Sagaru Hitosujime Higashi Hairu, Nakagyo-ku, Kyoto
Open: 12:00-21:00
Tel: 075-255-0783
mediashop@media-shop.co.jp
http://www.media-shop.co.jp媒体商店
地址:京都府京都市中京区河原町三条下ル一筋目東入る
   大黒町44VOXビル1F
时间:12:00-21:00(每周7天)
电话:075-255-0783
mediashop@media-shop.co.jp
http://www.media-shop.co.jp
<!- Rubicon OS Player --> <!- /Rubicon OS Player -->