theater
神戸アートビレッジセンター
Kobe Art Village Center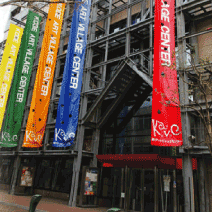 ここは、アートの新開地。かつて神戸の大衆文化を支えてきた新開地。このまちから再び全国へ、そして世界へ文化とアートを発信できればAs a newly-developed land of art that supported Kobe's pop culture once, Kobe Art Village Center is a hope of the people for sending art and culture from Kobe to all over the world.



The center is used by performers, artists, musicians as a place to make works, to practice and to show the works, and also opens for people as a base of the art communication.



This Kobe Art Village Center is a creative art and cultural facility that aims to nurture young artist, to build newly-developed land as an art village and to revitalize the city. They focus mainly on "Learn, Creation and Train for young artists" and carrying out a training project, regional communication project and information project in field of drama, art and video.



Kobe Art Village Center
Address: 5-3-14 Shinkaichi, Hyogo-ku, Kobe
Open: 10:00-22:00 (Closed on Tuesday)
Tel: 078-512-5500
http://www.kavc.or.jp



Translation: Haruka Kibata。そんな期待を集めるのが「神戸アートビレッジセンター(KAVC)」だ。
演劇・美術・映像・音楽などにかかわるさまざまなアーティストたちの制作・練習・発表の場として、さらに多くの人々が気軽に訪れ、交流できるアートの拠点として活動している。



神戸アートビレッジセンターは、若手芸術家の育成を図るとともに、新開地を芸術の村として構築し、まちの活性化を図る目的で設置された創造型芸術文化施設。その活動は「若手芸術家の育成を目的とした学習・創造・育成事業」に重点を置き、演劇・美術・映像の各分野を中心に「育成・創造事業」「地域交流型事業」「情報発信事業」をバランスよく実施していく。



神戸アートビレッジセンター
住所:神戸市兵庫区新開地5丁目3-14
時間:10:00〜22:00(火曜・年末年始定休)
TEL:078-512-5500
http://www.kavc.or.jp神户艺术村中心
地址:神戸市兵庫区新開地5丁目3-14
时间:10:00-22:00
休息日:星期二
电话:078-512-5500
http://www.kavc.or.jp
<!- Rubicon OS Player --> <!- /Rubicon OS Player -->