fashion
メレーン
MELAINE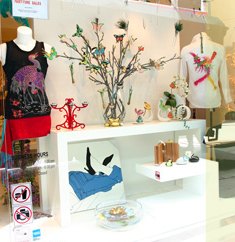 Melaine is a trendy lifestyle boutique shop with a subtle and unique Asian twist. Focus to invigorate and seduce the "young moderns with a thirst for taste", they provide an environmentメレーンは、絶妙で個性的なアジアの雑貨を扱うライフスタイルショップ。「面白いものを求める若い世代」をターゲットに、ファッショナブルで刺激的な場所を提供している。地元や海外からのバラエティ豊かなデザイン製品の中から、個人が各々のセンスで選んだものを持ち帰ってもらおうと促している。



自分の直感を信じて、クリエイティブになることが大事。色彩やアートなど、世界に溢れる素晴らしいものを楽しみ、それを自らの内なる愛と織り交ぜよう。



メレーンの最大の特徴は、文化と色彩の丁寧なミックス。色と模様、視覚効果やテクスチャを洗練された感覚でブレンドすることによって、アクセサリーや家具はいつもインスピレーションの源であることができるとメレーンは考える。



メレーン・リビング・アーツでは、古典的なアイデアを芸術的で実用的なデザインに生まれ変わらせようという試みがなされている。



MELAINE
住所:G/F, 15 Lyndhurst Terrace, Central, Hong Kong
時間:11:00〜20:00(日曜18:00まで)
TEL:+852 2815 7873
http://www.melaine.com.hk



Translation: Shiori Saito that is fashionable and inspirational. They encourage individuals to bring their own sense of style into their own home with the vast variety of both locally and internationally designed products.



It is most important to trust your intuition and be creative. Mix the love of your own sanctuary with the joy of color, art, and all the good things in life.



A careful mix of cultures and colours is a dominant characteristic at Melaine. Through a sophisticated blend of colours, patterns, visual effects and textures, they believe accessories and home furnishing can become is constant source of inspiration.



At Melaine Living Arts, they take price in transforming classic ideas into designs that are both aesthetic and sensible.



MELAINE
Address: G/F, 15 Lyndhurst Terrace, Central, Hong Kong
Open: 11:00-20:00 (Sunday till 18:00)
Tel: +852 2815 7873
http://www.melaine.com.hk



MELAINE
地址:香港中环阁麟街37号地下
开放时间:11:00-20:00(星期日至18:00)
电话:+852 2815 7873
http://www.melaine.com.hk
<!- Rubicon OS Player --> <!- /Rubicon OS Player -->