fashion
ホームレス
Homeless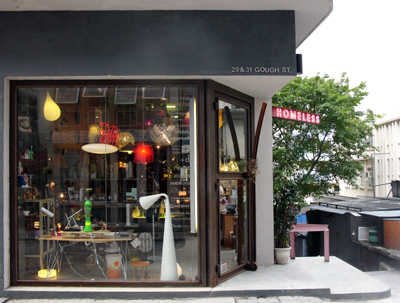 "Homeless", a lifestyle store in Hong Kong selling furniture, lighting, designer's items and accessories for the home. The first store and studio locate「ホームレス」は家具や照明、デザイン製品やホームアクセサリーを扱う香港のライフスタイルストア。その第一号店は香港でも有数のマルチカルチャーな街、油麻地(Yau Ma Tei)で2003年7月から営業を開始した。



後にホームレスはLCXと協力し、尖沙咀(Tsim Sha Tsui)の海运大厦(Ocean Terminal)に大規模な店舗も展開し、香港一のショッピングエリアでホームレスの製品が注目を集めることになった。



急速に発展を遂げ、2005年には商業と文化が出逢う街、中環(Central)にフラッグシップストアをオープン。現在は一号店も尖沙咀(TST)に移転し、銅羅湾(Causeway Bay)に最近開いた新店舗とともにショッピングエリア内で良好なアクセスを誇る。



「ホームレス」という名前には、この店が家(home)に足りない(less)ものを探しにくるための場所であるという意味と、この店にある製品たちにはまだ家がなく(homeless)、連れて帰ってくれる誰かを待っているという意味が込められている。



Homeless Central Flagship
住所:G/F, 29 Gough Street, Central, Hong Kong
時間:12:00〜21:30(日・祝日13:00〜18:30)
TEL:+852 2581 1880
http://www.homeless.hk



Translation: Shiori Saito at one of the most multi cultural district in Hong Kong, Yau Ma Tei. It commences operation since July 2003. Later on, "Homeless" expands to and cooperates with LCX, a large lifestyle department store located at Ocean Terminal, Tsim Sha Tsui.



Showcase "Homeless" collections at a major shopping area in Hong Kong. In 2005, following its rapid development, it opens the flagship store in Central, the place where commerce meets culture.



Now the old store has moved to the TST and together with the newly opened Causeway Bay store, they make great convenience to access Homeless within shopping area.



The rationale behind for the name is that it is for people to seek for accessories of which their home lack (less) of, another view is, all the items at the store are homeless waiting for people to take them home.



Homeless Central Flagship
Address: G/F, 29 Gough Street, Central, Hong Kong
Open: 12:00-21:30 (Sunday & Holiday 13:00-18:30)
Tel: +852 2581 1880
http://www.homeless.hk



Homeless 中央旗舰店
地址:香港中环歌歌赋街29号地下
开放时间:12:00-21:30(星期日・祝日13:00-18:30)
电话:+852 2581 1880
http://www.homeless.hk
<!- Rubicon OS Player --> <!- /Rubicon OS Player -->