bar/restaurant
アクア
AQUA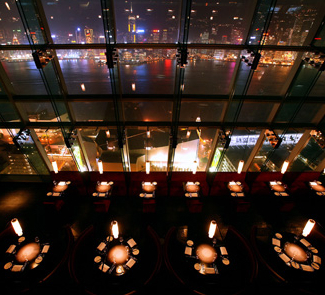 Eating is not only for satisfying your stomach, it also can be part of the life's enjoyment. Doesn't it sound good that you are fine-dining at the ultra-stylish restaurant with its stunning harbour and city view食事とはただお腹を満たすためだけの行為ではなく、人生の楽しみの一部である。港と街の眺めが素晴らしい最高にスタイリッシュなレストランで、美味しい料理と夜を締めくくる素敵なカクテルを堪能してみたくはないだろうか?そんな時間を約束してくれるのが、アクアである。ここでの食事体験は、あなたの胃袋と視覚を両方満足させてくれる。



アクアはワン・ペキン・ロード(北京道一號)の29階と30階にある。この革新的なレストランはイタリア料理「アクア・ローマ」と日本料理「アクア・トーキョー」、そしてバー空間「アクア・スピリット」をひとつの場所に組み合わせている。



入り口の雰囲気はこの店の名「アクア」のテーマに沿っている。その入り口を抜けると2つの白いドアに迎えられる。ひとつはアクア・ローマへ、もうひとつはアクア・トーキョーへの扉だ。



イタリア・ブリンディジからやってきた若手シェフ、マルコ・マッジョはアクア・ローマでイタリア料理を担当している。彼が生み出す繊細なイタリア料理は、イタリアやオーストリア、アメリカなどから毎日運ばれてくる新鮮な素材から作られる。高級感あふれる赤と黒のインテリアと息をのむような港の絶景、そして美味しい料理がアクア・ローマを魅力的な空間に彩る。



アクア・ローマの反対側には、同じく魅力的なアクア・トーキョーがある。日本人シェフ、タクヤ・イワハシが東京、北海道、鹿児島の厳選素材を使って驚くほどに美味しい日本料理をテーブルに届けてくれる。



食事のあとに極上の眺めを堪能するなら、上階にあるアクア・スピリットでカクテルをオーダーするのが最高だ。DJがカクテルにぴったりの音楽をプレイする。この雰囲気と音楽が、完璧な夜を完璧な締めくくりへと導いてくれるだろう。



ここでの料理や眺望を好むと好まざるに関わらず、ここは楽しみに溢れた記憶に残る夜を過ごすことができる、完璧に素晴らしい場所なのだ。



AQUA
住所:29 & 30/F, One Peking Road, Tsim Sha Tsui, Hong Kong
時間:ランチ 12:00〜15:00/ディナー 18:00〜23:00
TEL:+852 3427 2288
aqua@aqua.com.hk
http://www.aqua.com.hk



Text: Justin Tsui
Translation: Shiori Saito, with a nice cocktail to end the night? If you think this is a nice arrangement for a night out, Aqua is definitely an excellent choice for the location. The dining experience in Aqua will fulfill your stomach's need as well as your sense of sight.



Aqua is located in 29th & 30th floors of One Peking Road. This innovative restaurant combines Italian cuisine (Aqua Roma), Japanese cuisine (Aqua Tokyo) and a chill-out zone (Aqua Spirit) in one place. The theme of reception builds around its name — Aqua.



Pass the reception area, there are two white doors. One goes through to Aqua Roma; the other goes through to Aqua Tokyo. The young chef Marco Maggio, who comes from Brindisi in Italy, handles the Italian food in Aqua Roma. The delicate Italian cuisine is made with the freshest ingredients that come from the places such as Italy, Australia, and America daily. In addition of the posh red and black interior along with breathtaking harbour view, the food makes Aqua Roma even more fascinating.



The opposite side of Aqua Roma is the equally nice Aqua Tokyo. The Japanese chef Tatsuya Iwahashi elaborately uses the fresh ingredients from Tokyo, Hokkaido, and Kagoshima to cook the extremely tasty Japanese cuisine to the customers.



To appreciate the breath-taking harbour view after enjoying a nice dinner, Aqua Spirit upstairs will be a perfect place for a cocktail. The DJ plays music that matches your flavors with different styles. The atmosphere and the music in the bar will put the perfect end to a perfect night.



It doesn't matter if you like the food or the view in Aqua; it absolutely is a gorgeous place for you to spend a joyful and memorable night out.



AQUA
Address: 29&30/F, One Peking Road, Tsim Sha Tsui, Hong Kong
Open: Lunch 12:00-15:00 (Sunday till 16:00) / Dinner 18:00-23:00
Aqua Spirit 17:00-26:00
Tel: +852 3427 2288
aqua@aqua.com.hk
http://www.aqua.com.hk



Text: Justin Tsui



AQUA
地址:香港尖沙咀北京道1号29、30層
开放时间:午餐 12:00-15:00 / 晚餐 18:00-23:00
电话:+852 3427 2288
aqua@aqua.com.hk
http://www.aqua.com.hk
<!- Rubicon OS Player --> <!- /Rubicon OS Player -->