art/design
アメリアジョンソン・コンテンポラリー
Amelia Johnson Contemporary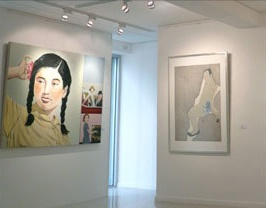 Amelia Johnson Contemporary is dedicated to promoting groundbreaking international contemporary art with a view to bringing something out of the ordinary to the Hong Kong audienceアメリアジョンソン・コンテンポラリーは世界中の革新的な現代美術を紹介し、香港に新しい風を吹き込むことを目指したギャラリー。ここでは国内外の新進アーティストや有名アーティストの作品を展示する。



年1回開催される新進アーティストに注目した展示は、このギャラリーの大きなイベントのひとつである。こうした企画は若いコレクターたちにとっては作品を購入する良いきっかけになる上、若手アーティストたちにとっては広く作品を見てもらう絶好の機会となる。



このギャラリーはまた、香港在住のアーティストを熱心に支援する組織でもあり、企画展では将来を期待されるアーティストの作品が幅広く紹介される。



Amelia Johnson Contemporary
住所:G/F 6-10 Shin Hing Street, Central, Hong Kong
TEL:+852 2548 2286
info@ajc-art.com
http://www.ajc-art.com



Translation: Shiori Saito. The gallery showcases the work of emerging as well as established artists, exhibiting its stable of acclaimed artists in Hong Kong and overseas.



A strong component of our program is their annual exhibition focusing on emerging artists. These exhibitions provide young collectors the perfect entry point into buying art as well as giving young artists an opportunity to reach a wider audience.



They are also strongly committed to supporting Hong Kong artists and feature many of the territories up and coming artists in their exhibition line up.



Amelia Johnson Contemporary
Address: G/F 6-10 Shin Hing Street, Central, Hong Kong
Tel: +852 2548 2286
info@ajc-art.com
http://www.ajc-art.com



Amelia Johnson Contemporary
地址:香港中环善庆街6-10地下
电话:+852 2548 2286
info@ajc-art.com
http://www.ajc-art.com
<!- Rubicon OS Player --> <!- /Rubicon OS Player -->