art/design
ブリンツッエルバール
Blinzelbar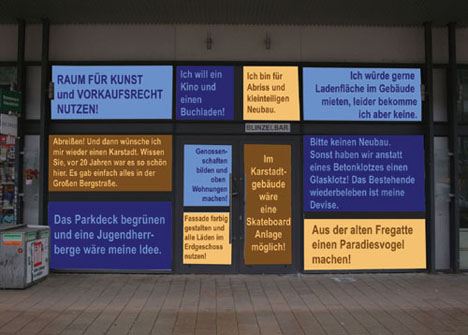 ジュディス・ハマンとハイネ・メツガーが2005年7月にオープンした「ブリンツッエルバール」はハンブルグ、アルトナの歩行者ゾーンにあるThe Blinzelbar is located in the Große Bergstraße, a pedestrian zone in Hamburg-Altona, where the discussion about gentrification is concrete.。
このスペースでは音楽、アート、即興コンサート、展示会、レクチャー、ディスカッション、映像などの様々な活動が行われている。2人の共同プロジェクトの他、アーティストやパフォーマーたちとのコラボレーション・プロジェクトを生み出している。「h7クラブ」のコンサートでは、有名無名が入り混じった即席のミュージシャンがパフォーマンスを行っている。



Blinzelbar
住所:Große Bergstraße 158, 22767 Hamburg
TEL:+49 40 360 90 56
moxnox@hierunda.de
http://www.hierunda.de/blinzelbar.html



Translation: Kazunari Hongo They work with our space for several acivities: interventions in the puplic space (against the gentrification), sound- and artinstallations, concerts of actual improvise/electronic music, videoprojections at the Blinzelbarwindows (as in the picture above), exhibitions, lectures, discussions and film/theme nights.
Judith Haman and Heiner Metzger founded the Blinzelbar in july 2005, and here they create projects together, f.e.: "blue in the alley" ("Blau im Weg" – june 2006), "close season – two stands in the repacify area" ("SCHONZEIT – zwei Hochsitze im befriedeten Raum", with Oliver Zorn, june-nov. 08). Or they develop projects with guests/artists/performers, like the "blank series" (Leere Serie – oct 07) and Murphys Fall (june 06).
In the concerts of the "h7-club", international and locale musicians of the improvise and electronic scene present their actual music in the Blinzelbar.



Blinzelbar
Address: Große Bergstraße 158, 22767 Hamburg
Tel: +49 40 360 90 56
moxnox@hierunda.de
http://www.hierunda.de/blinzelbar.htmlBlinzel酒吧
地址:Große Bergstraße 158, 22767 Hamburg
电话:+49 40 360 90 56
moxnox@hierunda.de
http://www.hierunda.de/blinzelbar.html
<!- Rubicon OS Player --> <!- /Rubicon OS Player -->