art/design
シュテーデル・ミュージアム
Stadel Museum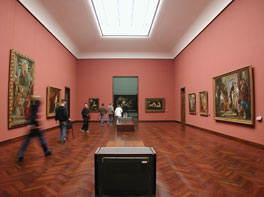 シュテーデル・ミュージアムは世界でも最古の重要なコレクションを誇る美術館である。ヨーロッパの14世紀から現代に至るまでの2700点の絵画、600点の彫刻に10万点を数えるグラフィックアートThe Stadel Museum is one of the oldest and most important art collections in the world. Since it was established in 1815 by Johann Friedrich Stadelが所蔵されている。ホルバイン、クラナハ、ボッティチェリ、デューラー、レンブラント、フェルメールなどの14〜18世紀の画家に始まり、19〜20世紀を代表する印象派モネやセザンヌ、表現派キルヒナーやベックマン、さらにはピカソやディックスに至る画家たちの絵画が飾られている。
ドイツ国内でも最も重要なコレクションの一つとされている中世末期から表現派に至る図画やグラフィックアートも公開されている。さらに、現代芸術家の作品発表の場となっている彫刻庭園や、美術関係の資料が揃う図書館などの施設も充実している。



Stadel Museum
住所:Schaumainkai 63, 60596 Frankfurt am Main
時間:火・金〜日 10:00〜19:00/水・木 10:00〜21:00(月曜定休)
TEL:+49 69 605 0980
info@staedelmuseum.de
http://www.staedelmuseum.de



Translation: Yuki Mine, the Stadel Art Institute and Municipal Gallery have developed into a collection of around 2700 paintings, 600 sculptures and 100,000 graphics. It invites visitors on a journey through the ages and art landscapes of Europe from 700 years. Paintings from the 14th to 18th centuries by Holbein, Cranach, Botticelli, Dürer, Rembrandt and Vermeer are shown in the Collection of Old Masters. The 19th and 20th centuries are represented by impressionists such as Monet and Cézanne, expressionists such as Kirchner and Beckmann and artists of the classical modern such as Picasso and Dix. Painters such as Penck, Baselitz and Bacon represent the years since 1945.



The Graphical Collection with its unique drawings and graphics from the Late Middle Ages to Expressionism is one of the most important in Germany. The Garden of Sculptures depicts itself as a stage for the works of contemporary artists. The special exhibitions that receive international attention attract enormous numbers of visitors. Tours for every demand and requirement such as "art after work", "art in a team" or company specials guarantee stimulating encounters with art. The Stadel Library, with literature and magazines from art history, painting, fine arts and photography is accessible to the public.
The Stadel Museum is a "must" for art lovers and art connoisseurs and all who want to become one.



Stadel Museum
Address: Schaumainkai 63, 60596 Frankfurt am Main
Open: Tue, Fri-Sun 10:00-19:00 / Wed&Thu 10:00-21:00 (Closed on Monday)
Tel: +49 69 605 0980
info@staedelmuseum.de
http://www.staedelmuseum.deStadel博物馆
地址:Schaumainkai 63, 60596 Frankfurt am Main
时间:星期二・星期五至星期日 10:00-19:00/星期三・星期四 10:00-21:00
休息日:星期一
电话:+49 69 605 0980
info@staedelmuseum.de
http://www.staedelmuseum.de
<!- Rubicon OS Player --> <!- /Rubicon OS Player -->