art/design
フランクフルト実用工芸博物館
Museum fuer angewandte Kunst Frankfurt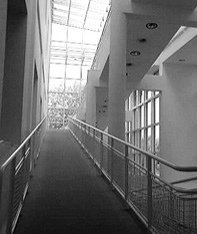 1980年代中頃、アメリカ人建築家リチャード・メイエルによってデザインされたこの博物館は、有名なマイン川沿いのミュージアム河畔に位置する。フランクフルトミュージアム河畔はThe Museum fuer angewandte Kunst was built by Richard Meier in the mid-1980s. It's located at the museum riverbank. The Frankfurt museum riverbank is one of the most important locations for museums in Germany and Europe. 、ドイツ国内やヨーロッパの博物館にとって最も重要な地域の一つとされる。
フランクフルト実用工芸博物館は、ドイツ最大の実用工芸博物館。6000年もの間の世界中の文化を分かりやすく解説してくれるコレクションやロマネスク様式から現代のデザインに至るまでのスタイルの変換や、デジタル技術を使用して作り出された美術工芸品を見ることが出来る常設展も開催されている。また、「ブック・アート」展、「東アジアの美術と工芸」展、「イスラム教美術」展など、多様な展覧会も魅力の一つとなっている。
館内の見学や家族で体験できるプログラム、ワークショップや講演などを通して、作品や作家、彼らが過去に使用してきたり、また現在も使われている技術に関する情報を提供している。



Museum fuer angewandte Kunst Frankfurt
住所:Schaumainkai 17, 60594 Frankfurt am Main
時間:10:00〜17:00
料金:5.00 EUR/学生 2.50 EUR
TEL:+49 69 212 34037
info.angewandte-kunst@stadt-frankfurt.de
http://www.angewandtekunst-frankfurt.de



Translation: Yuki MineThe new corporate Design was developed by Designers Vier5 / Paris (vier5.de).



The Museum of Applied Art is one of the large applied art museums in Germany.
The excellent reputation of the Frankfurt "Museumsufer" (riverbank) has helped to decisively shape it, as the American architect Richard Meier created a landscape of its own on the banks of the Main. In the extended green spaces, the three cubic blocks of the museum building merge with the historically grown environment of the Villa Metzler from 1803.



The museum presents its collections covering 6000 years and different global cultures in an open and inviting way. The permanent exhibition, "European Arts and Crafts", shows the development of style epochs from the Romanesque to the design of the present and the focus, "Digital Craft", with digitally applied art. The exhibitions, "Book Art", "Arts and Crafts of Eastern Asia" and "Islamic Art" enable the diversity of the topics to be discovered.



Tours, family programmes, workshops and lectures provide information on works, artists and their techniques in their historical and current use. The Museum's library is open to all those interested in the subject. Special exhibitions convey the broad spectrum and the ubiquity of applied art. The museum wants to transport art into everyday life, as it sees itself as a meeting place of interested parties and specialists, with forms of life from the past and future.



Museum fuer angewandte Kunst Frankfurt
Address: Schaumainkai 17, 60594 Frankfurt am Main
Open: 10:00-17:00
Entrance Fee: 5.00 EUR / Student 2.50 EUR
Tel: +49 69 212 34037
info.angewandte-kunst@stadt-frankfurt.de
http://www.angewandtekunst-frankfurt.de法兰克福实用工艺博物馆
地址:Schaumainkai 17, 60594 Frankfurt am Main
时间:10:00-17:00
承认:5.00 EUR/学生 2.50 EUR
电话:+49 69 212 34037
info.angewandte-kunst@stadt-frankfurt.de
http://www.angewandtekunst-frankfurt.de
<!- Rubicon OS Player --> <!- /Rubicon OS Player -->