bar/restaurant
UDON・バルセロナ
UDON BARCELONA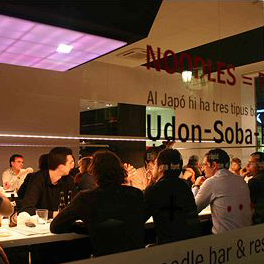 「UDON・バルセロナ」は、「カジュアル・フード」をコンセプトに、高品質の材料でファスト・フードのスピードと安さ実現し、伝統的なアジア料理を提供している。Udon is based on the concept of "casual food", which combines fast-food, speed and an affordable price policy using quality raw materials and traditional Asian cuisine.



Since the opening of our first restaurant in March 2004, in the Born district of Barcelona, our aim has been to privide a place where you can enjoy the five senses. In order to achieve that, we only use flesh, prime-quality products, served and cooked everyday in our restaurants. At Udon, we understand that your time is important to you, so we are concerned about not wasting it and about making your meal a enjoyable experience.



Today, Udon has grown to become the first noodle bar in Spain, with the approval from the media but, most importantly, with the support from our customers. This recognition has made our secont restaurant in the shopping mall L'Illa Diagonal possible, in August 2005.



UDON BARCELONA
Udon L'Illa
Address: Centre L'Illa Diagonal, 545-565, 08029 Barcelona
Open: Mon-Sat 13:00-21:15 (Closed on Sunday)
Tel: +34 93 444 11 99



Udon Born
Address: Prinsesa 23/ Montcada 6, 08003 Barcelona
Open: Tue-Sat 13:00-24:00 / Sun 13:00-16:00
Tel: +34 93 310 59 69



Udon Raval
Address: Tallers 69, 08002 Barcelona
Open: Mon-Sat 13:00-24:00 (Closed on Sunday)
Tel: +34 93 310 45 69



Udon Eixample
Address: Consell de Cent 323, 08007 Barcelona
Open: Mon-Sat 13:00-24:00
Tel: +34 93 487 51 69
http://www.udon.esバルセロナのボーンに2004年に開店した「UDON・バルセロナ」は、味覚だけではなく、五感全てを使って楽しむことができるレストラン。



UDON BARCELONA
Udon L'Illa
住所:Centre L'Illa Diagonal, 545-565, 08029 Barcelona
時間:月〜土 13:00〜21:15
TEL:+34 93 444 11 99



Udon Born
住所:Prinsesa 23/ Montcada 6, 08003 Barcelona
時間:火〜土 13:00〜24:00/日曜 13:00〜16:00
TEL:+34 93 310 59 69



Udon Raval
住所:Tallers 69, 08001 Barcelona
時間:月〜土 13:00〜24:00
TEL:+34 93 310 45 69



Udon Eixample
住所:Consell de Cent 323, 08007 Barcelona
時間:月〜土 13:00〜24:00
TEL:+34 93 487 51 69
http://www.udon.es



Translation: Tatsuhiko AkutsuUDON 巴塞罗那
Udon L'Illa
地址:Centre L'Illa Diagonal, 545-565, 08029 Barcelona
时间:星期一至星期六13:00-21:15
电话:+34 93 444 11 99



Udon Born
地址:Prinsesa 23/ Montcada 6, 08003 Barcelona
时间:星期二至星期六13:00-24:00/星期日13:00-16:00
电话:+34 93 310 59 69



Udon Raval
地址:Tallers 69, 08001 Barcelona
时间:星期一至星期六13:00-24:00
电话:+34 93 310 45 69



Udon Eixample
地址:Consell de Cent 323, 08007 Barcelona
時間:星期一至星期六13:00-24:00
电话:+34 93 487 51 69
http://www.udon.es
<!- Rubicon OS Player --> <!- /Rubicon OS Player -->