bar/restaurant
DOSTRECE
DOSTRECE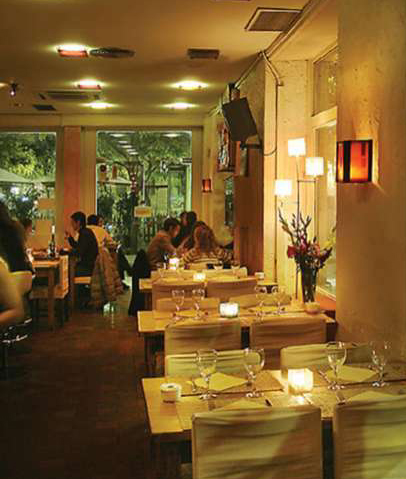 おいしい創作料理やドリンクを存分に味わうことができる「Dostrece」。毎週金曜日と土曜日には、ジャズやブルース、生のフラメンコ、DJのチルアウトから詩の朗読会、Dostrece is one of Barcelona's bars with a much eclectic ambiance. A place with original food, tasteful and generous dishes. Meanwhile its bar with excellent cocktails, quality beer and an offering of leisure music including jazz, blues, live flamenco, Dj's chill-out on fridays and saturdays, on to poetry jams and independent cinema screenings.



Dostreces is a project whose main purpose is to promote gatherings in the Raval neighborhood through a "mestizo" offering of art, food and music. To understand Dostrece we have to question its own deep roots. Dostrece is the telephone prefix for downtown urban Los Angeles, and this venue is a local ambitious interpretation of this city we all know, apologizing to those celluloid visions which are so familiar.



Dostreces' owners, mexicans from birth and "angelinos" (from LA) of spirit, due to their youth years spent in this city .Dostrece is the becoming of the project they have been working on for eight years. The city behind inspiring this, is one of famous cameras and spiderwebs behind the highways: probably the most multicultural city in the world; a northamerican city where you eat the best and most varied food; where a community of artists, musicians and writers have nothing to envy New York for. The idea of translating the energy from Los Angeles to Barcelona was born during a long stay in Condal City in 1993. Back in the day we could see the growing multicultural environment of Ciutat Vella, and at the same time, a lack of places of reunion for these cultures. With Dostrece now a reality, this emptiness is has been remedied.



DOSTRECE
Address: Calle Carme 40, Liceu, Barcelona
Open: Lunch 13:30-16:00 / Dinner 21:00-3:00 (Closed on Monday)
Tel: +34 93 301 7306
http://www.dostrece.net
映画の上映まで幅広いイベントも開催している。
「Dostrece」は、ラヴァルの街にいるメスティーゾ(スペンと中南米の先住民との混血)の集まる場所として、アート、フード、音楽などを提供することを一番の目的としている。



DOSTRECE
住所:Calle Carme 40, Liceu, Barcelona
時間:ランチ 13:30〜16:00/ディナー 21:00〜3:00(日曜定休)
TEL:+34 93 301 7306
http://www.dostrece.net



Translation: Tatsuhiko AkutsuDOSTRECE
地址:Calle Carme 40, Liceu, Barcelona
时间:午餐 13:30-16:00/晚餐21:00-27:00
休息日:星期日
电话:+34 93 301 7306
http://www.dostrece.net
<!- Rubicon OS Player --> <!- /Rubicon OS Player -->