art/design
ヴァレリー
VALLERY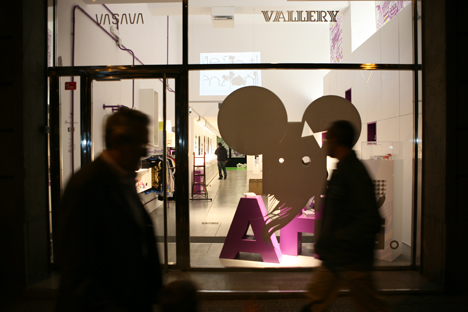 スペイン・バルセロナを拠点に、数多くの国際的なプロジェクトを手がけるバサバ。彼らがオープンしたギャラリー/ショップ「ヴァレリー」Vasava, the studio founded in Barcelona in 1997, has opened VALLERY, a new gallery-bookshop-store with which Vasava will reflect its distinctive perspective regarding the latest international trends in design,。



ヴァレリーはデザイン、本、雑誌、雑貨、服など、関係する事柄を紹介する実験的なプロジェクトであり、発見してもらう事を狙いとしている。そしてこの全ての革新的なコンテンポラリー・クリエイションがバサバに影響を与えます。世界中からクオリティの高い作品、そして最高の創造物を集めることが目的で、これらにより確実に独自の場所となっている。ヴァレリーは人々が出会う場所、そしてアイディアの自由なプラットフォームである。



VALLERY
住所:Calabria, 85, 08015 Barcelona
TEL:+34 935 396 430
info@vallery.es
http://www.vallery.es



Translation: Junko Isogawa illustration and the new graphical formats.



Vasava is a communication studio started in Barcelona in 1997. We take on very diverse projects for shared supports. We have a new way of dealing with the creative process based on experiment and commitment, and the search for new communication values, trends and fresh ideas is what inspires us. We use a single criterion and objective to take off in different directions, working the same idea in all its possibilities and formats, capturing the most excitement we can and generating inputs.



The important thing is to fix a new philosophy and a new attitude in the way of understanding our work. The economical goals have been fixed as a way to improve our structure but not as our main driver.



Our contribution to non-profit projects and the implication for our client's projects, taking them as our "own" projects and trying to put the ideas forward as far as each occasion allows, were the differential characteristics to other studios and collectives.



VALLERY
Address: Calabria, 85, 08015 Barcelona
Tel: +34 935 396 430
info@vallery.es
http://www.vallery.esVALLERY
地址:Calabria, 85, 08015 Barcelona
电话:+34 935 396 430
info@vallery.es
http://www.vallery.es
<!- Rubicon OS Player --> <!- /Rubicon OS Player -->