art/design
エル・ガレージ
EL GARAJE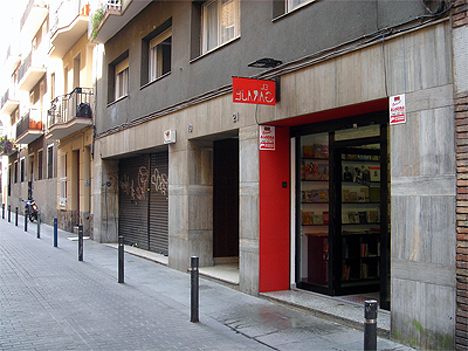 バルセロナの中心グラシアタウンにある人気のヴェディ通りにある「エル・ガレージ」に行けば、新しいものから古いものまで、ほぼすべてのコミック、Comics, fanzines, Dvds, t-shirts. design toys, vinyls, posters… all with a selection of young talents and classical artists. That is what you will found in EL GARAJE. The Shop is placed in the heart of the Barcelona Gracia town, besides the popular Verdi street you'll find it.



Garaje gives you the opportunity to get in the same place different products, some of them collector's pieces hard to find or exclusives articles in a very acceptable price.



One of the charasteristics things about El Garaje, is the great taste in thearticles they sale, that reachs for example, from vinyls of new hot bands and the most interesting names in today music but also vintage vinyls from groups of the 60's, 70's and 80's.



The biggest and main interest in the shop is concern to graphic, independent comic and fanzines, complemented with basic and classic design and illustration books.



The sellection of comics is unique. From Crushed (Cole Johnson ), Shrimpy and Paul (Marc Bell), Paul has a summer job (Michel Rabagliati), and namelles others. You can found tittles in many different languages, but mainly in English and Spanish.



What is seems incredible and fascinating is that El Garaje in this short time, has became in a place were local and foreign artist comes together and brings his own self edited fanzines, illustration works, draws and books the shop. So you can found amazing rarities and take a closer look into the nowadays indepedent graphic creation.



Visit our online shop! www.elgarajetienda.com



www.myspace.com/elgarajebarcelona
www.fotolog.com/elgaraje



If you want to sell your stuff in our shop, please feel free to contact us!



EL GARAJE
Address: Vallfogona 19, 08012 Barcelona
Open: 12:00-14:00, 17:30-21:00
Tel: +34 93 415 05 32
elgarajebarcelona@gmail.com
http://www.elgarajetienda.com



Metro Fontana o Joanic (Perpendicular a C/Verdi) Barrio de Gracia.



Text and Photos: Julio Cesar Palacio from Panopttic雑誌、DVD、Tシャツ、デザインおもちゃ、レコード、ポスターなどが見つかる。その中には入手困難なコレクターズアイテムや、お手ごろ価格な幻の一品もある。



エル・ガレージの特徴の1つは、とても趣味のいいものを取り扱っているところ。レコードで例を挙げれば、新人バンドのものや今の音楽シーンで注目を浴びるバンドのレコードを扱いながら60年代、70年代、80年代のヴィンテージもののレコードも置いている。



またこのお店ではグラフィックやインディーコミック、雑誌に関わる古典的なデザインとイラストの本が補助的に置かれている。
他にはコミックのコーナーがあり、有名ではないがおもしろいコミックが英語やスペイン語を中心にいろんな言語でたくさん置かれているのが魅力的。



地元の人も外国の人もエル・ガレージにやってきて、自身で作った雑誌やイラスト、本などを持ち込んでくる。だからこそ珍しいものが手に入り、現代のインディーグラフィックシーンを目のあたりにできる。



EL GARAJE
住所:Vallfogona 19, 08012 Barcelona
時間:12:00〜14:00/17:30〜21:00
TEL:+34 93 415 05 32
elgarajebarcelona@gmail.com
http://www.elgarajetienda.com



Text and Photos: Julio Cesar Palacio from Panopttic
Translation: Naoko WowsugiEL GARAJE
地址:Vallfogona 19, 08012 Barcelona
时间:12:00-14:00/17:30-21:00
电话:+34 93 415 05 32
elgarajebarcelona@gmail.com
http://www.elgarajetienda.com
<!- Rubicon OS Player --> <!- /Rubicon OS Player -->