bar/restaurant
BITTERZOET
BitterZoet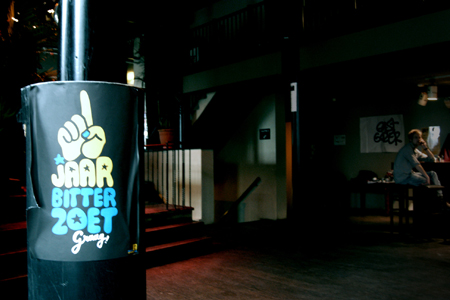 2003年にオープンしたBITTERZOETは、アムステルダムのナイトスポットとして確実な人気を得ている。It's a combination of bar/live music venue with a multimedia theatre upstairs. We have a regular rosta of live music, exhibitions and performances.

ピーター、ニカ、ヨリス、レムコの4人で共同運営されているBITTERZOETは1階にバーエリア、2階には96人を収容できるマルチメディア劇場備えた、ライブ演奏のできるバー。定期的に、ライブやエキシビジョン、パフォーマンスを開催しています。基本コンセプトは、人々に楽しい夜のひと時を提供すること。料金設定も柔軟に対応していて、音楽のジャンルにもこだわりがありません。



マルチメディア劇場ではブレイクダンス選手権の決勝が行われ、定期的に劇場公演なども行っています。



BITTERZOET
住所:Spuistraat 2, 1012 TS Amsterdam
TEL:+31 20 521 3001
info@bitterzoet.com
http://www.bitterzoet.com



Text: Ania Markham from Post Panic
Photos: Mark Visser from Post Panic
Translation: Naoko FukushiThe underlying concept really is to provide people with a good night out. Nothing to do with who's there or what they're wearing, just a genuinely goodtime. We also don't operate a door policy and make sure we keep our bar prices reasonable. Our music policy is wide encompassing all sorts of genres, for example, jazz, reggae, brazilian, rock, electro, hip hop. We just wanted to fill a gap in Amsterdam and do something new. We felt this was the thing missing.



BitterZoet
Address: Spuistraat 2, 1012 TS Amsterdam
Tel: +31 20 521 3001
info@bitterzoet.com
http://www.bitterzoet.com



Text: Ania Markham from Post Panic
Photos: Mark Visser from Post PanicBITTERZOET
地址:Spuistraat 2, 1012 TS Amsterdam
电话:+31 20 521 3001
info@bitterzoet.com
http://www.bitterzoet.com
<!- Rubicon OS Player --> <!- /Rubicon OS Player -->