Located across from the venue of Sapporo Snow Festival which will starts on February 5th, CAI02 will be presenting the Chinese Contemporary Exhibition "SHANGHAI MODERN", starting on February 6th to exhibit artworks by 8 leading contemporary artists from Shanghai China.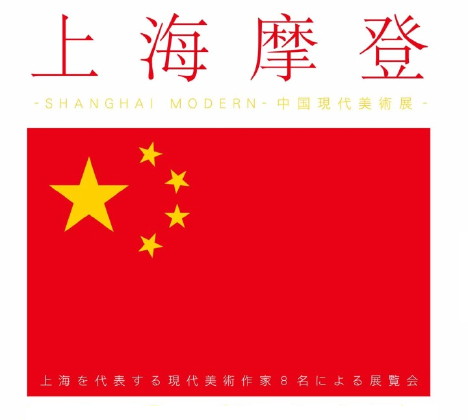 The 8 participating artists are all Shanghai-based contemporary artists and most of them were born in the 60's. Leading the contemporary art scene in China, the participating artists will exhibit 1 film installation and 32 2D works at 2 venues, CAI02 and Gallery Monma.
Satoshi Hata, an artist and also a founder of CAI02, unveiled the story behind the launch of the SHANGHAI MODERN exhibition.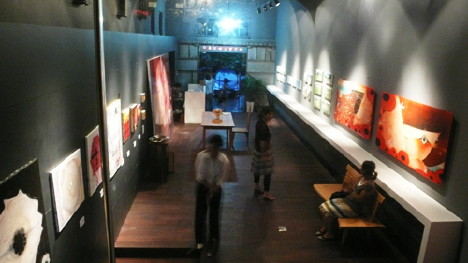 "Essence of the Snow Country" Exhibition / Photo: Shie Sato
Back in June 2009, the group exhibition titled as "Essence of the Snow Country" was held in Shanghai which showcased art works by 11 Hokkaido-based contemporary artists. This group art show actually created an opportunity to introduce internationally highlighted Chinese contemporary art scene in Sapporo for the first time. "The Essence of the Snow Country exhibition was held at 3 galleries in the art district called M50 located at Moganshan Road, Shanghai for 4 weeks from June 20 last year. Actually China has experienced a Hokkaido boom these years, which was brought by a big hit movie that was shoot in Hokkaido. The movie broke a box-office records among other Chinese movies and became the top of it. Taking advantage of such Hokkaido boom, the exhibition welcomed 1300 visitors at the opening reception", says Satoshi.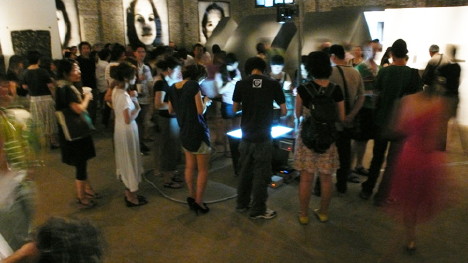 "Essence of the Snow Country" Exhibition / Photo: Shie Sato
The "Essence of the Snow Country" Exhibition was realized by the director Mr. Torimoto from Office339, a founder of the art management office based in Shanghai. Originally came from Shintoku, Hokkaido, Mr. Torimoto introduces contemporary art in China and Japan, and invited Hokkaido-based contemporary artists to Shanghai to showcase their artworks. Satoshi had the same idea that he wanted to introduce young artists from Hokkaido abroad. The mutual ideas allowed them to launch the Essence of the Snow Country exhibition in Shanghai.
As Satoshi says, China has experienced the unprecedented Hokkaido boom, which was sparked by the 2008 big hit Chinese movie "If You Are the One", set in the eastern area of Hokkaido such as Kushiro and Lake Akan. Indeed, you can find many tourists from China visiting downtown Sapporo. It's not sure whether the movie increased the impact of the exhibition, but luckily, the art exhibition from Sapporo made a big success with 8000 visitors throughout the exhibition in Shanghai.
"There were only few exhibitions introduced from Hokkaido in China before. But then, many gallerists and artists visited to the exhibition in Shanghai and found out how the current art scene in Hokkaido was. The exhibition actually received good feedbacks from them. And then, there appeared many artists who wanted to do exhibitions in Hokkaido."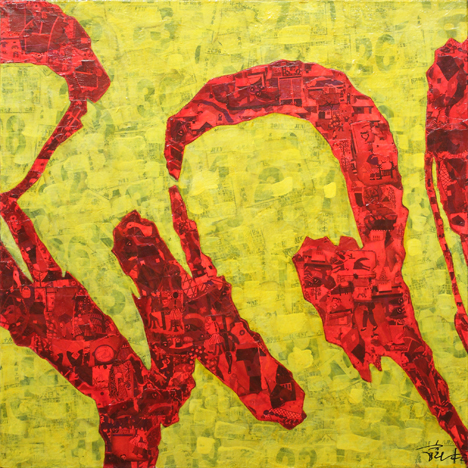 Xue Song's work / Photo: Yoshisato Komaki
Consequently, they decided to hold SHANGHAI MODERN exhibition to introduce artists from Shanghai in Sapporo this time. Satoshi mentioned that he was surprised by the list of the participating artists, since they all were current leading and established Chinese contemporary artists. The artists include: Ding Yi who participated in Venice Biennial and Yokohama Triennale and collaborated with Hermes for the scarf design, Li Lei who is an executive director Shanghai Art Museum and exhibited solo shows worldwide, Huan Yuanqing who is a Shanghai-born abstract artist as well as calligrapher, Xue Song who has exhibited at Art Basel Miami Beach in 2009, Pan Wei who works on the abstract art using Chinese characters, Chen Qiang who does dot paintings using various materials and exhibited a solo show in Shanghai Art Museum, Qu Fengguo who has participated in Shanghai Biennale in 2000, and lastly Jing Yangping who is only the 70's born artist creating paintings in China and film works abroad. These 8 artists will create the world of Shanghai Modern.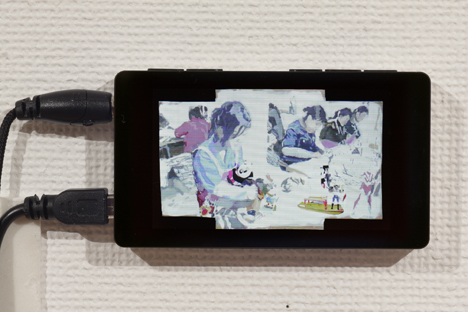 Jing Yangping's film work / Photo: Yoshisato Komaki
Satoshi mentions that they worked on the exhibition in Shanghai as the first step, and the exhibition in Sapporo as the second step to now pursue the upcoming cultural exchange with China, while he has already experienced to deepen exchange with Germany and USA before. What lies ahead of him is his concept to realize Sapporo Biennale which he has planned for a long time. "In focusing on exchange especially with China, it is necessary for Sapporo city to enhance the cultural diplomacy in both artistic and cultural levels. And that directly links to my concept of Sapporo Biennale.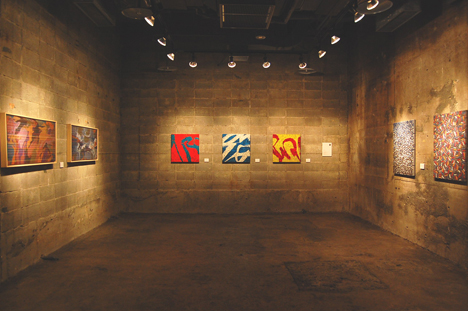 SHANGHAI MODERN Exhibition / CAI02
As a pre-project of Sapporo Biennale, Sapporo International Art Festival might be held in 2011. It's the year when Sapporo city is planned to complete both the new underground concourse in Sapporo and the Sosei River underpass with a park planned to install sculptural works by artists including Kan Yasuda. Another artistic movement in Sapporo is the project 500m Museum; it used to be planned only during dates for the annual art event called Sapporo Art Stage, but will be run throughout year to exhibit art works from all around Hokkaido. Sapporo aims to make progress as a cultural and artistic hub for not only Hokkaido but also overseas. The Chinese contemporary art exhibition SHANGHAI MODERN will make a step closer to the realization of Sapporo Biennale.
SHANGHAI MODERN Exhibition
Date: February 6th – 20th, 2010
Venue 1: CAI02
Open: 13:00-23:00 (Closed on Sundays and holidays)
Address+ B2F Showa bld, Odori West 5, Chuo-ku, Sapporo
Tel: +81-11-802-6438
Venue 2: GALLERY Monma
Open: 11:00-18:00 (Closed on Mondays)
Address: 2-3-38 Asahigaoka, Chuo-ku, Sapporo
Tel: +81-11-562-1055
Opening Reception: February 6th 18:00-21:00
Venue: CAI02
Organizer: Shanghai Sapporo Contemporary Art Committee
Co-organizer: CAI contemporary art institute, Gallery Monma

Curator: Office339
http://www.cai-net.jp
http://www.g-monma.com
Text: Mariko Takei

[Help wanted]
Inviting volunteer staff / pro bono for contribution and translation. Please
e-mail
to us.