Fail Gracefully.
Coinciding with Oeiras 250th anniversary, OFFF leaves the LX Factory in Lisbon and moves a few miles to the Fundição de Oeiras; an old foundry which might be exposed to controversial plans of renovation.
The festival is located in one big building in the foundry. The new location enables more room for people and installations and is very close to the train station.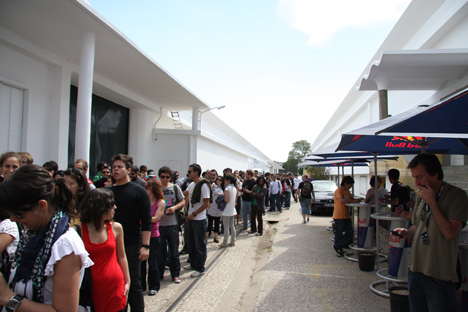 Doors open. Kick OFFF!
The festival is mainly divided into a main big room for conferences and a secondary room for alternative presentations and audiovisual performances; together with a little exhibition, a design market, a bar and a chill-out to complete the venue.
As we get inside the building we can appreciate the hugeness of the main presentation room. Equipped with 4 large screens and a sophisticated light and sound equipment, the Roots – main presentation room –, seems to be accurately designed to satisfy its big audience capacity.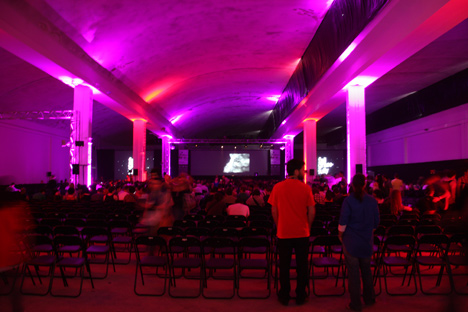 Roots – main conference room
But the technical problems appear right at the beginning. Unfortunately, the inauguration speech has a very weak sound that gets messed up with echoes probably generated by the complicated room conditions: the curved roof is extremely high…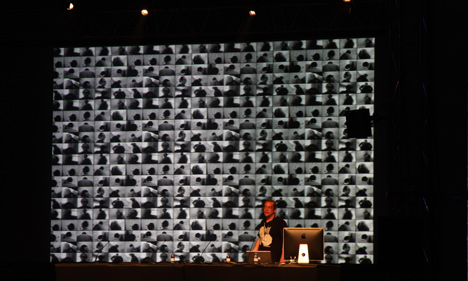 Neville Brody during his presentation
It's a pity, since we can't understand any word of the introductory speech by the organisation staff and Isaltino Morais, Mayor of the town hall of Oeiras. A speech which is followed by Neville Brody, who sounds a bit like a priest due to the echoes. Neville opens the festival going through a set of pictures that might be source of inspiration and later introduces his work with Research Studios.
"Everything we do it should announce something. It should tell a story and shouldn't be a mere technical exercise". Neville Brody's statement seems to get propagated through the room as the divine words of a design pastor.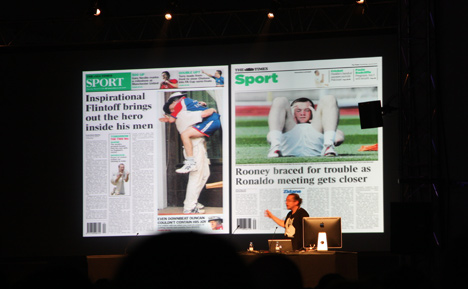 Neville Brody shows The Times redesign
Fortunately, as the presentation flows, the sound seems to get better and better. Maybe our ears are just getting adjusted to room's conditions; but I believe the sound technicians are doing a good job to correct the initial problems as Neville shows the redesign work of the newspaper The Times; which abandons the big newspaper format.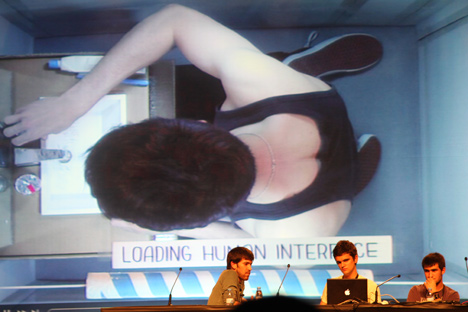 Multitouch Barcelona and the Human Interface
Multitouch Barcelona is a young interaction design group that explores natural communication between people and technology. Their Natural Interaction Project started in a research lab at the University and continued as their main dedication.
I specially enjoyed their Human Interface, a touch glass interface which is manually driven by a real person inside the installation. They also presented projects like the Guten Touch, designed for the Red Bull Music Academy 08.
Multitouch Barcelona talks about senses, limitations and emotions; with reading emotions as their starting point, to further build interfaces for people to meet and communicate. They explain how they switched from designing for senses to designing for communication, while they criticise some aspects of the social networks such as the intangible Facebook hugs.
Although Multitouch Barcelona's work is not a technical revolution, they present very refreshing ideas of tactile interaction; as for example their version of Space Invaders, which you have to hit by throwing balls. A massive multiplayer experience which is totally fun.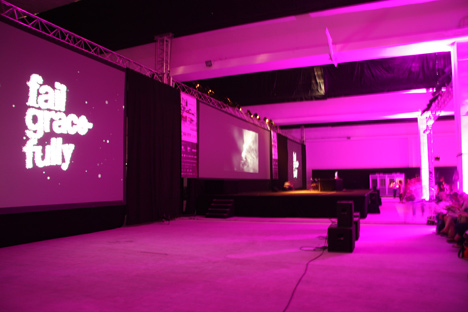 Stage view
Due to a mistake in the first day's program, we miss Karsten Schmidt. I feel sad 🙁
[NEXT]
[Help wanted]
Inviting volunteer staff / pro bono for contribution and translation. Please
e-mail
to us.