fashion
ビームス T 香港
BEAMS T HONGKONG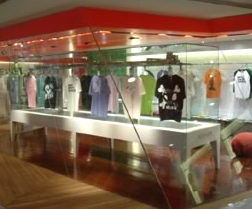 2005年10月、香港、九龍塘のフェスティバルウォーク内にBEAMS T初海外店がオープン。同11月、尖沙咀のシルバーコード内にBEAMS BOYとBEAMS Tが同時オープンFirst international BEAMS T store has opened in Festival walk kowloon tong, Hong Kong on Oct 29th, 2005. New BEAMS T and BEAMS BOY store has opened in Tsim Sha Tsuiした。内装は、いまやBEAMS Tのアイコンでもある"廻るTシャツディスプレイ"を2店舗共に使用している。その他も日本の原宿に近いデザインになっている。



九龍塘(カオルーントン)は、中心地から少し離れた郊外に位置し、高級住宅街もある地域。カオルーントンにあるフェスティバルウォークは香港でも、最も新しいショッピングモールで洋服、雑貨のほか、レストラン、アイススケートリンク、映画館まで入った複合施設。



尖沙咀(チムシャツイ)は、九龍の一番の繁華街で、海岸沿いに位置している。香港島等へ行くフェーリー乗り場の近くにあるシルバーコードは、若者が多く集まるショッピングモールだ。



BEAMS T HONGKONG KOWLOON TONG
住所:Shop LG1-31, Festival Walk, 80 Tat Chee Avenue, Kowloon Tong, Kowloon, Hong Kong
TEL:+852 2265 7659



BEAMS T HONGKONG TSIM SHA TSUI
住所:Shop 27 2/F, SILVERCODE, 30 Canton Road, Tsim sha tsui, Kowloon, Hong Kong
TEL:+852 2992 0235
info@beamst.com
http://www.allbeams.com Silvercord, Hong Kong on November, 2005. Both stores has the "Spinning T-shirt display" which is one of the icon of BEAMS T.



Kowloon tong is located in suburb of the city. It is an upper-class residential area. Festival walk is one of the most recently opened shopping mall in kowloon tong area. Many shops, restaurants, skate rink, and movie theaters are in a large recreational facility.



Tsim sha tsui is in the central part of Kowloon tong and it is also near the coast line. Many teenagers and young people come to Silvercord where the harbor to Hong Kong island is located.



BEAMS T HONGKONG KOWLOON TONG
Address: Shop LG1-31, Festival Walk, 80 Tat Chee Avenue, Kowloon Tong, Kowloon, Hong Kong
Tel: +852 2265 7659



BEAMS T HONGKONG TSIM SHA TSUI
Address: Shop 27 2/F, SILVERCODE, 30 Canton Road, Tsim sha tsui, Kowloon, Hong Kong
Tel: +852 2992 0235
info@beamst.com
http://www.allbeams.com



BEAMS T 香港九龙塘
地址:香港九龙九龙塘达之路80号又一城 Festival Walk Shop LG1-31
电话:+852 2265 7659



BEAMS T 香港尖沙咀
地址:香港九龙尖沙咀广东道30 SILVERCODE Shop 27 2/F
电话:+852 2992 0235
info@beamst.com
http://www.allbeams.com
<!- Rubicon OS Player --> <!- /Rubicon OS Player -->