art/design
オーセージ・クントン
Osage Kwun Tong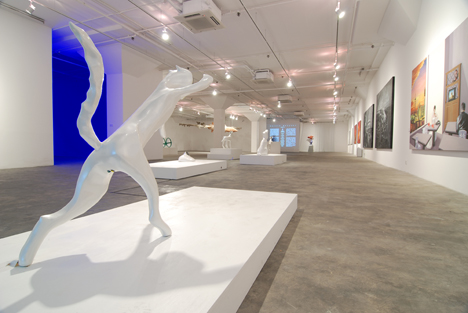 Osage Kwun Tong is a spectacular 15,000 square foot (1,500 square metre) warehouse-style space in an industrial building at Kwun Tong, Kowloon, Hong Kongオーセージ・クントンは、香港・九龍のクントンにある1,500平方メートルもの広大なスペースを持った、倉庫風の展示スペース。香港で増々ニーズの高まる現代美術のための場所だ。



4メートル以上あるの高い天井は見通しが良く、柱も目立たない。自由に使える壁は最長約47メートル。発展し続ける現代美術のあり方を反映するように、空間は展示ごとにその形を変える。数種類の展示を隣り合わせで同時に行うこともできるので、色々なアーティストや作品について語り合える。



オーセージ・クントンは若い世代への美術教育を目指しており、学校団体の鑑賞も歓迎している。この広いスペースによって、どんな人数にも対応できる。



Osage Kwun Tong
住所:5/F, Kian Dai Industrial Building, 73-75 Hung To Road, Kwun Tong, Kowloon, Hong Kong
時間:10:00〜19:00(月曜休館)
TEL:+852 2793 4817
info@osagegallery.com
http://www.osagegallery.com



Translation: Shiori Saito. It gives Hong Kong a much-needed contemporary art venue designed to give contemporary art the space it needs.



The space is blessed with 14 feet high (4.26 metre) beam-free ceilings and low profile columns. The longest run of unrestricted wall is over 128 feet (46.91 metres) long. The space is re-configured for every show to reflect the constantly evolving world of contemporary art practice. The area allows for multiple exhibitions to take place side by side, fostering an environment of dialogue amongst an array of artists and their work.



Osage Kwun Tong is committed to arts education for young people and welcomes planned visits by school groups. As size is not a problem, Osage Kwun Tong can easily accommodate the largest of school groups.



Osage Kwun Tong
Address: 5/F, Kian Dai Industrial Building, 73-75 Hung To Road, Kwun Tong, Kowloon, Hong Kong
Open: 10:00-19:00 (Closed on Monday)
Tel: +852 2793 4817
info@osagegallery.com
http://www.osagegallery.com



奥沙观塘
地址:香港九龙鸿图道73-75号建大工业大厦5字楼
开放时间:10:00-19:00(星期一休息)
电话:+852 2793 4817
info@osagegallery.com
http://www.osagegallery.com
<!- Rubicon OS Player --> <!- /Rubicon OS Player -->