theater
F40 イングリッシュ劇場
F40-ENGLISH THEATRE BERLIN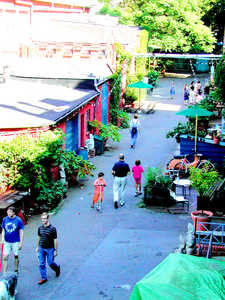 Founded in 1990 under the name Friends of Italian Opera the English theatre is named after the Mafia in Billy Wilder's "Some Like It Hot". The playful humorous attitude is reflected in many of the productions「イタリア・オペラの友人」として1990年に設立されたイングリッシュ劇場は、ビリー・ワイルダーの映画作品「お熱いのがお好き」に登場するマフィアの名から名付けられた。その愉快でユーモラスな視点は、上演される数々の作品に反映されている。



ここは市内で唯一、英語での作品を上演する劇場であり、上演作品のジャンルも幅広い。新しい脚本、フィジカルな演劇、そしてコメディを追求するスタイルで、作品の多くは世界各地で上演されている。劇場はとても親しみやすいベルリン的なつくりで、古い工場を使った建物の中にある劇場は観客と俳優との距離がとても近い。
イギリスやアメリカ、その他世界中の演出家や脚本家の手による素晴らしい作品を観る事ができる。



演劇にさほど興味がない人でも、体験する価値のある劇場だ。



F40-ENGLISH THEATRE BERLIN
住所:Fidicinstr. 40, 10965 Theater (Kreuzberg), Berlin
TEL:+49 30 691 12 11
info@thefriends.de
http://www.thefriends.de



Text: R.T.Hansen
Translation: Shiori Saito.



It is the only English-speaking theatre in the city, offering a wide variety of shows. The style is oriented towards new writing, physical theatre, and comedy, with a number of these productions being visiting international companies. It is a very intimate Berliner-scene in an old factory building with very short space between the audience and actors. Really good productions surfaces with interesting UK, American or international directors and scriptwriters.



Well worth a visit for the totality of the experience even if you are not particularly interested in theatre.



F40-ENGLISH THEATRE BERLIN
Address: Fidicinstr. 40, 10965 Theater (Kreuzberg), Berlin
Tel: +49 30 691 12 11
info@thefriends.de
http://www.thefriends.de



Text: R.T.HansenF40 -英语戏剧柏林
地址:Fidicinstr. 40, 10965 Theater (Kreuzberg), Berlin
电话:+49 30 691 12 11
info@thefriends.de
http://www.thefriends.de
<!- Rubicon OS Player --> <!- /Rubicon OS Player -->