bar/restaurant
NOTI
NOTI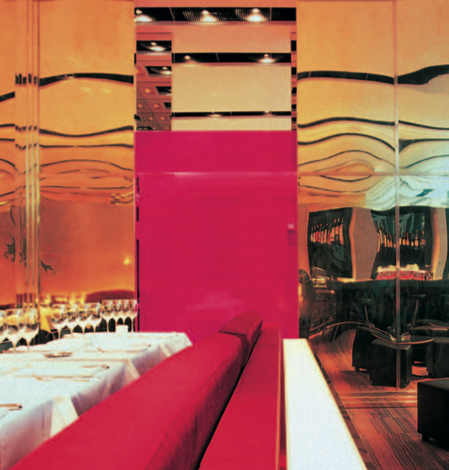 「NOTI」はスタイリッシュでリッチな気分を味わえるレストラン・バー。反射する金のパネル、赤いソファ、黒いテーブルは、私たちをリッチでセレブな気分にさせてくれる。食事は、NOTI is a stylish and glamorous restaurant/bar. The beautiful decoration with the reflective gold panel, red sofas, black tables make us feel rich and celebrity. It's an extraordinary experience, and the food you can enjoy in this grateful space is the fusion food mixed Catalonia traditional, Japanese, Thai, Italian, and French food.



Drinks at the bar is from cocktail with 8 EUR. Lunch menu is 19 EUR including 2 dishes, drink and dessert. The average price of a la carte (including drink) is 60 EUR. Main dishes to recommend are Beef Tartar with hindu bread and mized sprouts, and also Tuna Steak with stir fried shitake, soy bean sprouts and black sesame seed vinaigrette.



The price is not low, but you should visit here to spend a perfect night. You can also enjoy Jazz concert or DJ play on weekends.



NOTI
Address: Roger de Llúria, 35-37, 08009 Barcelona
Open: 13:30-16:00, 20:30-24:00 / Bar 20:00-2:30 (Closed on Sunday)
Tel: +34 933 426 673
noti@noti-universal.com
http://www.noti-universal.comカタロニアの伝統料理、日本料理、タイ料理、イタリアン、フレンチなどをミックスした創作料理が楽しめる。



8ユーロからバーのドリンクも楽しめる。ランチメニューは、料理から2品と1ドリンク、そしてデザート込みで19ユーロ。アラカルトは平均60ユーロ。おすすめはタルタルステーキ。



決して安くはないが、素晴らしい夜を過ごすのには絶好のレストランだ。週末にはジャズ・コンサートやDJを楽しむことも出来る。



NOTI
住所:Roger de Llúria, 35-37, 08009 Barcelona
時間:13:30〜16:00 20:30〜24:00/Bar 20:00〜2:30(日曜定休)
TEL:+34 933 426 673
noti@noti-universal.com
http://www.noti-universal.com



Translation: Tatsuhiko AkutsuNOTI
地址:Roger de Llúria, 35-37, 08009 Barcelona
时间:13:30-16:00/20:30-24:00 酒吧 20:00-26:30
休息日:星期日
电话:+34 933 426 673
noti@noti-universal.com
http://www.noti-universal.com
<!- Rubicon OS Player --> <!- /Rubicon OS Player -->