A digital film festival "DOTMOV 2013". The deadline is August 20th, 2013!
Online magazine SHIFT presents DOTMOV Festival 2013 aiming to discover talented creators and provide them with an opportunity to show their works. Works submitted from all over the world will be screened throughout the world venues from November 2013 (screening schedule will be different depending on the venue). Last year's total submission was 194 works from 16 countries. The tour schedule will be announced on this page.
In addition to the general category as before, we are calling for entries to the "ELEKINESIS VA" MV category in collaboration with the event "Elekinesis" organized by the Sapporo based label "SenSe" which introduces criatives such as music and art this year.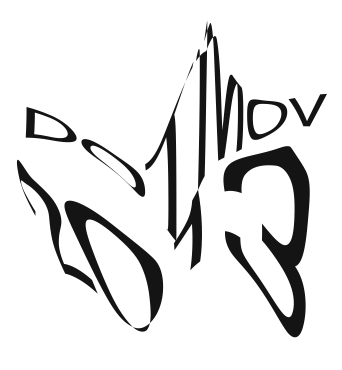 SPECIFICATIONS
Festival mission
The goal of this festival is to discover talented artists and provide them with an opportunity to show their work. We are also trying to increase the international scope of the festival by inviting guest creators, active on the front lines of the creative world, to participate as judges. During the festival, holding a lot of related audio & visual events, we explore the possibility of digital films.
Date and Place
Online: All selected works will be shown on SHIFT website. (from November 1st, 2013)
Place: The screenings will be in major cities in Japan and the world. (20 venues in 17 cities last year.) *Further details will be announced later.
Organised by
Guest Judges (General Category)
Ian Anderson, The Designers Republic: With his team and solo Ian works as a creative director / art director / brand guardian / consultant and designer. With clients from Warp to Coca-Cola, Nokia, Nike, Sony and NTT, and in collaboration with other agencies internationally on work ranging from creative direction for EXD (The Lisbon Biennale) and design direction for Doc/fest (The Sheffield International Documentary Film Festival), in print / video / experimental film, from award winning web direction to TV channel branding, and more recently as an artist / educator / writer his influence on the detail of global graphic design is immeasurable. In 2011 saw the first TDR retrospective in Japan at GGG, Tokyo.
http://www.thedesignersrepublic.com
Mirada: Mirada is a new sister company of Motion Theory. It is a studio designed for storytellers. Founded by filmmaker Guillermo del Toro, cinematographer Guillermo Navarro, and Motion Theory co-founders Javier Jimenez and director Mathew Cullen, Mirada is equal parts design studio, visual effects & animation facility, creative & technology incubator, development and production company. Mirada opened in December 2010 with narrative tradition at its heart and technological innovation as its engine.
http://www.mirada.com
Yoshi Sodeoka, C505: Yoshi Sodeoka is a multidisciplinary artist and musician based in New York City. Over the past decade, his projects have been exhibited across the world (London's Tate Britain, New York city's Deitch Projects, Stockholm's Galleri Jonas Kleerup, Paris' Festival Némo, Baltimore Museum of Art, London's OneDotZero, Barcelona's Sonar Festival, Haifa Museum Israel, San Sebastian's GlasKultur, The Creative Time Holiday Light Show at New York's Grand Central Terminal, Berlin's Transmediale, Poland's Krakow Film Festival). Sodeoka has received grants from the likes of the Greenwall foundation and his work is part of the permanent collections of the San Francisco MoMA and New York's Museum of the Moving Image.
http://www.c505.com
Jiro Ohashi, Salmagazine.org: Editor. In 2001, he started publishing a graphic magazine "SAL magazine" and has won both national and international fame. His works also include "GASBOOK UKAWA NAOHIRO" (2003), DVD "AUDIOVISUALJAPAN"(GAS AS I/F, 2004), "Novelty Design" (Shoeisya, 2005), "Disc Package Design" (Shoeisya, 2005), "GASBOOK HIDEKI INABA ~NEWLINE" (GAS AS I/F, 2006). After working as a medical staff in a hospital's psychiatric ward, he manages SAL Laboratories in Chiang Mai, Thailand now. Focusing on planning and development of cosmetics made from natural materials, he creates and designs brand rooted in the local culture.
KiYoung Park, Sugarcube: Korean leading web creator agency who create Samsung's branding site constantly and with these web sites, they've got some awards like "12th Webby Awards People's Voice" and "2008 Cannes Cyber Lions Shortlist". Their strong point is branded entertainment and interactive storytelling through 'digital storytelling'.
http://www.sugarcube.tv
Hideki Inaba: Started his career as a graphic designer in 1997, Hideki Inaba gained highly attention for his innovative graphic works. His first solo exhibition "NEWLINE" was exhibited in 2004. Since then, he has received offers from around the world including collaborative work with shu uemura, a range of exhibitions, and cover design for Taschen's Books among other numerous works. He participated in the group exhibition at the Musse des Arts Decoratifs in Paris in 2009, ground opening exhibition at 3331 Arts Chiyoda and group exhibition at National Art Gallery Malaysia in 2010, His recent solo exhibitions were "9010" held for the 20th anniversary of Art Gallery Artium and "+81 3331 9010" at +81 Gallery+Lab.His work was selected for the art division jury recommended work in Japan Media Arts Festival, exhibited at the National Art Center in 2011. He was invited to Centre Pompidou in Paris, created the graphic work for Espace Louis Vuitton Tokyo.
http://www.hidekiinaba.com
Kenta Torimoto: SHIFT China's editor-in-chief. Founder and artistic director of Office339, art management company specialized in contemporary art in Shanghai. Office339 manages, curates and produces artist/exhibition/variouse art project across Asia region.
http://www.office339.com
Suported by
Media Sponsors
Applicant's qualification
We accept all work including prize-winning works or works submitted to other contests in Japan as well as in other countries.
Submissions are accepted regardless of nationality and open to both professionals and amateurs. If some contests forbid sending your work to other contests, please respect their requirements.
Animation, images, sounds, music, text and illustrations in your work should be original.
However if the author give a permission to submit, it doesn't have to be your original.
Works submitted for the past edition of DOTMOV festival can't be accepted.
Theme
General Category: Choose your favourite theme and create a work with it.
"ELEKINESIS V.A" MV Category: We are calling for music video works for sounds from "ELEKINESIS V.A" , which is a compilation album to be released on April 27th by the event "ELEKINESIS", organized by the label "SenSe" as they celebrate its 10th anniversary. Everybody is encouraged to join. The required length is at least 30 seconds. Please download sounds from here.
(You can submit as many pieces as desired.)
Works to submit
The work should be digital film works such as animation, design or music clip.
To apply, please upload your film entry on YouTube or Vimeo.
Deadline
August 20th , 2013
Fees / Awards
Submission is free. Any money for film production or prizes are not given.
Copyright
Copyright and the right to use and distribute works are given to the creators.
Organiser has the right to use the works at projects related to this festival (i.e. publicity, projecting and displaying in the event, showing on the web).
For "ELEKINESIS V.A"MV category, ELEKINESIS and SenSe have the right to use their web, event promotion.
E-mail address
HOW TO SUBMIT
1. How to submit
Please upload your film entry on YouTube or Vimeo, fill the application format and send it by email to the above address.
Please download the application form from here.
Submission starts on June 20th, 2013.
2. Selection
Shift and guest creators will select General category works to show at the event from all those that arrive before the deadline, August 20th, 2013. For "ELEKINESIS V.A" MV category, Shift and SenSe will select works. Results will be sent to the selected creators only. We will not accept any inquiries.
3. After the selection
The submitted works will be selected by guest creators and Shift.
The selected works will be shown on Shift website from November 1st, 2013, and also screened at world venues. (Date will be different depending on the venue).
Text: Satsuki Miyanishi
[Help wanted]
Inviting volunteer staff / pro bono for contribution and translation. Please
e-mail
to us.