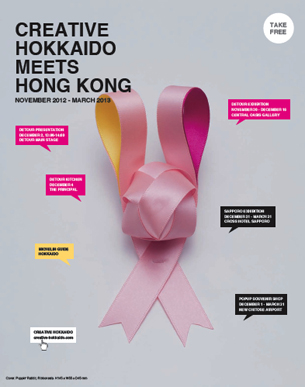 The promotion event of "CREATIVE HOKKAIDO" in Hong Kong will be held in Hong Kong. The "CREATIVE HOKKAIDO" is the project that will introduce new attractive creative culture in Hokkaido nationally and internationally.
In the tie-up with the design event "DETOUR" in Hong Kong, the exhibition will be held from November 30th – December 16th. In addition, Wabisabi and Toshihiko Shibuya will hold the talk shows during the event.
Creative Hokkaido also contains the special dinner event by Mr. Kon, a Michelin awarded chef from the restaurant "Moliere". It is the only one gained the 3 stars from Michelin.
Furthermore, the items by Wabisabi will available in the special souvenir booth in the Yamato Ogasawara Shoten in the New Chitose Airport,
Artists: Kinpro, Shuun, Wabisabi, Daisuke Yoshikawa, Ribbonesia, Hatsune Miku, Toshihiko Shibuya
CREATIVE HOKKAIDO meets Hong Kong
Date: November 30th – December 16th, 2012 (Exhibition / Central Oasis Gallery)
   December 2nd, 2012, 13:00〜14:00 (Talk event / Former Wan Chai Police Station)
Address: 80 Des Voeux Road Central, Hong Kong (Central Oasis Gallery), 123 Gloucester Road, Wan Chai, Hong Kong (Former Wan Chai Police Station)
Creative Direction: Clark Gallery + SHIFT
Cooperation: Sapporo, Hokkaido District Transport Bureau, Hokkaido Food Industry Promotion Organization, Hokkaido Shinbun Press, CROSS Hotel Sapporo, Hilton Niseko Village, Yamato Ogasawara Shouten, North Country Golf Club
http://www.detour.hk
Text: satsuki miyanishi