NB-Rietveld Poster/NB-Rietveld Typography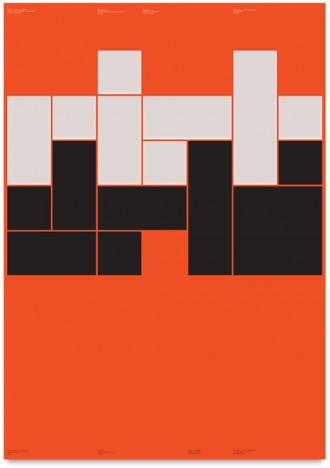 In 2008 the Neubauism exhibition opening day in Eindhoven, Stefan Gandl developed the NB-Rietveld typeface as an hommage to Rietveld's famous Red-Blue Chair (1917). In reference to the designer and architect Gerrit Thomas Rietveld's construction plan of the chair Gandl's typeface is also based on a very simple square element. An alphabet is created by repetition of the square form within a strictly geometric grid.
In June 2012 and in celebration of Rietveld's 124th birthday Neubau publishes a limited edition print of NB-Rietveld in the size of A1. The first 250 prints are signed. The NB-Rietveld typeface can be downloaded here for free.
NB-Rietveld Poster/NB-Rietveld Typography
Offset Print: NB-Rietveld Promotion Series
Edition: 250 pcs/limited, 250 pcs signed
Design: Stefan Gandl
Size: 841 x 594 mm, DIN A1
Colour: Black, Pantone 805
Paper: igepa circleoffset white, 250g/sm
http://www.neubauladen.com
Posted by
Satsuki Miyanishi