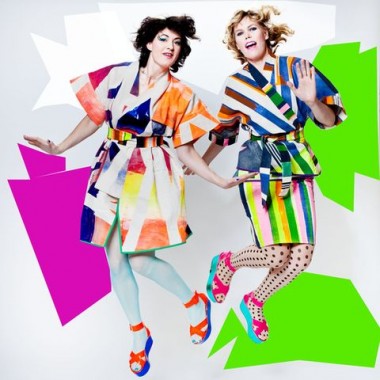 COS will present their largest exhibition in Germany to date. A retrospective from their beginnings in 1990s until now. The exhibition will include different performances, lectures, video screenings and guest artists from different parts of the globe.
It will be the first ever large-scale presentation the work of CHICKS ON SPEED in Germany, from their beginnings in the 1990s up until the present day. CHICKS ON SPEED are pioneers of the interdisciplinary arts, blurring the lines between art, fashion, music, technology and performances and combining these forms to create a new whole. Kunstraum Kreuzberg will become the headquarters, workspace and meeting point for diverse artists, setting the course for a cultural production of the future. Besides an exhibition featuring concrete objects, installations and video works, there will be a focus on the presentation and production of new performances.
The CULTURAL WORKSHIP is a Noah's Ark for art that exudes the spirit Warhol's Factory and pays homage to communal excess-processes. CHICKS ON SPEED form the electrifying nexus of their motto ART, MUSIC, FASHION, ACTION! Since the collective's formation the past 15 years has seen the intensive collaboration with other artists becoming an integral component of the group's artistic practice – and this fluctuating structure can be seen in the exhibition CULTURAL WORKSHIP NOW! Long-term companions such as A.L. Steiner, Kathi Glas, Douglas Gordon, Deborah Schamoni and Anat Ben-David are represented here alongside cooperation partners such as Jeremy Scott and Karl Lagerfeld. CHICKS ON SPEED's cosmos is not only home to these accomplished old hands but also to artists such as Kroot Juurak, Vladimir Karaleev, Johnny Dogday, Christophe Coppins, Max Kibardin, Bifacco, Alex Posada and Hangar.org, Nadine Jessen, Juliana Solmsdorf, Sophie von Hellermann, Australian Tapestry Workshop, Boris Edelstein Modul8, Jasmina Machina, to name but a few.
Parallel to the exhibition that features the diversity of CHICKS ON SPEED's artistic field, there will be a series of performance/music/lecture evenings between the 14th and 17th of September held in the rooms of the former chapel (Studio 1). Program, starting 8 pm in Studio 1 each day, entrance fee €5/€10:
Wednesday, 14.09.11: "Theremin Tapestry" (live performance, theory lecture and video screening).Performance lecture-Anat Ben-David, music Jasmina.
Thursday, 15.09.11: "The Naked Performers" go Bollywood (theory lecture and video screening, DJing.With Chicks on Speed (Alex Murray-Leslie & Melissa Logan), Kroot Juurak, Maral Salmassi.
Friday, 16.09.11: "Venus Goddess Inventor" (performance, theory lecture and video screening) .With Kathi Glas, Alex Murray-Leslie and Anat Ben-David, A.L. Steiner.
Saturday, 17.09.11: "Wrectangle: sometimes a cigar box is not just a cigar box" (theory and practice mash up, performance, music, party) with Chicks on Speed (Alex Murray-Leslie & Melissa Logan), A.L. Steiner, Kroot Juurak, Nadine Jessen, Jasmina Machina.
CHICKS ON SPEED CULTURAL WHORSHIP NOW!
Date: Sept 10th – Oct 23rd , 2011
Hour: 12:00 pm – 7:00 pm
Entrance fee: Free
Place: Kunstraum Kreuzberg/Bethanien
Address: Mariannenplatz 2, 10997 Berlin
Press contact: Daniela Zenone, press@chicksonspeed.com, Tel.: +49-(0)30-6158387
www.chicksonspeed.com
www.kunstraumkreuzberg.de
Text: victor moreno
[Help wanted]
Inviting volunteer staff / pro bono for contribution and translation. Please
e-mail
to us.