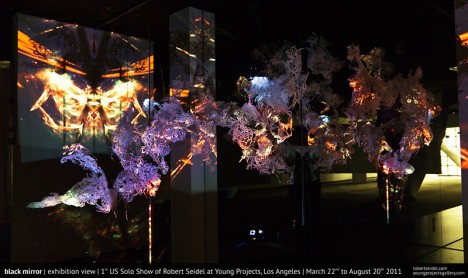 Until August 20th, Young Projects at the Pacific Design Center presents Black Mirror – A New Installation and Motion Paintings by the German Artist Robert Seidel.
The documentary video of the exhibition is now available online on Youtube and Vimeo.
This is the artist's first monographic exhibition in the United States, and it will encompass much of the German artist's recent projects, including works projected onto sculptures, multiple channel works and discrete single channel projects. What they all share is Seidel's unique approach to abstract cinema, where the painterly gesture combines with specific references to mathematics, science, philosophy, nature, memory and the artist's own personal experiences: "Since my first works I'm interested in arranging fractured memories to abstract-organic "Tableaux Vivants". In a process-based fusion of nature, painting and sculpture a pictorial flow comes to life that connects with the associations of the viewer, so every moment unfolds new rhizomatic connections with the seminarrative strands."
The documentary video by Robert Seidel won't miss it!
Robert Seidel Black Mirror
Date: March 22th – August 20th, 2011
Place: Young Projects the Pacific Design Center
Open: 11:00-17:00
Close: Monday, Saturday. By appointment on Saturdays.
Address: 8687 Melrose Ave.Gallery B230, West Hollywood, CA, 90069
Tel: 323-377-1102
info: pacificdesigncenter.com
appointments: young.paul@yahoo.com
Text: memi mizukami