Romantic Geography by Too Much Magazine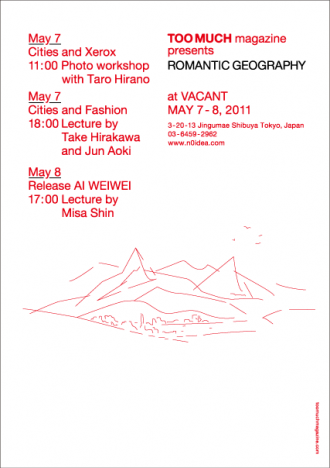 Too Much Magazine presents Romantic Geography, a series of lectures held over two two days. Featuring a talk between architect Jun Aoki and fashion critic Take Hirakawa on the topics of architecture in Japan after the disaster of March 11th and on functionality and decoration. (In Japanese only). There will also be a workshop with photographer Taro Hirano, and a talk on Ai Weiwei by gallery owner Misa Shin (English/Japanese).
Full Details Below
May 7 Sat.
11 a.m. Photo workshop with Taro Hirano
Fee: 5000 yen
Language: English / Japanese
May 7 Sat.
6 p.m. Cities and Fashion by Take Hirakawa x Jun Aoki
Fee: 2000 yen
Language: Japanese
May 8 Sun.
5 p.m. RELEASE AI WEIWEI by Misa Shin
Fee: 1000 yen
Language: English / Japanese
On April 3rd, artist Ai Weiwei was arrested at the airport of Beijing, and no one knows what's happening to him since then. Ai Weiwei's critical art has always upset the Chinese authorities, and even if Ai Weiwei is now internationally acclaimed, that didn't stop them from incarcerating him. International art institutions and human-rights groups have been requesting for his release. In different places of the world, manifestations took place outside the Chinese embassies to show protest.
His friend and gallery owner Mrs. Misa Shin will give a talk on his situation along with art and freedom in China. We will be more than happy to have you with us to discuss all together the possibilities of our actions for his release.
The talk will be translated into English.
Entrance fees (including a drink) are 1,000 yen in advance and 1,300 yen at the door.
To book and get information: booking@n0idea.com
Vacant
Address: 3-20-13 Jingumae Shibuya Tokyo
Tel: 03-6459-2962
http://www.n0idea.com
Posted by
Vicente Gutierrez