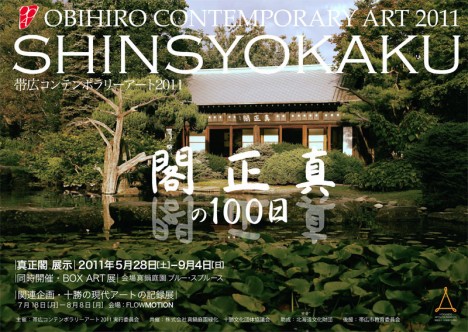 An art festival "Obihiro Contemporary Art 2011: 100 Days at Shinshokaku" will be held in Obihiro for 100 days from May 28th, 2011.
The main venue "Shinshokaku" was build in 1911, removed and restored in Manabe Garden in 1968 and then registered Obihiro's cultural heritage. The festival will be held to celebrate its 100 anniversary, to bring back the breath of culture to the ancient sanctuary.
More than 50 artists will gather in this noble venue from not only Obihiro but also Asahikawa, Kitami, and Sapporo to present various forms of art that reflect today's society in hope to bring "further energy" to the place as well as to the visitors.
At the Cafe Terrace Blue Spruce in the garden, "BOX ART" will be held from May 28th to September 4th at (Open 10:00 -17:00. Last admission 16:00), where artists' mini works and portfolios will be at guests' disposition.
On the same occasion, "Tokachi Contemporary Art Archive" will be held at FLOWMOTION, a downtown gallery from July 18th to August 8th (Open 11:00-20:00, last admission 19:00. Closed Tuesday) . The archive exhibition is curated by Shoji YONEYAMA (Poet, local historian, artist)
Obihiro Contemporary Art 2011: 100 Days at Shinshokaku
Date: May 28th – September 4th, 2011
Time: 10:00 – 17:00 (Last admission 16:00)
Place: Manabe Garden, FLOWMOTION
Address: Manabe Garden Inc. / Inda-cho Higashi 2-6, Obihiro
FLOWMOTION / Nishi 5 Minami 13-11, Obihiro
Admission: Adults 500 yen / Children (6 years – 15) 200 yen / Groups (20 or more) 400 yen / Handicapped 100 yen off admission / Manabe Garden Passport (All 100 days admission) 1,200 yen
Tel: 0155-48-2120
http://tokachiart.jp
Text: julie morikawa