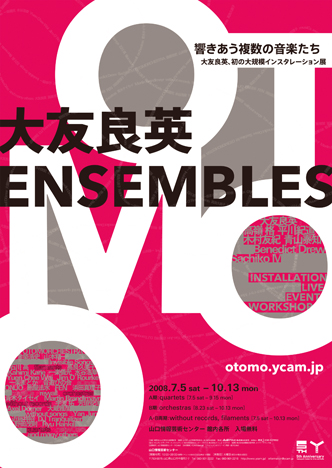 Celebrating its 5th anniversary, Yamaguchi Center for Arts and Media [YCAM] is providing a special exhibiting plan through the year. The 1st in the series is "Otomo Yoshihide / ENSEMBLES" Exhibition from July 5th to Oct 13th.
Otomo Yoshihide is an artist who is always pursuing sound on an experimental basis in varied areas of music, such as free jazz, improvisation, noise music, contemporary music, electronic music, and film music. Performing the mediamix of space and image in the comprehensive world of sound in a multifaceted way, Otomo presents four new installations as YCAM-commissioned work.
The concept of this event is that "ensembles" composed of many people are brought together in further plurality. Musicians, sound creators and visual artists in and outside Japan produce various collaborations together with citizens to resonate with all the audience. Please come and enjoy a new landscape that will be open to the view when people come together and mingle.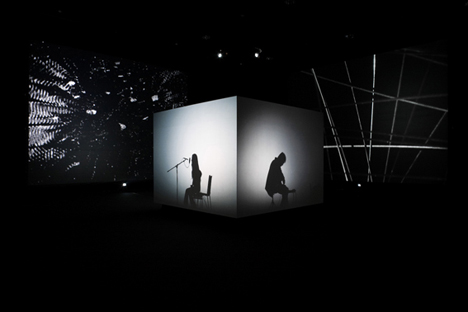 Photo: Ryuichi Maruo
Installation "quartets" at Studio B. Nearly life-sized silhouettes of musicians are projected on each side of a white cube (3.3m square and 2.5m tall) placed in the center of the hall. On the screen on each wall facing the cube are projected details of objects made of wood, iron, liquid, etc. and those materials vibrate to the sound produced by the musicians who are projected.
In the session B (from Aug 23rd – Oct 13th), a sound installation with waste wood and beams of light will be also exhibited in collaboration with Tadasu Takamine, an artist of contemporary art.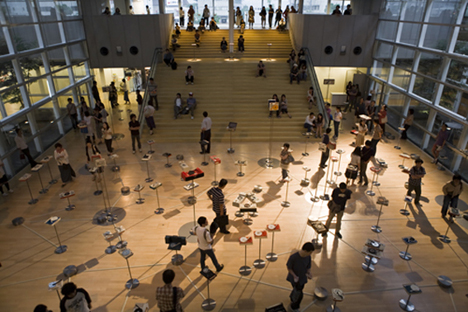 Photo: Ryuichi Maruo
At Foyer, Gallery 2F and Courtyard, an installation "without records" can be seen. There are about a hundred portable record players without records, but equipped with unusual materials such as corrugated paper or iron.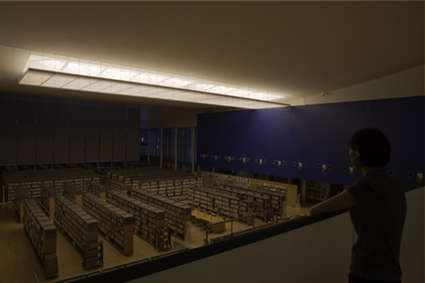 Photo: Ryuichi Maruo
Installation "filaments". Four speakers are set up in the library. The quiet sound of Filament flows for an hour after the library is closed.
Otomo Yoshihide ENSEMBLES
Date: July 5th – Oct 13th, 2008
Place: Yamaguchi Center for Arts and Media[YCAM]
Time: Studio A, B 12:00-19:00 / Exhibition at Library weekday: 19:00-, Saturdays and Sundays: 17:00- / Foyer, Gallery 2F, Courtyard 10:00-20:00
Admission free
Installation 1 "quartets"
Date: July 5th – Sept 15th (Session A)
Place: Studio B
Artists: Otomo Yoshihide+Yuki Kimura+Benedict Drew+Norimichi Hirakawa+Ko Ishikawa+Yoshimitsu Ichiraku+Jimu O'Rourke+Kahimi Karie+Sachiko M+Axel Dörner+Martin Brandlmayr
Installation 2 "orchestras"
Date: Aug 23rd – Oct 13th (Session B)
Place: Studio A
Artists: Otomo Yoshihide+Tadasu Takamine + many musicians
Installation 3 "without records"
Date: July 5th – Oct 13th
Place: Foyer, Gallery 2F
Artists: Otomo Yoshihide+Yasutomo Aoyama
Installation 4 "filaments"
Date: July 5th – Oct 13th
Place: Central Library in YCAM
Artists: Filament [Otomo Yoshihide+Sachiko M]
Future Events:
Screening of movies in which Otomo Yoshihide participated in music (Aug 1-3 / Sept 12-14)
Improvised orchestra workshop for children (Aug 17)
http://otomo.ycam.jp/index_e.html
Text: yurie hatano
[Help wanted]
Inviting volunteer staff / pro bono for contribution and translation. Please
e-mail
to us.