The Radio GEMPEG Show 2
It's 2027. Born in 2007, the main character K has no girlfriend and is part of a cultural minority with few friends. In a paperless age with no books, magazines and newspapers, K collects the old media of the 20th century. His little dream is to "make a book" with his friend 21LO! But it goes against the law to make books in the age when the distribution or even printing is impossible and severely restricted without an official government emblem...


EPISODE 39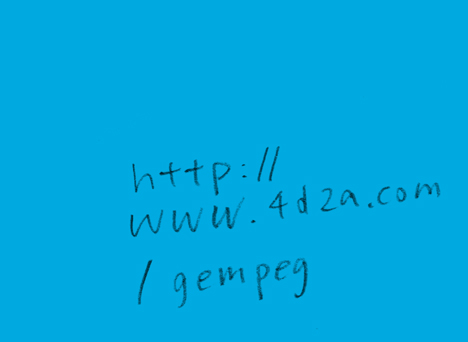 K "Well well, everybody. Thank you for your feedback" 2 "Getting carried away, here is Vol. 2" K "Yeah we are excited" 2 "What the hell did they like our talk about?" K "Basically books and radio programs are censored strictly. And we got brought into the world" 2 "It'd be even better if we were under age, but actually we can face criminal punishment" K "It's because the censorship is strict, we want to go over it! There is this kind of energy" 2 "Just like love" K "More troubles, more excitement" 2"That's right" K "Ahhhh!!!" 2 "Wow!!!! Spilled tea!!!" K "Whoa…." 2 "Here you go. Wipe it off" K "Well, sorry for this interruption in the middle of the program" 2 "I wiped it off" K "Yeah" 2 "Oh, it's wet under here" K "Oh, here" 2 "Right" K "Well, we're sorry. Let's put juice over there" 2 "Good thing is that the equipment didn't get wet" K "Nomura-san will punch you again. Really…" 2 "You never thought about returning it, did you?" K "Well, we are getting back to the show" 2 "Yes, we are all set. OK" K "Yes. Brilliant. There is nothing on the table" 2 "What? Where are we?" K "Speaking of getting wet, the whole Odaiba went under the water" 2 "Finally" K "It might be a good idea to create a city on water like Venice" 2 "I should have visited the city before it submerged" K "Hong Kong?" 2 "Speaking of Hong Kong, Jackie, Sammo Hung, Yuan Biao" K "Classic" 2 "Say it old school" K "Oh, I read that one "Love me Pao Pao"" 2 "What's that?" K "Jackie's autobiography" 2 "Are you really a Zakuian?" K "I also saw a documentary. It's about Jackie's father who worked for the military in Mao's days and then turned out to be in the mafia! His mother used to be a gambler & pusher" K "Yeah. Not interested……" 2 "Hey!" K "Wanted to go visited the old days of Hong Kong. I heard it was stinky in the whole city" 2 "It's like your room" K "Hey!" 2 "Probably the same smell" K "Hey, do you remember who ate that one at your house? The most stink food in the universe. What was that Zakuian food?" 2 "Gunmo?" K "Yeah, that one! Stinks so much!!! What is that?" 2 "Oh, yeah? It's good. Stinky though……" K "Yeah right. It's stinky but tastes good" 2 "Right. But is it true it's the most stinky thing in the universe?" K "There are more stinky things in the universe, aren't there?" 2 "Yeah. I guess. The universe is vast" K "But, Gunmo is stinky" 2 "Isn't there a place sounds like it?" K "You mean Gunma?" 2 "Yeah yeah! Is that place stinky?" K "It's not stinky. You know Takasaki, and Maebashi? 2 "Don't know" K "Those cities are quite nice. I think TSTAR NOODER is a band from Gunma" 2 "TSTAR NOODER is cool. They've been reappraised" K "In a solid" 2 "Something like The Damned too." K "Really. They are deep" 2 "Shigeru Izumiya, you mentioned lately is also quite nice" K "Oh, I totally like him. Howl and Other Ballads" 2 "Ponta Murakami's drum is awesome. It's like attacking" K "Hey, where are we?" 2 " It's still wet around here on the desk" K "Drying up with a dryer?" 2 "Let's change the subject" K "Yes, anything" 2 "Let's talk about Suzy Amakane" K "I love him" 2 "He is awesome. I love everything. But his books are rare. You can never find one, the Suzy Amakane's book" K "You have one, don't you? Lucky you" 2 "YUBIN-POST MODERN. It's a masterpiece" K "One of your treasures in your life" 2 "Yeah" K "I think Suzy Amakane played a major role in his first achievement of ridiculous manga drawing on the campus in Japan" 2 "Yeah. I love him. I want to talk about a new painting but it will be too professional" K "Oh, yeah. I had a row fish yesterday! For the first time!" 2 "Really!? Why? How? How much?" K "A friend of mine gave me some left over sushi at the sushi restaurant" 2 "Shabby" K "The row fish is disgusting. It's disgusting like gunmo" 2 "Hey!" K "It's a gunmo horror. Let's ask George Andrew Romero for shooting one" 2 "Don't insult the Zakuian culture!" K "Just kidding. But eating row fish is a valuable experience, right? It's impossible for the '00's people" 2 "It's even more impossible for the Zakuians" K "Did you have your front hair cut?" 2 "No, I didn't" K "Oh, ok" 2 "Well, I watched George Andrew Romero's Day of the Dead the other day and my mom was angry with me" K "Day of the Dead. That's a killer" 2 "She came into my room when the zombies were chopped up" K "Haha. I got in trouble for my Judas Priest T-shirt which I wore at the work" 2 "By your boss?" K "Yeah, he said the picture was too brutal" 2 "What picture was it?" K "The one they hold razors" 2 "Heh, just for it" K "Since it's a moral society" 2 "Oh yeah. I had a bad day, too. A crowd of elementary kids was whistling Another Brick in the Wall (Pink Floyd) on their way home. They were like we don't need no education" K "You kidding!" 2 "Really! Or there is something similar one" K "I've never heard any of that" 2 "Anyway I thought they were cute so I smiled at them. Then they were totally like looking at me like a pervert" K "Ahahaha! Pervert!" 2 "So I went away straightaway. Got exhausted. What are they going to do with my humanism" K "They might be said like that by their parents" 2 "It's impossible to act like a pervert at this age" K "Even kids should understand that" 2 "At the age having careful protection for even animals, how can you attack kids!" K "It's a trace of the previous age" 2 "Nomura-san is remaining to be a Loli-con at this age. He is, in a way, respectable" K "You don't need to praise him that much, I think" 2 "Let's give him the first Loli-con award to Nomura-san, the faithful man" K "A silver prize" 2 "Should be an honorary award" K "He doesn't want it" 2 "May be punched again. Blacked out" K "Well, I was punched by Nomura the other day and had an experience blacking out for the first time in my life. And I got a revelation from Kami-sama. Really. Kami-sama, the paper. 2 "He is kidding" K "No, it's true" 2 "Then what Kami-sama said?" K "You know there was a club The Haçienda in Manchester?" 2 "The one of the second summer of love!?" K "Right. At there Genpei Akasegawa appeared and he gave me a thousand yen. A bill" 2 "Can't even buy alchohol" K "Right. And then he told me to 'speak out'" 2 "Who? Genpei Akasegawa?" K "Yeah. Well, it's really a discursive conversation"
Whew! There is no end to the talking. The recording time went over one hour. Let's press the send button now.

Text and images: Kurando Furuya, Hitoshi Odajima, Tomoki Kurokawa
Translation: Mariko Takei