Piles of Stock
It's 2027. Born in 2007, the main character K has no girlfriend and is part of a cultural minority with few friends. In a paperless age with no books, magazines and newspapers, K collects the old media of the 20th century. His little dream is to "make a book" with his friend 21LO! But it goes against the law to make books in the age when the distribution or even printing is impossible and severely restricted without an official government emblem...

EPISODE 32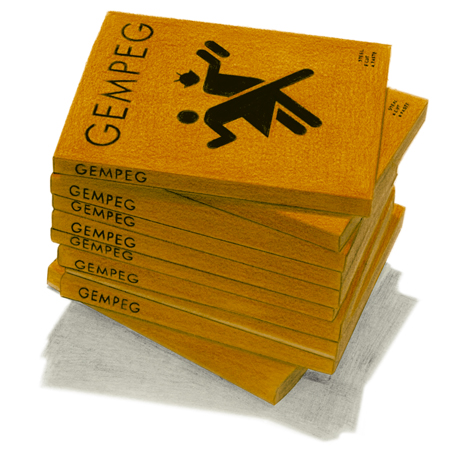 In the morning the machine all of a sudden runs quietly, and then it stopped.
At last the book is finished. On opposite sides of the machine, there are piles of bright orange color printed books, GEMPEG.
Slowly takes a book from the top of a pile, and carefully flips the pages.
The print is finished more rough than I thought. How surprising the finish goes like this. Our minimal knowledge on print might have helped? It's a pleasant miscalculation.

2 "Sleepy…"
K "Well it's all done. Seems like the print is rough. But that's cool."
2 "It's well done even though we're amateurs. Well I'm tired. And sleepy."
K "Well, don't you think the 2 colored print looks cool?"
2 "Maybe so."
K "Oh, weirdly rough. It's cool."
2 "Maybe so. Sleepy."
K "Ok. The next thing is how you promote them."
2 "Let's think about such things tomorrow. Sleepy."
K "We got a really great book."
2 "Maybe. Sleepy though."
K "I think it's a good idea to inform people about the book via audio network. What do you think?"
2 "What? What are you talking about!? I was awakened by it totally. Are you going to get in without permission? Do you mean to release a talk? How about equipment?"
K "I have someone to ask, but I'm not sure if I can make it…"
2 "Are you talking about Nomura-san?"
K "Yeah. I'm wondering if I can borrow one from him."
2 "I don't know. Well, it's a misdemeanor rather than printing paper. I'll stay with it anyway."
K "Thank you."
To promote this beautiful book, I'll visit Nomura-san in the broadcast room after work tomorrow. Needless to say, he is an ass hole but he is willing to put it even in a tiger's hole for the sake of books. He is prepared for it.

Text and images: Kurando Furuya, Hitoshi Odajima, Tomoki Kurokawa
Translation: Mariko Takei