The "Sapporo Biennale" is a pleasant surprise, alluding to an International Contemporary Art Festival in Sapporo. Unfortunately though, such an art biennale doesn't take place in Sapporo yet. There are specific challenges to overcome to make it happen in Sapporo in the near future. However a class in media art theory class at Sapporo City University focused on the possibility of an art biennale in Sapporo. Intrigued, I decided to peek in and listen to the possibility of a Biennale in Sapporo.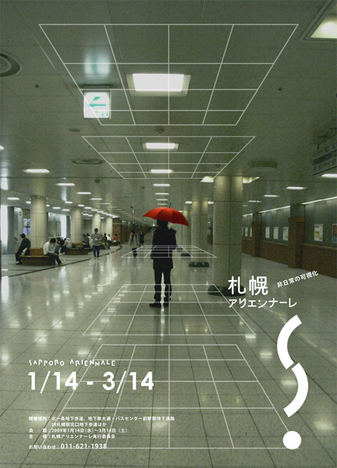 One of the media design courses at Sapporo City University, the "Media Art Theory" class was taught by two German artists – Nina Fischer and Maroan el Sani. In the class, they are examining the development of the International Contemporary Art Biennale in Sapporo "Sapporo Biennale". Researching on other Biennales and annual art events worldwide, the class focuses on researching about the necessities of an international art event and finding out what Sapporo's distinctive approach to the art Biennale would be.
In Japan there are two major art triennales: one is Yokohama Triennale which was held last fall and another is Echigo-Tsumari Art Triennale which will be held this summer in Niigata. First of all, how did they start working on the class themed on the Sapporo Biennale? I asked this question to Nina.
"Because we are working on the subject of Sapporo as a creative City, and as we are artists ourselves, we found out, that there is not much going on in Sapporo in contemporary art, and we thought, that a major art festival could be a good asset for Sapporo's future. But at the moment the city is not ready for it, so our idea was, to play with the idea for a Sapporo Biennale in the near future, to make people curious and establish the term, and discuss the necessities for this kind of art festival and also about possible concepts for such a Biennale, in comparison with other Biennials."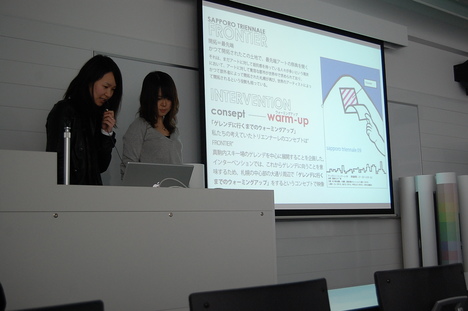 The class was divided into a few groups with 5-6 students per group. Studying other art festivals happening in other cities, each group gave a final presentation of their approach to Sapporo's original art Biennale (Triennale) by making a basic concept for the event, planning on the venues and terms, creating a poster with a logo design. As for "to play with the idea for a Sapporo Biennale to make people curious" in Nina's words, they planned to work on the project "Art Intervention" in public spaces, and make the creative development of the city visible for the public. The intention of this project is to involve the public in ideas for a Contemporary Art Biennale in Sapporo's future. And for the final presentation, each group recorded the intervention, edited it and showed a film, the approach to the artistic activity in the public space in the artist point of view as well as the approach to the interaction between art and the public community from the organizer's point of view.
To make Sapporo Biennale real, Nina says "there's a lot to be done, first of all we need a general understanding of contemporary art in the city and also an open minded city government and a lot of different people have to co-operate." And "the art scene is quite small in Sapporo, and there is no funding and support for young artists with a grant system or studio program after finishing art school. This kind of basic support for an art scene has to come first, also young contemporary art galleries and artist run spaces are necessary to open up to the market," she added. How much could the local government or community draw an interest in art to make cooperation? To boost a village development, to start a festival, or to start any kinds of events, we need support in the area. An Art Biennale could not happen without support. So it is necessary to work on building up people's local awareness towards art more and more deeply.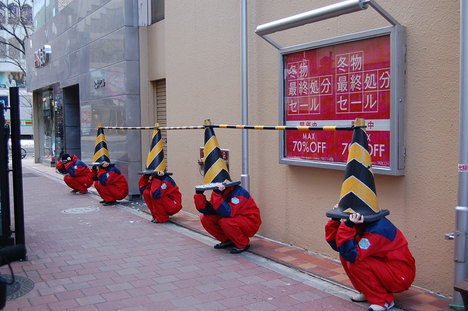 Thinking about where the first step to start a Sapporo Biennale should be, I had a chance to talk to Satoshi Hata, a Sapporo-based artist and founder of CAI Contemporary Art Institute and an art gallery CAI02, who is considered to be a key figure behind the idea of the Sapporo Biennale.
Satoshi says it might take 100 or 200 years to make the Biennale a reality, if you wait on gaining a consensus from the people in the area. It gains more recognition each time. That's how Yokohama Triennale is like, it will be the same for the Sapporo Biennale. Here are some remarkable comments from him, that there is a necessity of Sapporo Biennale built on a 3 pillared platform and vision: 1.) revitalization of the local industry as a creative industry, 2.) nurture up-and-coming artists and establish a local working environment and 3.) art tourism re-examing art as a tourism model.'
"In the midst of the worldwide economical depression and in the midst of the traditional industrial stagnation, it's interesting that artists keep on making! Given a chance to present their work, they are skilled at making a good communication for the local public. If you can draw the publics attention by exploring the good use of the vacant space redesigned by artists and designers, you are able to help people move in to the vacant space, and that will expand and help the regional area. To make good use of the gained vacant space, cultural art events will encourage a new creative industry and will eventually revitalize the stuck local industry."
The creative activity supports the local industry, and vice versa. They interact with each other to make a further development. It is, for sure, necessary to gain the local government's support as well as the context where the young and up-and-coming artists and designers could take root in for the development of the upcoming creative industry. The Sapporo Biennale might be an event that helps create the educational process where creators can grow and the practical process where creators can be based in Hokkaido or Sapporo for their artistic designation.
When I asked what is necessary to realize a Sapporo Biennale, Satoshi says nothing is necessary.
"Sapporo is already a tourist center with enough hotels, good traffic control and an international airport nearby. Also the land cost is not so high and there are vacant spaces. There are about 80 galleries in total as well as big museums like Hokkaido Museum of Modern Art and Museum of Contemporary Art, Sapporo. So we have enough space to exhibit works. As for the social infrastructure, Sapporo makes a clear solution on it compared to the other 2 cities of Yokohama and Niigata. Also, there is the wildwood protected near the city center populated with 1.5 million people. And the distinctive feature of this area is a city in a cold region with few meters of snow cover in the winter. Regardless of the climate, Sapporo has an functioning city. There are forests, lakes, and a harbor in Otaru which is just 40-minutes away from Sapporo. So there are vast areas of different locations for exhibiting to choose from. Lastly, you cannot ignore food. As most of you know, food in Sapporo is nationally recognized. Sapporo Biennale would be like a rich Kabob mixed with diverse themes on environment, food, culture and art. This is the idea for art tourism, enjoying the tourist resources generated by art, which can only be experienced exclusively in Sapporo."
The food culture in Sapporo is rich with 4 seasons. In the art tourism point of view, Sapporo Biennale could be held in spring, summer, fall and winter, that might differentiate from the other biennales. Needless to say, it is necessary to be supported by the local government along with the 3 posts of vision. To be able to gain the support, he has exhibited the international art event called FIX MIX MAX! Showcasing many artists and designers based in Sapporo and actively working worldwide. The biennale style art event FIX MIX MAX! will be held in 2010 for the 3rd time.
At the last minute of the final presentation at SCU, I asked students their thoughts on the class overall and one student answered, "It was difficult to build the first concept and to grab the first step to take the project forward." Whatever you do, you might use the biggest energy to take a first step forward. And as Nina says "with this project we want to give a kind of impulse to the city to start thinking about a Sapporo Biennale and also about establishing an atmosphere in which contemporary art can grow," the idea for the Biennale in Sapporo will penetrate into the local scene slowly. The terminal point to start the Sapporo Biennale is still under construction. After its completion, many ideas will be derived from people and diverse possibilities utilizing the local features, and we will find out new cultural, educational, social developments.
Text and photos: Mariko Takei
[Help wanted]
Inviting volunteer staff / pro bono for contribution and translation. Please
e-mail
to us.