I was hungry and decided to go out for a walk in search of a sandwich or something. As I walked down 5th, I noticed a cute little alien boy or something lying on its back in a corner window. So cute, in fact, that I thought, well I'll just go in for a peek. My stomach could wait.
Lucky for me I brought my camera out with me because what I had found was an amazing exhibition of 20+ artists from Laika, a design studio in Portland specializing in animation, both 2D & 3D, CGI as well as stop-motion animation and character design. Apparently they've done a lot in the past that I've definitely seen on TV, including those ridiculous computer-animated M&M's commercials with the talking candies. Well, I don't know, I guess it'd be unfair to limit their work and capabilities to what I listed above. Let's just say that they do just about everything visual-oriented as well as some sound design.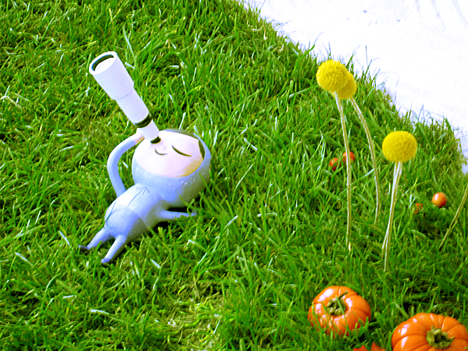 Sad fact of the day: Laika is actually the now non-existent Will Vinton Studios that also resided here in Portland. Vinton apparently needed funding for feature length films, brought in outside investors, and along came Phil Knight, owner of Nike, Inc. Yeah, that Nike. The sad part is that in 2002, Phil Knight became the majority shareholder, Vinton lost control of his own studio and was eventually dismissed. Will Vinton sued Knight for ownership of his name, won, and Knight renamed the studio Laika in 2005. I hold a special place in my childhood for Will Vinton, his California Raisins and that creepy Mark Twain claymation movie that gave me nightmares for God knows how long. *Shudder.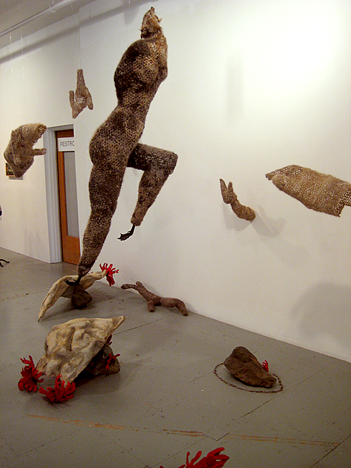 Colleen Flanigan "Conquest"
Well, we all know what I'll be dreaming about tonight. Great. Anyway, upon entering the Goldsmith Building art space, I was welcomed by a large amount of artwork squeaking, "me first! No, me first!" I decided to be unethical and go counter-clockwise to spite the squeakers in the building. I'm glad I did.
The first piece I saw was an incredible mixture of dog/cat/human hair, chicken wire, cement, steel, a variety of found objects and a skillful amount of weaving. The piece was by Colleen Flanigan with assistance by weaver Jeanne McIvor, titled "Conquest"- a beautiful display of motion and alternate realities/dimensions.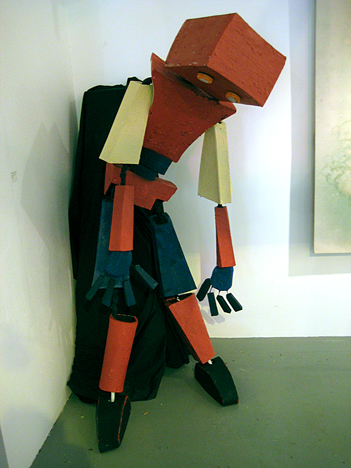 David Candelaria "DJ Robot for hire"
"DJ Robot for hire" by David Candelaria freaked me out at first. Not that I have a problem with robots or costumed figures taller than I, but the fact that there was a black blanket behind it. I swear to you I thought it was going to come after me and claim my life the closer I got to it. Hah, I'm a weenie.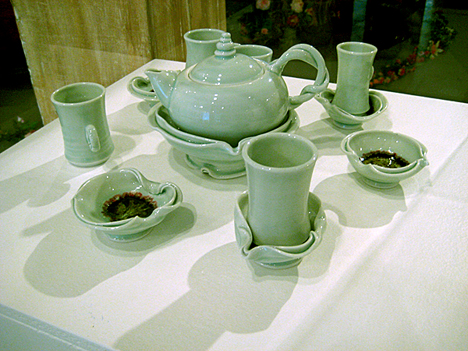 Heidi M. Sowa "Tea Set"
This tea set smartly titled "Tea Set" by Heidi M. Sowa was beautiful. The porcelain work was seamless and flowing. I also loved her variations on a traditional tea set.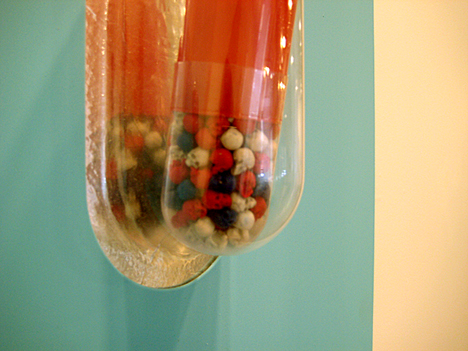 Kingman Gallagher "Untitled"
I really liked Kingman Gallagher's "Untitled". Fantastic use of undertones and surrealism with this piece.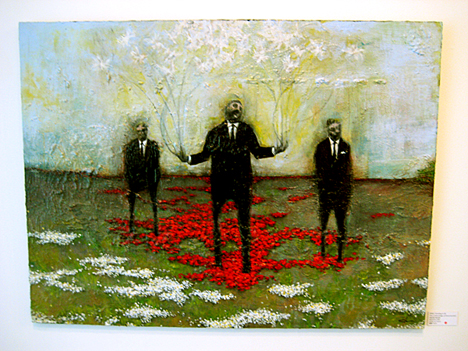 Charles Daniels "While Traveling to the Tree of Knowledge of Good and Evil"
This acrylic work titled "While Traveling to the Tree of Knowledge of Good and Evil" by Charles Daniels really caught my eye. These characters are just so evil looking, so ominous. The coloring is also fantastic. A great separation of color as well as using it incredibly effectively.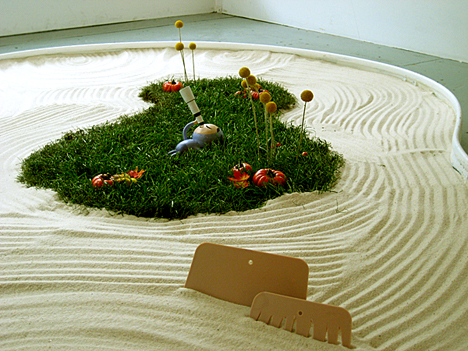 Stef Choi "Above and Beyond"
Ahhh, and one of my favorites! The eye-catcher! The reason I was curious enough to check this all out in the first place. First of all, let me just say I am a fan of cute little round persons. This fits the bill like any other. Combs in the beach-like sand. Pumpkins and Seuss-like pom-pom trees. A spyglass?! A cute little blue-body-suited little person WITH a spyglass?! Oh Stef Choi, you're killing me with "Above and Below". And I love you for it.
Gary Logue had some amazing metal works on display, featuring Untitled and, you guessed it, "Untitled". Okay. I have to stop here for a second and comment on this. Artists, is it really that difficult to come up with a name for a piece like this? I mean, how many hours did you spend welding these pieces together? How many drafts did you go through until you settled on that one idea that came into the world only known as, "Untitled." Really? I'm going to have to throw out my LAME card on that one fellas. Why not "Wind Scythe"? Or, "Skyscraper Wind Scythe"? Or, "Skyscyther"? Well, you get the idea.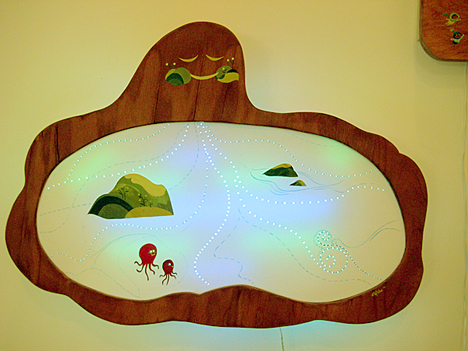 Stef Choi "Crater Lake"
On my way upstairs to view the rest of the pieces, as if Stef Choi hadn't already won me over with "Above and Beyond", she put up these two beautiful wooden, LED-laden works of art that I NEEDED! I'm sorry, I can't control myself anymore. These were amazing. I loved "Crater Lake" so much that I thought about putting myself more into debt just to be able to afford this piece. "Cloud Ride" belongs in my dreams. I want this to happen to me. Fantastic, beautiful, transporting. Thank you Stef Choi. Although my wallet doesn't like you as much as my eyes do.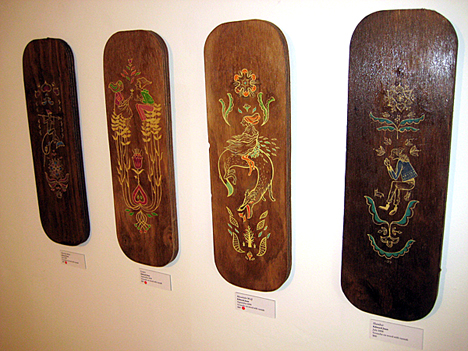 Edward Juan
Edward Juan was displaying some fantastic wooden pieces, a set of 4 displaying very stylistic European imagery, specifically Nordic and Dutch imagery/illustration. These were a treat to look at, all with a calming balance about them.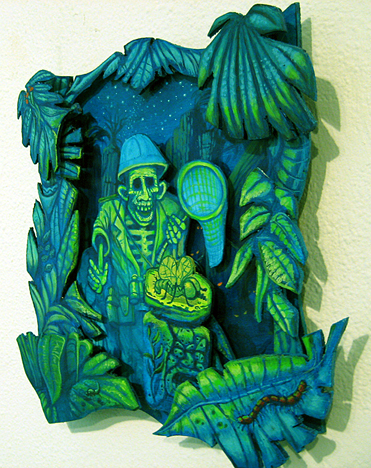 Mike Wellins "Untitled"
Another "Untitled" in the showcase, this work from Mike Wellins was very fun and imaginative. It reminded me of my days of dioramas in school, but a much more interesting version and not so diorama-ey. The use of blues and greens in this piece as a substitution for light and shadow was not only creative but believable in this VooDoo bug hunt jungle.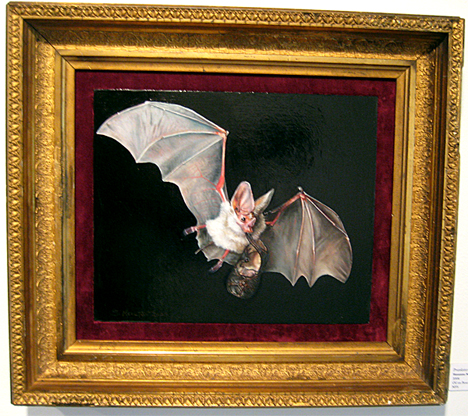 Suzanne Moulten "Prankster"
This piece by Suzanne Moulten titled "Prankster" is alive, I swear to you. I always have admired oil paintings. There's just such a sense of life in them, so crisp, so alive- for lack of a better term.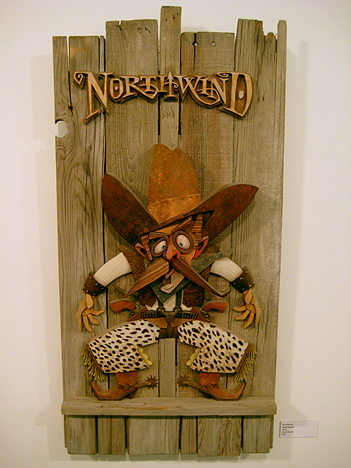 Scott Fassett "Northwind"
Once again, I was ready for "Northwind" to be activated by my presence for some insane, paranoid reason. Scott Fassett's mixed media piece was amazing. No harm intended in the reference, but this feels like amusement park quality. I was almost hoping it's eyes would roll when I got close, its mustache moving as it howled, "Well how-dy pardner!" Or something to that kitchy effect.


Rick Guinan "Penguin on the Left"
And what visual effects studio would be complete without an audiovisual room with- you guessed it, animation & video? This set-up was great. Non-intrusive, blocked off from the rest of the showcase, it was a great room. They played a loop of 4 films, my favorite being "Penguin on the Left" by writer Rick Guinan and his awesome team.
What I'm realizing at this point is that Laika is not only an animation studio, it's a story-telling studio. The images in this showcase are fantastic bits of a story, frozen in time and put on display. The works of these artists are not only beautiful to look at, but they're also inspiring creatively. I'm not an amazing illustrator, but I know that through these images, through this studio, Laika and its representing artists and projects will inspire people everywhere with their imaginative stories.
I found the creepy Mark Twain video on YouTube. Here. Now you can give yourself nightmares.
Laika Artist Showcase
Date: October 16th, 2008
Place: Goldsmith Building
Address: 32 NW Fifth Avenue, Portland, OR 97209
LAIKA house
Address: 1400 NW 22nd Avenue Portland, OR 97210
Tel: 503-225-1130
ask_us@laika.com
http://www.laika.com
Text and photos: delilah.loves.you
[Help wanted]
Inviting volunteer staff / pro bono for contribution and translation. Please
e-mail
to us.