RISING SUN ROCK FESTIVAL 2008
It finally became fine weather on the second day, and everyone could change their clothes for the summer festival. Not knowing what to do with the rain on the first day, people got hyper for the fine weather, running to the stage they were aiming at. As if saying "now is the start!".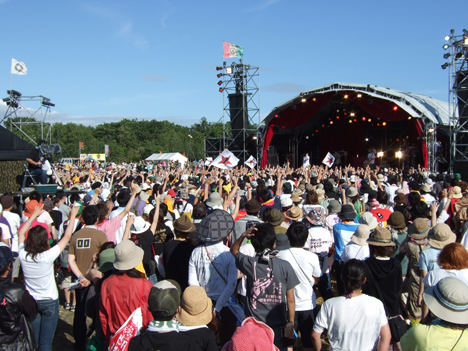 Firstly we headed to the "Red Star Field" to see "TOKYO No.1 SOUL SET". They played a lot of numbers from their new album released on this March for the fist time in about 3 years. People had the band's original flag which was drawn the number "1", and waved it in their own way. The band showed an interesting set of songs including hiphop and jazzy songs with strong statement. It was rare opportunity to see their performance in Hokkaido.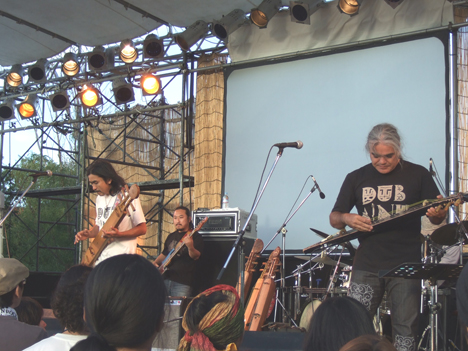 About 17:40, "Bohemian Garden" presented a show by "OKI DUB AINU BAND feat MAREWREW" that Shift had featured several times. Tonkori's sounds beautifully came out in the sun set and cozy wind. Although I couldn't stay there to the last moment, it must be amazing to listen their play in the distinct "Bohemian Garden". How pity to miss that!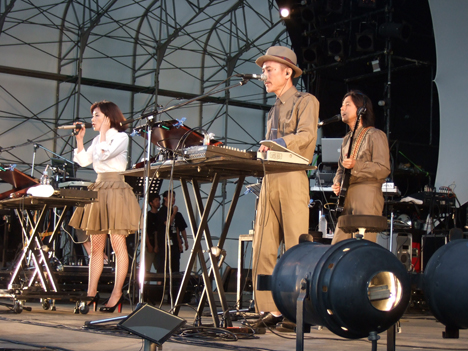 It was already 18:00 at this time. Next we went to the "Moon Circus" with many electric equipments lining. The band pupa, which was formed by Yukihiro Takahshi in 2007, appeared on the stage. They have been marked and expected very much since the beginning. Firstly, because the member is too gorgeous! Secondly, because we haven't expected to actually see them in Hokkaido at all. It was a dreamy feeling to be a part of their world of electronica music in Yukihiro Takahashi's style, along with transparent voice by Tomoyo Harada.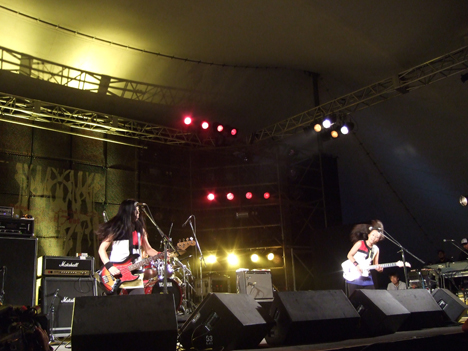 After the sun set, the "Earth Tent" started presenting a performance by the girls rock band from Osaka "Shonen Knife". One of the members Atsuko just came back to the country for this festival from LA where she is currently based in. The 3 members showed their smile and head-banking all the time. Looking around, inside the "Earth Tent" was filled with people dancing in a mosh pit. The band played total 14 songs including the familiar live set "Twist Barbie".
Letting out a cheer to the fireworks around 20:00, we were waiting for next artist Ringo Shina at the Sun Stage, the same stage she appeared as a member of Tokyo Jihen on the first day. This time she presented a solo show with a grand piano. Firstly, Saito Neko Quartet appeared on the stage with white costumes, followed by Ringo Shina with the same white long jacket. Beautiful strings were harmonized well with her somehow painfully sad singing voice. The discreet lighting and dark sky were perfect for the show. We could experience classically arranged music of Ringo Shina which was completely different from band sounds, and she also presented some English songs including "you" of which Burt Bacharach made for her.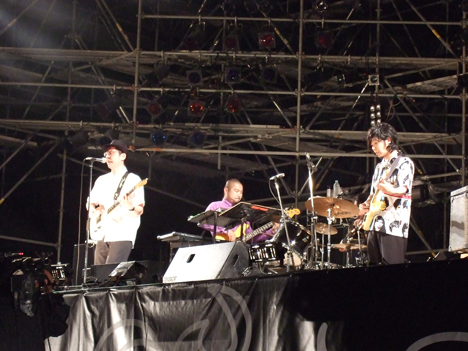 Staying at the "Sun Stage", we were waiting for next "ZAZEN BOYS". This collective of strong individuals presented one of the coolest shows in the festival. They stopped their play many times and restarted again and again, with Shutoku Mukai saying "stop and go." It was an amazing ZAZEN world with every-changing musical techniques that were matched by none and distinctive lyrics.
From the "Red Star Field" to the food booth area, there was a full of people waiting for "EGO-WRAPPIN'". Their show was started by saying "rushing directly from the airport, we could make it!". The band showed many new songs with up-tempo rhythm and strong melody and lyrics. It was a appealing performance to forget about the time.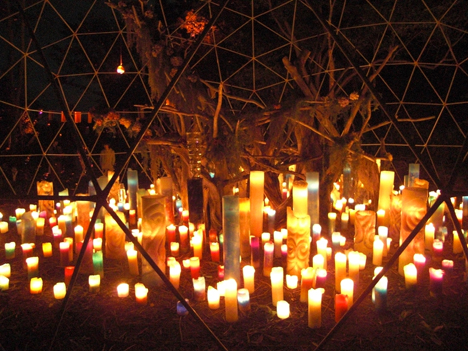 We felt extremely tired after running around without stopping. We headed to the "Forest Tent Site" close to the "Bohemian Garden" to take some rest because the RSR would still continue. They had many art spaces this year as well, and the Candle JUNE's "TAIRA-CREW ††" in the "Forest Tent Site" was one of the most beautiful spaces among those as if we actually strayed into the forest. We kept our head down and took a quick nap in front of flickering fire of candles.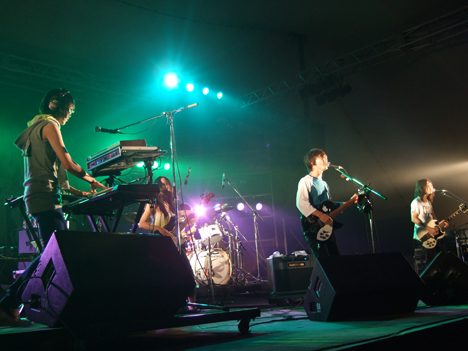 The last band we visited this time was "Sakanaction" born in Hokkaido, which was also featured in Shift before. Their first appearance on RSR was 2006 as one of public participants. They rapidly established their own world after that, and now became a band being called by many big events. Their performance seemed to send their appreciation to their fans by music, sometimes talking to the audience and playing at the edge of the stage. Their sound in the combination of rock and electronica was perfect to this late time, and I felt as if my body was swallowed up.
After the performance of Sakanaction, we took a coffee break at "Red Star Cafe" which was specially build for the RSR 10th anniversary. The digest films from past 9 years of RSR were projected at this space, showing its time process, high number of related people, and that it became a necessary event of Hokkaido's summer. Only 1 stage in the first year became 7 stages now, and 15 groups of artists expanded to more than 100 groups. The 2 days at RSR are now precious moments to people living in the North land.
I participated in RSR as a writer for the first time, and felt the RSR as one of the biggest 4 festivals in Japan from different angles as visiting in private. Hoping to the further development to the 11th RSR, I left the venue still getting excited.
RISING SUN ROCK FESTIVAL 2008 in EZO
Date: August 15th, 16th, 2008 (All night)
Place: Specially established open-air stages at Ishikari Bay New Port, Hokkaido
http://rsr.wess.co.jp
Text: Kazumi Oiwa
Translation: Yurie Hatano
Photos: Kazumi Oiwa, Naoko Miura, Yurie Hatano
[Help wanted]
Inviting volunteer staff / pro bono for contribution and translation. Please
e-mail
to us.