First Thursday is an art crawl that happens, as you might have guessed, every first Thursday of the month. The artist community in Portland throw group and solo shows all over town, all on the same night. Being new to Portland has slightly hindered my experience of First Thursday this month, seeing as I knew only one area to explore. My main focus for my experience was Old Town, a section known more for its run-down buildings, sketchy night life and hipster hole-in-the-walls galore.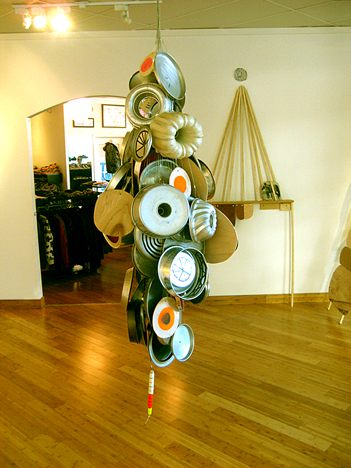 The first stop was Upper Playground, a retail store equipped with gallery space. The works were all by Cody Hudson, a Chicago artist, running under the theme Save my Life.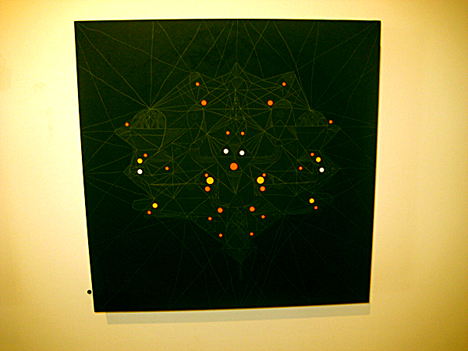 There was a mixture of installation work and canvas drawings/paintings. I overheard the curator on the phone telling the police that he saw a man with a knife outside, so I felt it best to keep moving.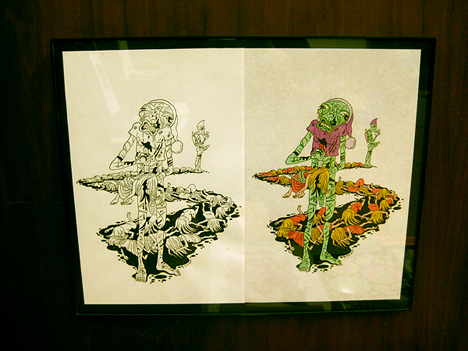 Floating World Comics, an amazingly diverse comic book shop in Portland sits across the street from Upper Playground, so I decided that would be a great place to stop next. To my surprise, I came to find alarming and startling images of grotesque sexual positions and acts I'm sure that the editors won't let me go too in depth about. The images I can show are still intense and slightly disturbing, but believe me when I say that these pale in comparison to the others pieces in the shop.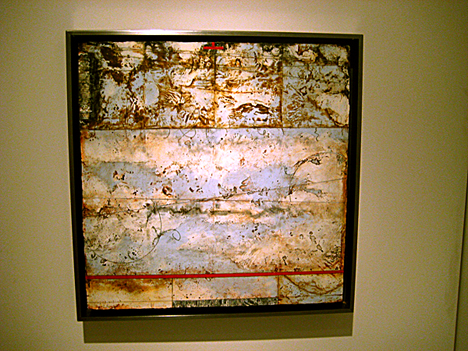 Elise Wagner – Entropic Horizons
The next stop was a more contemporary gallery called the Butters Gallery. The pieces were modern and at times boring to me, although there were a few that really caught my eye.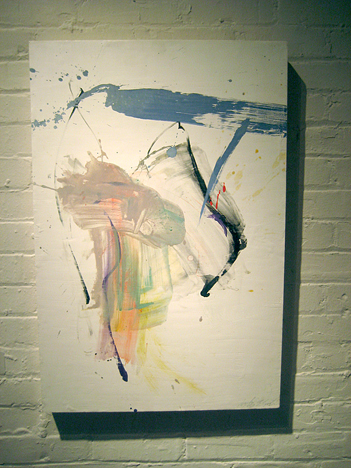 Dorothy Goode – Cant Series #9
Personally, I'm not a huge fan of avant garde and contemporary art, but the ones pictured here really stood out among the others at the gallery. The manipulation of color and offset imagery with the combination of forced creation versus natural creation (linear drawings vs runny splatterings) made these very interesting for me.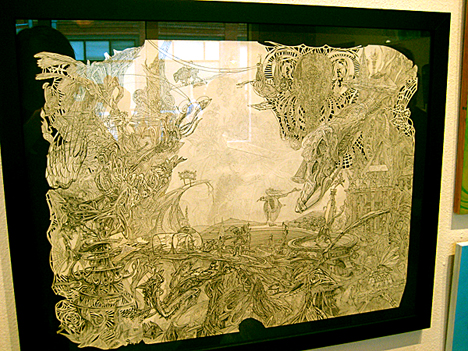 As silly as it sounds, I didn't catch the name of this gallery. I talked to the owners a bit and they said that they recently got the space from the previous gallery owners. It had a nice, California feel.
The drawings by Alec Neal were amazing, particularly one that he had cut out pieces of with an exacto knife, resembling a sort of doily.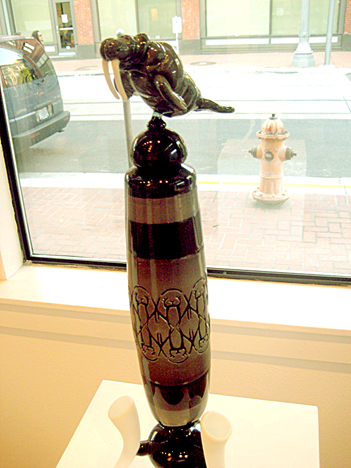 There were also some glass pieces blown by Joe Tsoulfas, very funny in nature and done with a nice sense of humor and playfulness. The manipulation of the glass was also skillfully done, complete with the UP Walrus embossed into the piece as well as being supported by 3 ivory-white tusks. As a side note, although not pictured he made a 4 foot tall wine glass that got my mind thinking that a glass that big should have been made decades ago.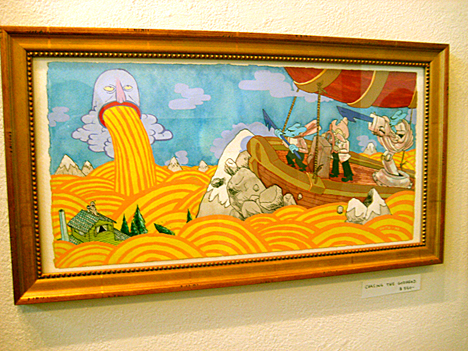 Next stop was the gallery next door, called the Pony Club. Zack Soto had a solo show with a huge palate of colors, imagery, hidden messages and emotions. I loved every piece in the show, but these were the stand-outs for me.
The picture above is called Chasing the Godhead, with a nice blend of cartoon imagery, mountain peaks, a godlike figure vomiting out orange and yellow rainbows, all while riding a zeppelin of sorts.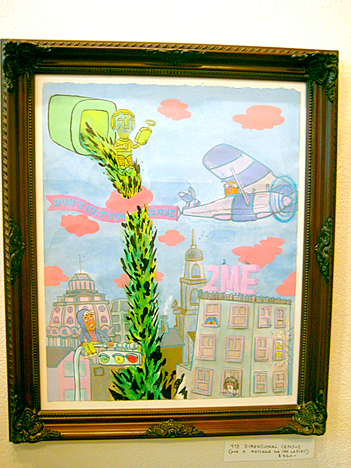 The picture is called 4th Dimensional Census (And A Message To The Ladies), a neon splattered look into the mind of the artist.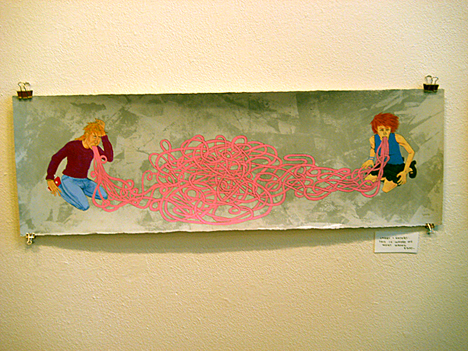 The picture is 1 of 3 in a similar-looking series, where the characters are tied together with this pink regurgitated string, all seeming in pain or confusion. Titled, Lovers And Haters, This Is Where We Went Wrong.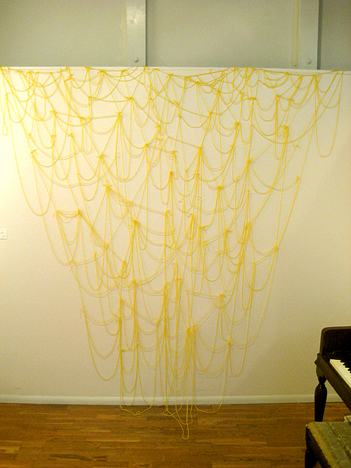 My last gallery to visit was the Plum Gallery next to the Pony Club. This gallery had more of a mature sensibility in a semi-elite, coffee shop sort of way.
Gorgeous yarn installation by Delphine Bedient, titled Connect.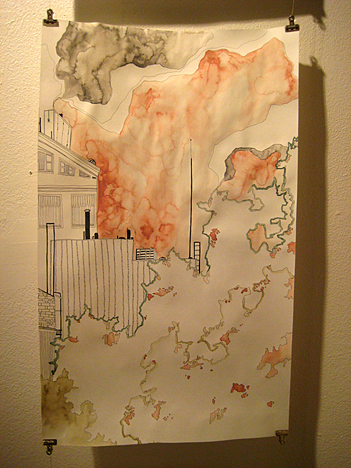 Beautiful industrial illustrations with watercolor smoke by Michelle Ramin.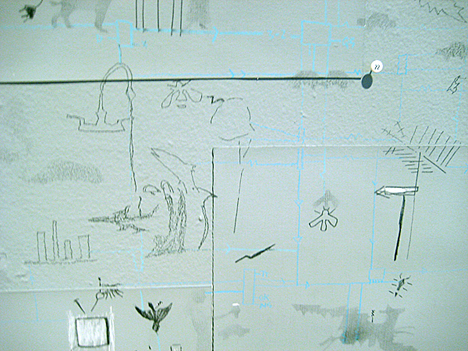 An interesting collage/ pattern by Marelne Bouchard titled Chip.
Portland is a huge city, not in NYC's terms, but it's spread out just the same. Next month I'm hoping to get a better idea of other galleries I might like and where else to visit. In the mean time, I'll have to keep meeting new people and artists to find out where I'll be heading next First Thursday.
First Thursday
Gallery Walk Portland, Oregon
Date: Every First Thursday
Time: Around 19:00 – 21:00
http://www.firstthursdayportland.com/
Upper Playground Portland
Address: 23 NW 5th Ave Portland, OR 97209
Tel: 503-548-4835
http://upperplayground.com/
Floating World Comics
Address: 20 NW 5th Ave #101 Portland, OR 97209
Tel: 503-241-0227
http://www.floatingworldcomics.com/
Butters Gallery
Address: 520 N.W. Davis, Second floor Portland, OR
Tel: 503-248-9378
http://www.buttersgallery.com/
Pony Club
Address: 625 NW Everett #105, Portland, OR 97255
Text: delilah.loves.you
[Help wanted]
Inviting volunteer staff / pro bono for contribution and translation. Please
e-mail
to us.