SOCIAL ADVERTISEMENTS OVERWHELMED CANNES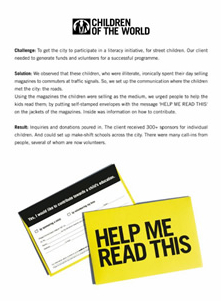 This is a green design column by greenz. Today we look at some of the social advertisements up in Cannes Lions International Advertising Festival, one of the worlds largest advertisement festivals.
First of all, what do you think are "social" advertisements? Generally, they mean ones that support organizations doing something to settle social and environmental problems, like Green Peace or WWF. Osocio, a blog that exclusively looks at social advertisements, describes social advertisements as—"A place where marketing and activism collide." I was struck with admiration by the way they directly convey their strong message.
Mr. Maruyama from ecogroove, one of the eco-blogger at greenz, does a write-up about social advertisements. In fact, he is a copy-writer working for an advertising agency, and also joins in some social campaigns, including Choco Revo which promotes Fair Trade Chocolates, and "MAKE the RULE" which works on global warming prevention. I would like to introduce some of the commentarial articles by him about Cannes Lions International Advertising Festival.
"BLACK BOY RUNNING WATER" won the Direct Lion prize, the division of campaigns that promote consumers' direct action. Looking at the video from YouTube above, you can watch colored boys bursting into some TV programs, and drinking up a cup of water. This campaign advertises "Dirty Water", the documentary in which the children without clean water in the world are focused on. The strong impact of this film spread widely by word of mouth, and led to make lots of donations.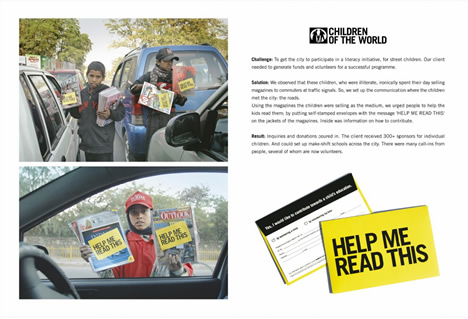 HELP ME READ THIS, which won the silver Direct Lion prize, is a guerilla campaign on a street in India. Toward a car waiting for the traffic lights to change, some children approach not to sell a paper, but to help them read the contents on it. This campaign promotes a rise of a literacy rate of children, and gives the usual scene in our everyday life strong impact. This also led to donations and volunteer work.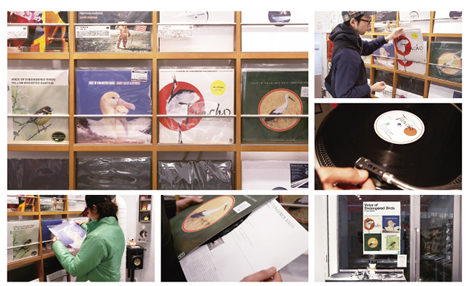 The works from Japan also made strenuous efforts. "VOICE OF ENDANGERED BIRDS" by the Wild Bird Society of Japan won the gold of Promo Lion, the sales promotion division. Aimed at young people who like music and DJs. Voices of folks that cherish wild birds are mixed in a record. Of special interest is that the selling number of CD is similar to the exact number of the existing birds. This ingenious contrivance may make you go blab around over town the shocking number—only 108 storks are surviving now.
"Flooded Home" from Argentina, felt like an artistic piece and won the Outdoor Lion prize, the division of outdoor advertisements. The roof of a house is sinking into a pond in downtown Buenos Aires, while a signboard saying "THE NORTH OF ARGENTINA NEEDS YOUR HELP" is put up next to it. This campaign was aimed to change people's mind-set about the flood in northern Argentina, and it attracts public attention so much that some passers-by took photos with their cell-phones. This quite suggestive campaign makes us think how we can deal with and solve a problem in the distance.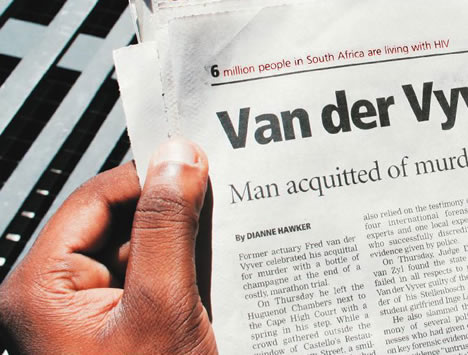 Media Lion, in which the original way of using media is appreciated, is big with completely original works. Among them was a particularly perceptive work "AIDS STATS", an advertisement of World AIDS Day in the south of Africa. It won the silver of Media Lion. The page numbers on the top of every page of the news paper correspond with statistics that educate the horrible condition of AIDS, like "6 million people in South Africa are living with HIV." or "26% women from 3 to 30 are infected with HIV." The message sinks into the psyche of us all the more because we see them through everyday life. It's an absolutely smart work that only a newspaper can create.
At last, two works from Film Lion. As of this year, the works broadcasted on the Internet can become a candidate, as well as ones on TV commercials. It was a "Test", a Portuguese social advertisement, that caught my breath the most. Both boys wearing waste cloths and a boy dressed up are indeed the same boy, but the fact of how different others attitudes are against each boy, tugs unconsciously at our feelings.
The last one is a bright and cheerful film. Boy Thang Hong Minh carries a torch for EunMi. He disguised his love for a long while, but EunMi speaks her mind bashfully to the camera—"My boyfriend is Thang Hong Minh." And then, taking each other's hands they walk away. Enjoying their tickling smile, the advertising copy appeared: "Our children are colour blind. Shouldn't we keep them that way?" I love all of this film, including the real and balmy message and way of expression.
How did you enjoy all of these works?
They include a guerilla idea and use of technique that makes us aware of nature. All of these works allow a better view of things, and bring positive sympathy to us. The commercial advertisements that lead consumers to buy things are going to change into ones that deliver the necessary messages in a manner benefiting the times. You can't take your eyes off from that shift.
Text: YOSH from greenz
Translation: Tatsuhiko Akutsu
[Help wanted]
Inviting volunteer staff / pro bono for contribution and translation. Please
e-mail
to us.