The second day of the festival starts with the presentation of 50done and friends, a personal project of Rui Vieira, also creative director of Fullsix Portugal. Rui explains the multidisciplinary character of his project by presenting some emerging Portuguese talents in different disciplines, from illustration to motion. Ingrediente X showcase their motion graphics work for Portuguese tv shows and a videoclip for music artist Gomo. Dialéctica is a graphic design studio mostly focused on illustration applied to different surfaces and products. We are able to see their work in Vans and adidas shoes, CDs, t-shirts and exhibitions. This presentation ends with a showreelpresentation by Pedro Pinto.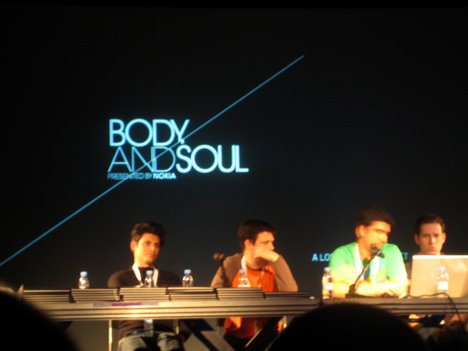 50done and friends

Karlssonwilker is a design studio located in the heart of Manhattan in NYC. Founders Hjalti Karlsson and Jan Wilker offer one of the funniest conferences experienced in OFFF so far. We have the chance to amuse ourselves experiencing some of their work such as the spoken portfolio, a bizarre self-promotion project recorded into an audio tape, where a very boring voice describes the colors and compositions of their own work.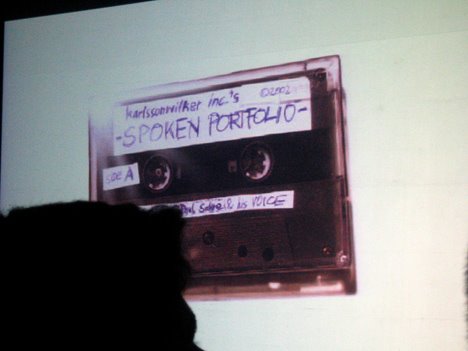 Spoken portfolio by Karlssonwilker Inc.
But the climax of their presentation comes when they tell the audience about a crazy experience they had when they were commissioned to create a calendar for Serbia. They travelled to Serbia for twelve days with the idea to design one calendar's page per day; but they weren't aware and completely underestimated the impact of the project in Serbia and what would come next: official receptions, radio and tv interviews, guided tours, and cameras following them everywhere!
Besides being extremely fun, Hjalti and Jan show their excellence in being highly creative, no matter if the resources available are scarce.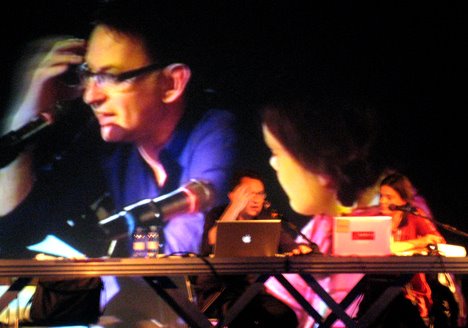 Andy Cameron and Régine Debatty
Andy Cameron and Régine Debatty are on stage. Andy Cameron co-founded the Antirom in London in 1994; and he is currently the creative director at Fabrica, the Benetton research center in Treviso, Italy. Régine Debatty writes about the intersection between art, design and technology on her blog we-make-money-not-art.com as well as on design and art magazines such as Art Review (UK).
Although this conference was supposed to be shaped as an Andy Cameron interview by Régine Debatty, it finally becomes mostly a presentation by the first one. He introduces the beautiful building of Fabrica, restored by Tadao Ando. Andy explains the risk of having the audience as part of the art piece; while he shows some of Fabrica's installation works. The results might be banal, funny, boring but also marvelous, he says, interactive art is not for making big statements, is more about smelling, touching and transmitting feelings.
Régine seems to be in disagreement with last Andy's statement. She also remarks that most of interactive installations are just fun for the users interacting with them, while she enjoys when an interactive installation achieves to be also entertaining for external users looking to it.
There's unfortunately not much time left for the interview, but if you are interested, you better check this out.

Access to Openroom and Loopita (left)
The data visualization panel is moderated by José Luis de Vicente and showcases work from Santiago Ortiz (Bestiario), Aaron Koblin and Manuel Lima.
After an introduction by José Luis; Manuel Lima presents his project visual complexity, a unified resource space for anyone interested in the visualization of complex networks.
Santiago Ortiz presents the new website of Bestiario and some of their latest projects. Bestiario uses Flash to create complex data visualization interfaces published on the web. Aaron Koblin is an artist, designer and researcher focusing on the creation and visualization of human systems. Aaron presents brilliant projects such as The Sheep Market and Ten Thousand Cents, both realized with the drawings by the workers on Amazon's Mechanical Turk. Workers were paid 0.02 ($USD) to "draw a sheep facing to the left"; and 0.01 ($USD) to draw a tiny portion of a 100$ bill without knowledge of the overall task. The results were exhibit in several museums and galleries; and are available for sale. I actually found myself buying a 20 sheep block while writing this piece of text.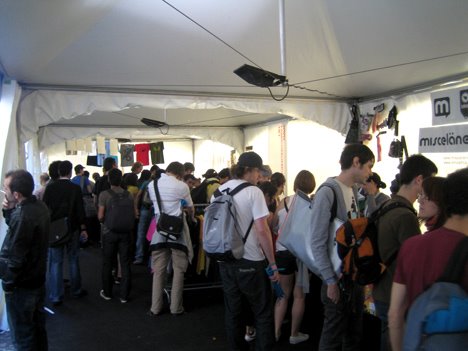 Inside the mercadillo tent
Fakepilot is the alter ego of Swedish motion designer and director Mattias Lindberg. As in his Tokyo presentation, Mattias is being introduced by his alter ego, turning his presentation into some kind of performance or show before his speech.
I am not sure if I really got it; but the strange attitude of Mattias, making fun of some Japanese people in a weird video; and the fact that he spent most of the time showing really old work and their rip-offs, is an unpleasant and most embarrassing experience in my 7 lovely OFFF editions so far.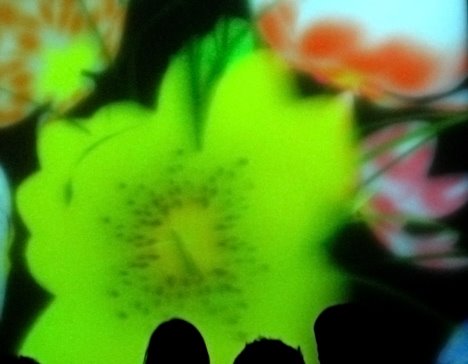 Hana by Andreas Müller
Andreas Müller and Chris O'Shea present their very nice work during the interactive design panel. Andreas talks about Hana, a program for generating flowers with beautiful results that are also exhibit at the OFFF 2008 exhibition (Showplace).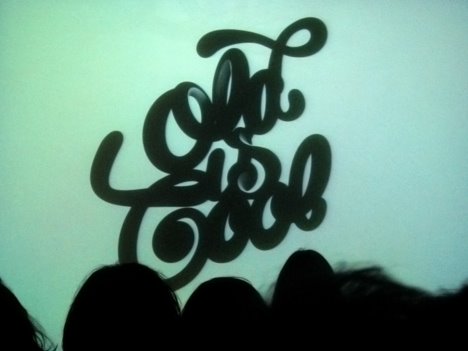 Typographic illustration by Alex Trochut
If I would have to choose one, I would pick out Alex Trochut conference this year. Alex is a type designer and very talented illustrator based in Barcelona. He keeps a humble attitude with a sweet introduction about his grandfather's work. He follows his presentation by showing the process of several typography and illustration work fo clients like Rolling Stones, British Airways, Beautiful Decay, Nike, Channel 4, Diesel, and many more. A very interesting presentation, with very god explanations of the processes involved on his work. He is being constantly applauded and he really deserves it!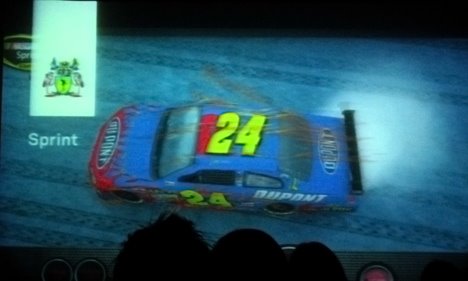 Monster Burnout by Hi-Res!
Second day of the festival comes to the end with the presentation of Hi-Res! Florian Schmidt presents some of the latest work bi hi-res! Probably, the most impressive piece of work is the Monster Burnout, a 3D flash & papervision game developed by Mr.doob.
[NEXT]
[Help wanted]
Inviting volunteer staff / pro bono for contribution and translation. Please
e-mail
to us.