Arsennale is a L-shaped building and the floor plan is like a long and dark corridor which continues to the end. How to use the floor plan cleverly is where a director shows his/her skill and curation. This time, Robert Storr's scenography was cutting the exhibition space into smaller for each artists. Nevertheless, we could see the same theme from the echoes of each separated art work. However, I might say that it was because of the lack of the work, which leaves a strong impression to the viewers in Arsennale. In such a case which every work may leave a light expression to the viewers, the separated exhibition spaces force the viewers to be obligated to face the work individually as "artist (art) vs. myself," and demand them to react and feel slowly. If the structure of exhibition was smooth to see as water flowed, the viewers might pass through without facing the work one by one.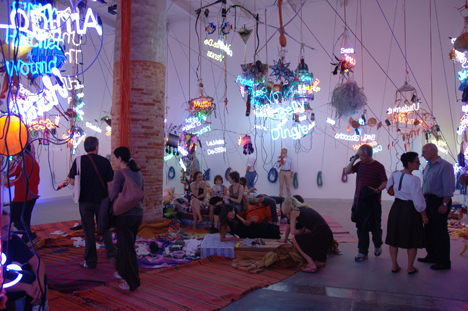 Jason Rhoades. Tijuanatanjierchandelier, 2006. Installation view.
Photo: Giorgio Zucchiatti. Courtesy: Fondazione La Biennale di Venezia
In such a structure, there are some work which gave good accents in the exhibition in Arsennale where I felt some slumps overall. For example, Luca Buvoli's work which surrounds us as soon as we enter, Jason Rhoades's installation in the middle of the gallery, and El Anatsui's curtain of aluminum-can caps which suddenly shows up in front of us when we have just started to feel a little tired after watching two thirds of the exhibition.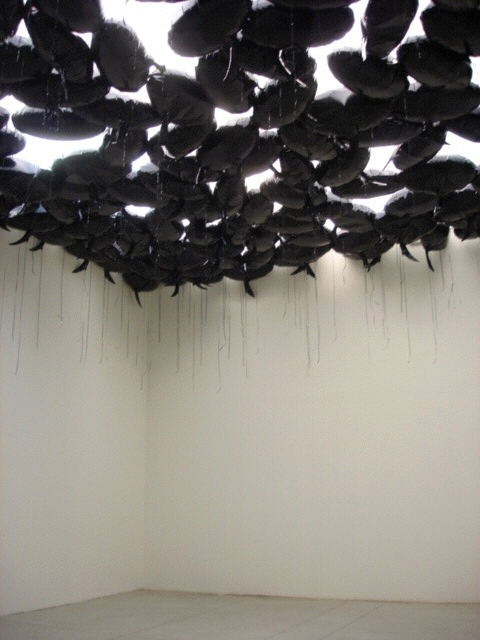 Philippe Parreno. Speech bubbles (black), 2007
And, the last work of Arsennale is Philippe Parreno's installation work called "Speech Bubbles (black)," which inflates a lot of black garbage bags as balloons. The black garbage bags supposed to hold and conceal human's waste. But they are stuck and remain at the ceiling instead of flying away into sky where we cannot see, and we look up the ceiling which is filled with these garbage bags. Moreover, it is an irony that this work is owned by "LVMH," which is a symbol of today's high-consumption society and high-maintenance.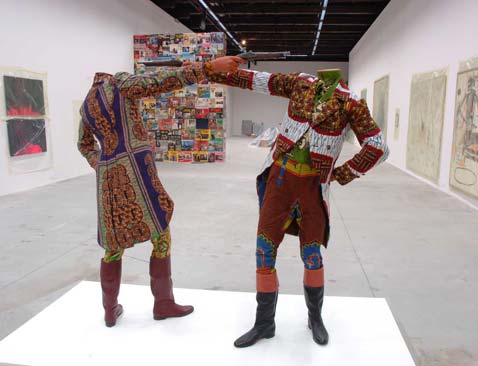 Check List Luanda Pop, Africain Pavillon © La Biennale di Venezia 2007
That is all I introduced the two venues in the Biennale which is curated by Robert Storr. However, there are always some hypocritical parts appearing and disappearing as if we see them in the critics of contemporary society by cultured intellectual Americans. Moreover, without noticing that the main exhibition in Arsennale ended, the viewers get surrounded by the work of the African Pavilion which took place first time this year. Although, Robert Storr supported the project of the African Pavilion, after all the exhibition consists of the collections of Sindika Dokolo, a contemporary art collector. Through this fact, I had a glimpse of the connection between the art market and the Venice Biennale which is not separable, and what an art world, which is on American basis, should be.
52nd Venice Biennale
Date: 10th June – 21st November, 2007
Place: Arsennale, Giardini, Venice
Text and photos: Kana Sunayama
Translation: Fumi Nakamura
[Help wanted]
Inviting volunteer staff / pro bono for contribution and translation. Please
e-mail
to us.