MEDIA OPERA <H />OUR<BR />LINK
What is it that we really see? What sights are we blind to?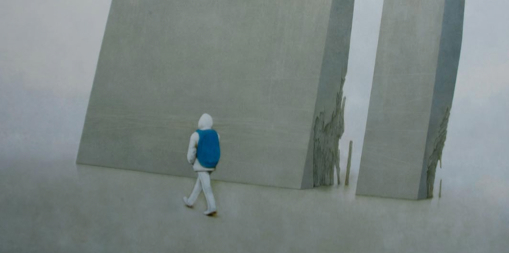 As we stride further into a world defined by digital technologies, with an increasingly rapid flow of information, our sense and perception of reality is also undergoing change.
This "Media Opera <h />our<br />link" provides a flood of sonic and visual information, delivered through 10 speakers placed between the seats, 16 super tweeters hanging from the ceiling, 6 projection screens suspended at various angles and LED light displays filling the space.

Hideaki Takahashi – composer and musician, also known as "mjuc" – developed and created the original concept, and also wrote the script and music for this project. Media artists Kunihiko Matsuo (Cmprocess) and Naoki Hamanaka, an architect, directs the stage visuals, including the multi-projection screens and LED lighting. This is the second time for Matsuo, Hamanaka and Takahashi to collaborate, having previously worked on "Reactive/Creative", a performance with Alessio Silvestrin (ex-dancer of Ballet Frankfurt, directed by William Forsythe) at the ICC, Tokyo in 2004.
Yutaka Fukuoka, a voice performer, plays an important part in the music. He perfectly commands his voice, absorbing influences from various ethnic forms of music and establishes his own unique sound. Fukuoka has collaborated with Takahashi at improvisation live events. Additionally the performance includes German sound creator Uwe Haas, who has unique sound and has collaborate with Takahashi many times.
Another highlight of the event is the strings ensemble that consists of eight musicians. Takahashi, whose roots are not only electronica but also classic, composed this piece of music. In the project, we will see this other aspect of him as a contemporary music composer.
The overall PA engineer is AO, who is recognized as a recordist who gives people the feeling of being at a live performance. He was a recordist / musical recording engineer for the 2007 Cannes' Grand Prix film "The Mourning Forest".
Media Opera <h />our<br />link
Date: November 17 (Sat) Start 19:00 / November 18 (Sun) Start 17:00
Place: Asahi Art Square Hall
Address: 1-23-1 Azuma-bashi, Sumida-ku, Tokyo
Fee: 3,000 yen (in advance) / 3,500 yen (at the door)
Original Idea & Script: Hideaki Takahashi
Direction: Kunihiko Matsuo / Hideaki Takahashi
Music: mjuc (Hideaki Takahashi) Support sound creator: Uwe Haas
Visual: Kunihiko Matsuo, Kenshin Nawa
Projection System Design: Kunihiko Matsuo
Spatial Planning, Lighting System: Naoki Hamanaka
PA: AO
Stage Director: TBA
Promotion Art: Yasuhiko Arakawa
Layout of promotion flyer: Akari Takahashi(aiding)
Sound Effect, Live Processing: mjuc / Uwe Haas
Piano: mjuc
Free Vocalization: Yutaka Fukuoka
String Ensemble:
Vin. Remi Sebori, Tomoko Yoshinari, Kana Yamato, Yoshie Matano
Va. Utaka Fujiwara, Keiko Murata
Vc. Toshiyuki Muranaka, Sho Tomoda
Organizer: Asahi Cafe Night Executive Committee
Special Sponsorship: Asahi Breweries, Ltd.
Tickets & Contact: P3 art and environment (Tel: 03-3353-6866)
Online reservation:http://www.p3.org/aas/
[Help wanted]
Inviting volunteer staff / pro bono for contribution and translation. Please
e-mail
to us.