For the past decade, NTT Inter Communication Center has been a leader in media art. After a change in display format this year, they are once again renewing themselves as "OPEN SPACE 2007". In this iteration, they will be displaying artists and new work, or work that has not yet been published. Looking back on the past ten years and starting afresh on their new first step for the next ten years.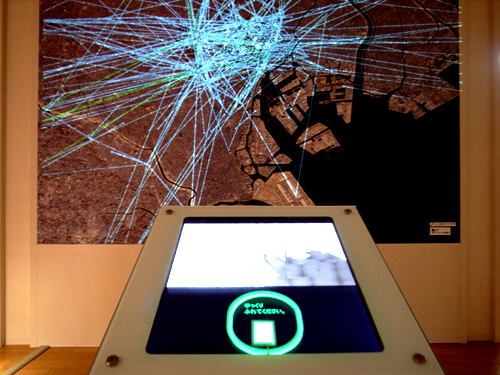 Three works, "sharelog", "Densho-Sakika on goo" and "In-touch" are installed in the entrance to the floor named "Network Zone". Kotaro Hashimoto's ""sharelog" is a work that visualizes your movement's trajectory as a circulation on the work's display which is typified by IC cards such as SUICA and PASMO. The fact that your time and circulation are recorded on an area that you don't notice would shock you. The experience allows you to remember the places you have been, while at the same time giving you an unspeakable horror. As your circulation is visualized on the display, it makes you understand not just the artistic concept but the reality and power of IC cards. These tools which are becoming more and more prevalent could allow anyone to know your movements. If you let your imagination run with delusion, it is possible for this tool to be placed in every train station's automatic ticket gates. The world of Sci Fi movies are becoming reality through technology.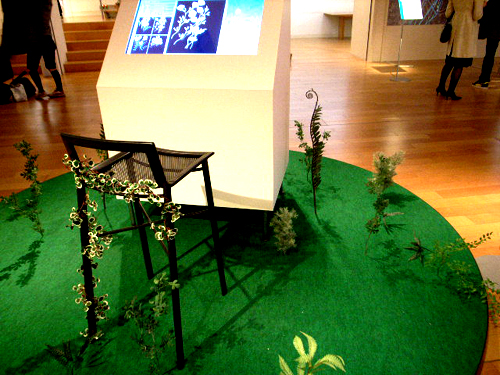 On the other hand, "Densho-Sakika on goo" is romantic software that transforms words into flowers. When you drag-and-drop a word called up from search engine goo, the word converts into a colorful graphic flower. Although various technological applications are built into a program like this, it is not difficult to use. The creator Mariko Ito, born in 1984, is an up and coming artist. Keep your eye's on her!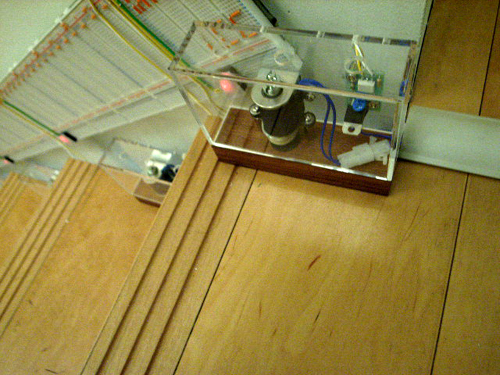 As you move from the "Network Zone" to "Art Technology", you will find an interesting and surprising work in the middle of the stairs. A sound that is not your footsteps is coming from somewhere while you walk up stairs. If you look carefully at each step you will find a motor drive device on both sides. It senses people's movement going up and down and makes a noise. This "Gainer-Kaidan" makes a sound at a slightly different time than from your own footstep and mixes up your senses.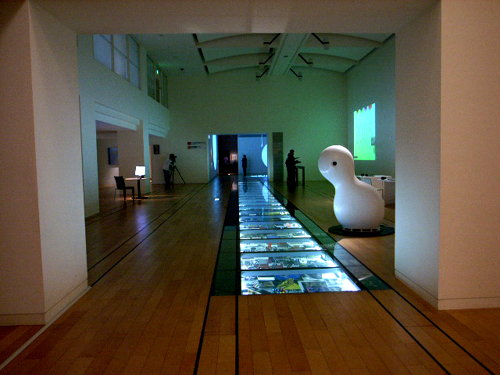 In the "Art Technology Zone", a collection series of works called Media-Art are displayed. One will gain a better understanding of the Media-Art trend by looking at these collections. The picture above shows a few.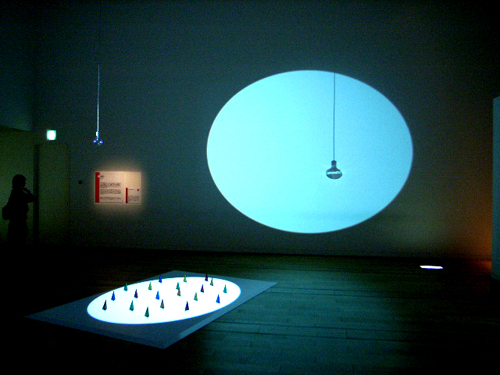 "minim++" 's "KAGE" is an interactive work, utilizing the motif of a shadow, which is mentioned in its title ("KAGE" means "shadow"). The conically-shaped object's shadow, which may not be obvious, is in fact an image projected by a projector. The shape changes by the viewer's action and stimulates the stereo type image of a shadow.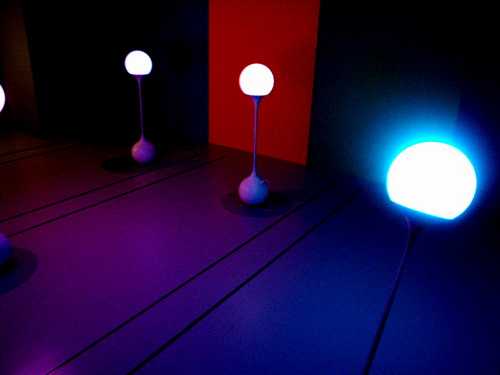 Tsutomu Muto's "Optical Trajectory2" is an interactive lighting installation that may be used as an interior accessory as well. The color of the light changes according to the way you tilt it or move it.
Norimichi Hirakawa's "DriftNet" digitalizes information from an Internet website, converting it into a computer graphic wave.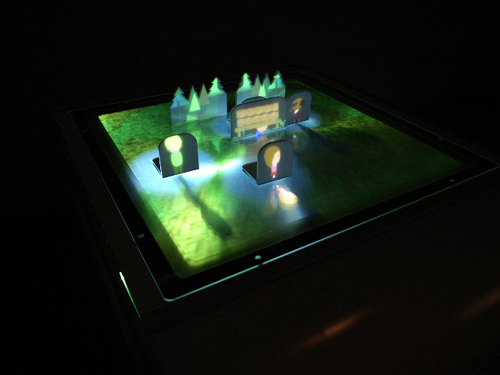 "Tablescape-plus" has several small screens on a lit seat that projects an image of a person or a place. You can freely move the screens and the visualized characters react to the movements. It is like an evolved dollhouse.
As a whole, there were many works that aim to react to the viewer's action. However, this only shows a part of the Media-Art genre. The potential is wide and deep.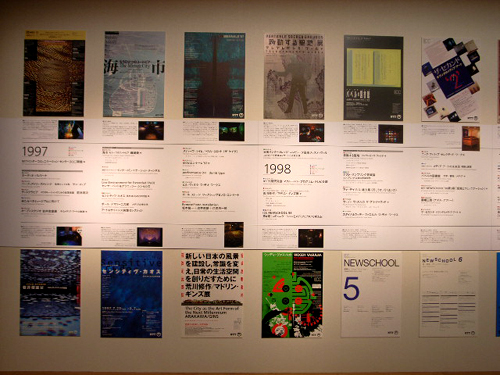 This was just a brief introduction, but if you visit "ICC OPEN SPACE", you would find more works that were not in this introduction. In addition, if you look at "Interactive Chronology" which contains previous archives and the trend of Media-Art through ICC's history, you could deepen your understanding of Media-Art. Symposiums and Live-concerts of guest authors are held regularly as well.
"ICC OPEN SPACE" is a place that shows how technology is blending into our daily life style. In many ways, this relationship is becomes less obvious. Perhaps the notion that many of the pieces described here feedback or react to one's normal life is a sign of how future technology will be incorporated into our daily lives in the future.
ICC OPEN SPACE 2007
Date: April 19th 2007 – March 9th 2008 10:00-18:00 (Enter 30mins before closing time)
Closed: Monday (Next day in the case of national holiday), New Year holidays (12/8 – 1/4), Maintenance days (8/5, 2/10)
Place: NTT Intercommunication-Center (ICC)
Address: Tokyo-Opera-City-Tower 4F 3-20-2 NIshi-Shinjuku, Shinjuku-ku, Tokyo
Tel: 0120-144199 (Free dial)
Admission Free
Presented by: NTT Intercommunication-Center (ICC)
http://www.ntticc.or.jp
Text and Photos: Yasuharu Motomiya
Translation: Tomohiro Hatakeyama
[Help wanted]
Inviting volunteer staff / pro bono for contribution and translation. Please
e-mail
to us.