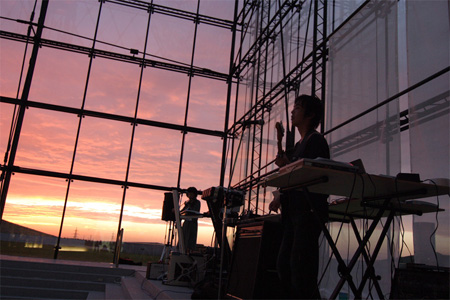 Sapporo's short summer has just arrived. Though I write about this every year, it's a special season for us in Hokkaido to walk on the street wearing just a t-shirt. It's also the season for the nationwide "RISING SUN ROCK FESTIVAL" that will be held in Ishikari in the suburb of Sapporo. But at this time I would like to introduce an art event "MO'ELEMENT," which is going to be held in late August with a preview of autumn art.
The Moerenuma park is located in Sapporo City and its master plan was designed by a world-famous sculptor Isamu Noguchi. The park, which surrounds the pond, offers extraordinary experiences for visitors with its immense site including artistic buildings, glass pyramid, artificial mountain and 30 minutes-long programmed fountain. When I first visited this park, I thought I was lost in the enormous set of science fiction movie. Beautiful artificial buildings in the vast nature have a powerful impact on you, and it seems to suggest the way humans will interact with the city in the future.
The art event "MO'ELEMENT" is held in the glass pyramid in the Moerenuma park. It has been held twice since it was launched in 2004 and last year the event showcased more than 40 pieces of contemporary artwork and live performances over 9 days. Artwork such as 2D/3D objects, film, and live ambient music that were chosen from either professional or amateur artists were all exhibited in the event.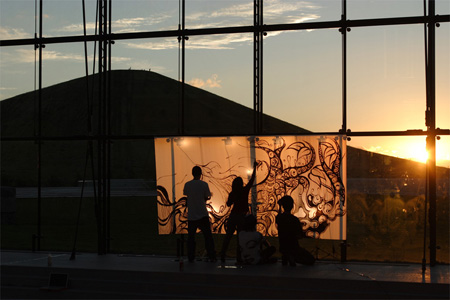 I reported the last event in 2005 in this section. Last year I was involved in producing free paper-like flyers for the exhibition as a member of the PR staff and I was able to make some friends in the executive committee. Therefore, this time I will introduce the executive committee members who host and manage the MO'ELEMENT, as well as the origin of event. I would be glad if you become interested in this event.
The MO'ELEMENT was started by some artists who aimed to present their artwork in the glass pyramid of the Moerenuma park, which is suitable for an art exhibition and live performance. They wanted to have not only a group show with their friends but an on-going art festival in Sapporo. Then they formed the executive committee for the event.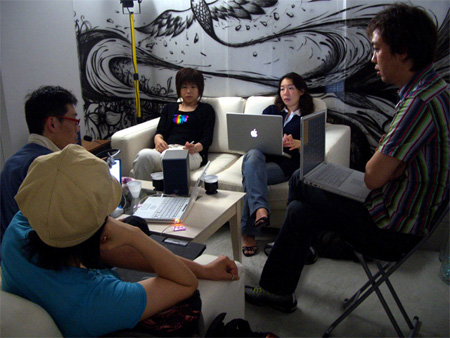 The MO'ELEMENT executive committee members have been voluntary planning and managing the event, while at the same time holding their full-time occupations. Some of them are freelancers and others work for their companies. Many of them engaged in the creative work such as graphic design, film production and illustration. One of the characteristics of the committee is that all members are a manager as well as an artist at the same time. Although a manager, of course, needs not necessarily be artist, there is an advantage for them to bridge the gap between artists and managers because they share the same vision. The age structure of the committee members ranges from late 20s to 30s and the ratio of men and women is half and half. There is only a month till the opening and they have been getting together to have meetings in the staff's office every weekend. Some members who live far away and being busy participate in meetings by using "Skype." I get the impression that the executive committee members do everything, even the detailed part, by themselves and they accept everyone with the positive attitude to join the committee.
If you are interested, please check their website for more details.

MO'ELEMENT 2006
Date: 23rd -27th August, 2006
Place: The Moerenuma Park
Address: 1-1 Moerenuma Park, Higashi-ku, Sapporo, Japan
Admission Free
info@moelement.com
www.moelement.com
Text and photos: Shinichi Ishikawa from Numero Deux
Translation: Toyofumi Miura
[Help wanted]
Inviting volunteer staff / pro bono for contribution and translation. Please
e-mail
to us.