ECHIGO-TSUMARI ART TRIENNIAL 2006
"SEGAE" is to change the flow of a river to straight and landfill for agricultural land. Being forced to increase rice fields, ancestral people in Echigo-Tsumari did a lot of "SEGAE" to carve the flatland. Also the river bottom has a good condition for rice growing. That's what local people told me.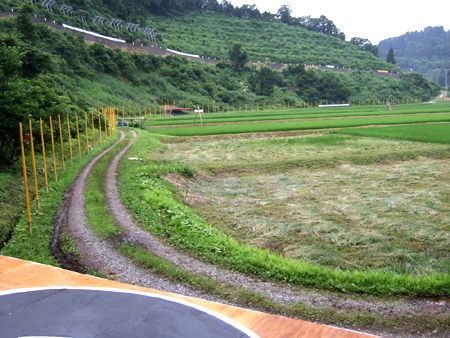 Yukihisa Isobe expressed at the place where "SEGAE" was done in Matsudai area, showing the former flow of a river in 2000 and the former water level in 2003, with yellow poles. This year, using these poles and scaffolds, he created a dynamic circular stage "NOBUGAKUKAIRO" (2006). I saw the flourishing age in the artwork, and severity, hardiness of ancestral people together with the current straight river. On Aug 5th, "World Drum Festival" by drum collectives from all over the world were held at this glorious stage.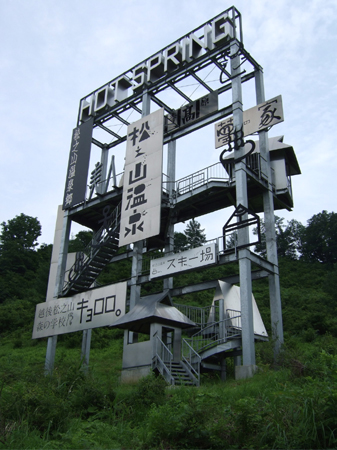 I had no chance to visit Matsunoyama and Kawanishi area this time, and backed off after seeing the vigorous symbol of Matsunoyama, "Step in Plan" (2003) by John Kormeling (text design Katsumi Asada) (the Netherlands/Japan). An artist who had created artworks since 2000 with a theme of the absence of people, Christian Boltanski + Jean Kalman (France) have their work "The Last Class" (2006) in an abandoned school of Matsunoyama. Another featured project by 21 artists at the forefront of different schools of the "IKEBANA (flora art)" is in Koshirakura area in Kawanishi.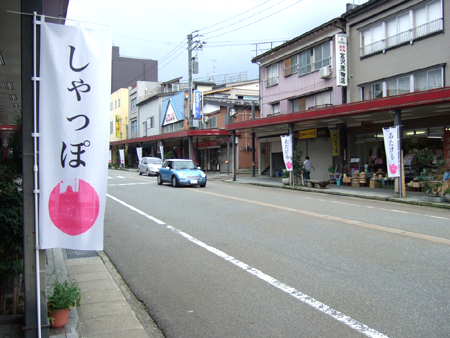 Walking along the station road in Tokamachi, there are Nobori banners lined up with eye-catching Hiragana letters. This is also a part of the artworks, "jiyonnobi banner project" (2006) by Kazuko Kizawa (Japan). These Hiragana carry words in the local dialect and create a rhythm on the street.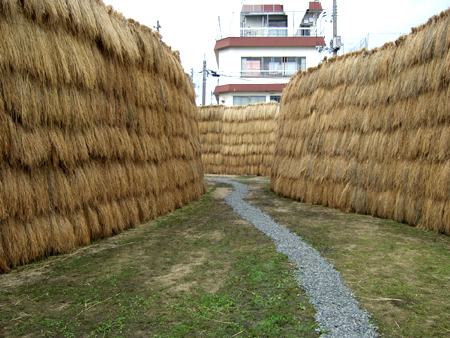 In the same Tokamachi city area, Chiba Univ. Kuryu Lab (Japan) shows "The Alley of Snow" (2006), a space with straws in the height of the highest snow in this area. A fashion show will be held at this place on Aug 10th and 11th.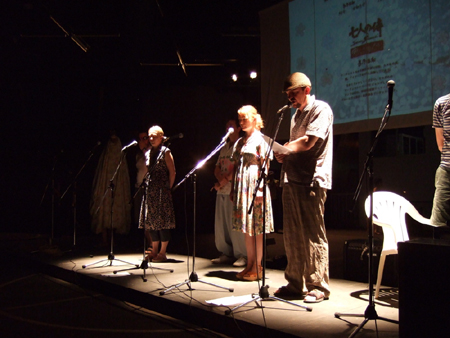 An opening event of Grizedale Arts (UK), "Seven Samurai" was held at the night in "NO BUTAI". They are the artists who are working on projects to help the rebirth of rural areas, based in the lake district in mid-UK. They have lived in Echigo-Tsumari and done agricultural work together with local people, which the fact itself is interpreted as an art. Again, artists, supporters, visitors and local people gathered, and finished up the opening day of the Triennial, while enjoying drinks and foods "KOHEBI" provided.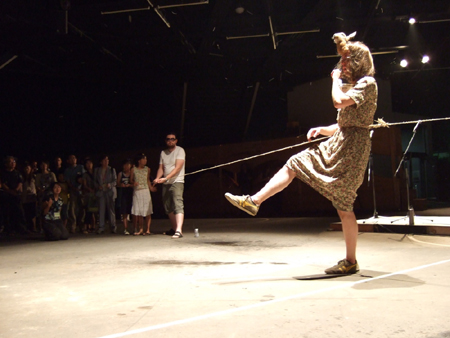 Their performance was sometimes a music live concert, and other times dancing with white colored faces, which was quite cryptic, honestly. However, nobody doubts it as long as seeing happy faces of local people whom the 7 artists were working together. One of the artist showed a performance to listen to the voice coming down from animals. To the question "Will the Triennial succeed?", the answer with a deer's help was YES.
The last place I visited was where the opening ceremony was held, "Kinare" in Tokamachi. The "Kinare" has also a lot of artworks or projects including gates and lines at the parking space. A project "TSUMARING" (2006) was by an artist who likes to walk, Emi Suzuki (Japan). She is drawing a big circle on the ground throughout Tsumari, and there was a map in "Kinare", which points where the artist is on the day. The "Cross Cloth KT" (2006) were cloth works taken in elements from the tradition of Tokamachi, Kimono, designed by Misato Kubo. Her works were beautifully exhibited next to the information center, and also sold as "KOHEBI T-shirts".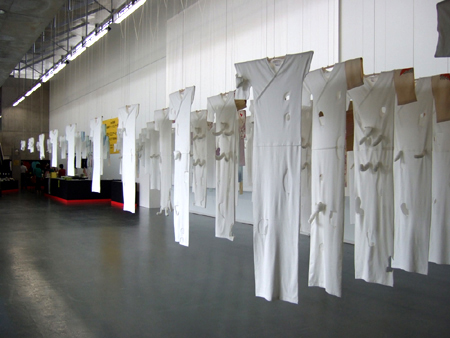 I left Echigo-Tsumari keeping various scenery or words I encountered in my heart after only about 2 days. Too enormous to see all and also to write here. To be honest, I don't have any advice to give you about going around Tsumari. The "Echigo-Tsumari Art Triennial 2006" includes everything your body can feel by actually visiting there. Regardless of the length of stay, the weather, the gorgeous idyll is worth seeing. Either by racing around just to collect the stamps at each artwork, or enjoying one project thoroughly, there must be something you can be touch by. Art or local people's smile are all around even if you are there just to enjoy Onsen (hot spring), or to try Hegisoba's good taste. You might say there that you should have a concrete plan, or that you had a concrete plan but it turned out completely different. Including all those kind of comments, you can be free there. In this regard, however, to get a exclusive guidebook with all the information of the Triennial helped me a lot this time.
It was not art placed in Echigo-Tsumari but the art Echigo-Tsumari brings forth. I was surprised that many artworks were showing the depth of the relationship with Echigo-Tsumari. It is said that there were voices strongly opposed to the Triennial, worried about the destruction of natural scenery or lives. However, this Triennial, started also as a 10 year plan of local revitalization, is still keeping appropriate distance between the nature, people and art, and further provoking a positive chain reaction of communication. Soon I felt "I want to come back home" rather than "I want to visit again".
Echigo-Tsumari Art Triennial 2006
July 23rd – September 10th, 2006 50days
Echigo-Tsumari region (Tokamachi city and Tsunan town), Niigata, Japan
Passport: Adult 3,500yen, College and High School Student/65-year-old and older 2,500yen, Elementary and Junior High Student 800yen
Artworks: 337 artworks by artists from about 46 nations and regions (including lasting artworks from 1st/2nd Triennial)
Organized by: Echigo-Tsumari Art Triennial Secretaroat
Tel: +81-25-757-2637
info@echigo-tsumari.jp
http://www.echigo-tsumari.jp
Text and photos: Yurie Hatano
[Help wanted]
Inviting volunteer staff / pro bono for contribution and translation. Please
e-mail
to us.