ECHIGO-TSUMARI ART TRIENNIAL 2006
I met the most impressive artworks in Ashitaki, Tsunan area. I tried to reach there by a scooter from Tokamachi area, but it was quite difficult, and I thought I could never arrive there. Sometimes I got lost on the way and stood by the Shinano River getting rough due to the heavy rain, with my tired body for a while. You would go across the huge Shinano River, which holds up Tokyo electric power, several times when going around the artworks.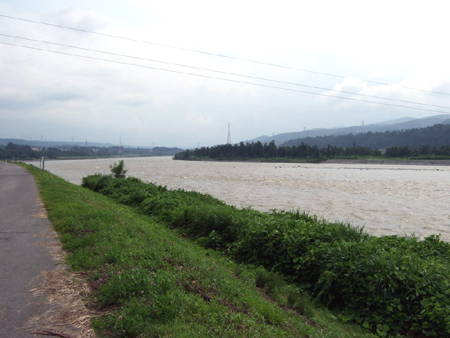 When I talked to artists, visitors or supporters in events, everyone said "that's the best way! feeling winds! anytime you want!", pointing out my moving way. However, I experienced and knew it's definitely really really hard to go over several areas in such short time by a scooter. But at the same time, it might be also the best way to feel the real significance of most comments for this Triennial, "Tired, but refreshed". According to the staffs at rent-a-scooter or bicycle, there is no limitation in distance of moving as long as you bring it back within the time, so it's also good to try it, just taking most care of tunnels. An artist who turns this moving around the area of upload into a project is Yoshiaki Ito (Japan). He organizes a cycling event in Tsumari area, "Tour de Tsumari".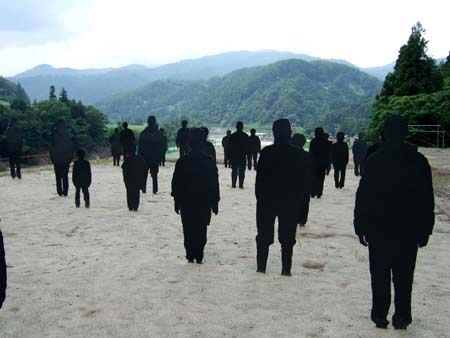 Therefore, the sensation throughout the moving around added to the impression of the artworks in Ashitaki. "Memory-Document, People of Ashitaki" (2006) by Kenji Shimotori (Japan) appeared. It is said the artist became familiar with this village by photographing about 40 people who still live here. He showed the hometown remaining an emotional support for people who left the area. There was a wood box called "TABO-box" aside. Visitors can leave their name and the date on the small cylinder shaped wood "TABO", and knock it with a wooden hammer into another wooden statue, which has many small holes. Is there anyone who will find the SHIFT mark I left there?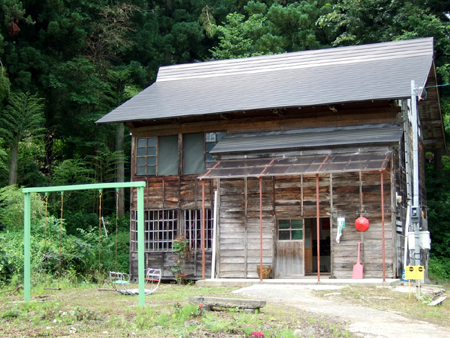 Climbing up a little bit from there, there was a house/museum between private residences, and another 2 artists' works were exhibited inside. The house, which used to be a meeting place of the Ashitaki area, had swings in front, tinged with nostalgia. "Ashitaki Swings, Workshops and Reception" by 3 artists in Ashitaki will be held at this place on Aug 4th.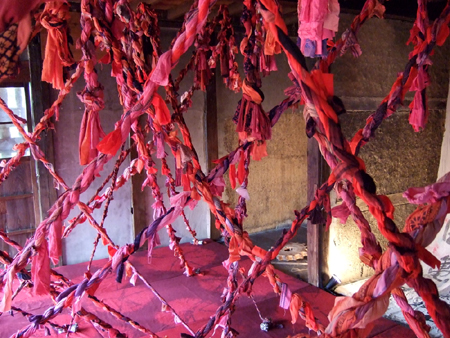 Inside the house-museum, the works by Sugane Hara (Japan), "Bullet/The Sacred House" (2006), were coloring the first floor in red. Ropes made of used, torn cloth dyed in red were hung from the ceiling. The artist had been working on making these ropes with local women. This was a kind of shrine to worship the power of handicrafts, where I unconsciously held my breath.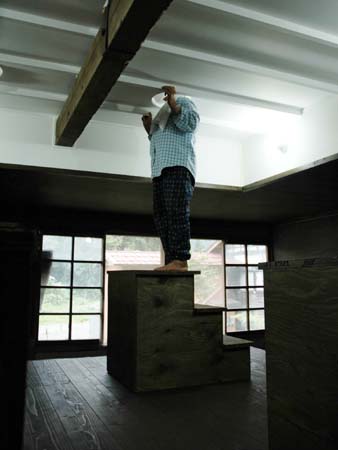 For something different, the second floor was designed with a cute work. This was "Pop-up Project Ashitaki version" (2006) by Mitsuhiro Ikeda (Japan). When you thrust your head into the hole in the ceiling, you will find yourself peeping into the attic and meeting a stranger whether you like it or not. Using video which captures the face expression, the whole room will be full of smiles.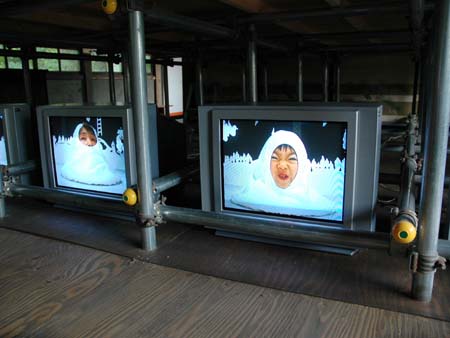 After that, I happened to meet with the artist Mitsuhiro Ikeda in another place away from Ashitaki. He told me that he was working on the project until the very last moment before opening, the difficulties due to the distance between Ashitaki and where he could stay, and also about human kindness of local people in Ashitaki. He is one of the featured artists in 2006, living up to the image of his artwork.
It is said that the whole production was late this year because of the delay of melting snow, and there are still some 2006 artworks, which are not completed yet. Artists also seem to change their time sense once they are in Echigo-Tsumari. Moreover, some artworks depend on the weather too. For example, when I arrived to see the playful artwork by Leandro Erlich (Argentina), "Tsumari's House" (2006), which is focused on the features of houses in this region, it was still covered by a tarpolen. You can get the latest information at each stage, but it would be also good and precious experience to meet with the artist while in the midst of production.
[NEXT]
[Help wanted]
Inviting volunteer staff / pro bono for contribution and translation. Please
e-mail
to us.