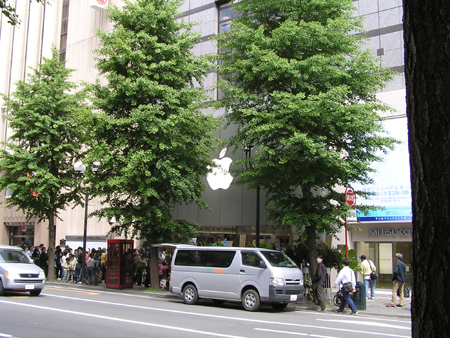 The fourth week of June. Sapporo became warm. There are two hot topics around me. One is the World Cup, and the other is shop opening of "Apple Store Sapporo".
"Apple Store" is a direct shop of "Apple Japan, Inc." They have spread all over the world, and Sapporo shop becomes seventh store in Japan, 151st store in the world.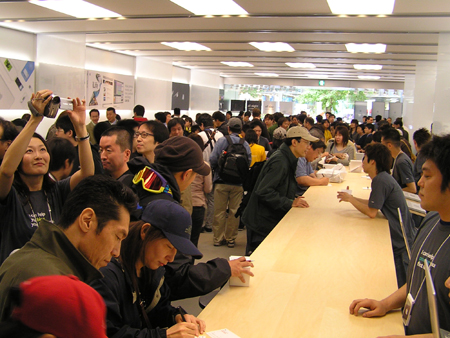 "Apple Store Sapporo" is located in the best district of the city, the next to "Mitsukoshi" on the main street, across the street from Parco and Alta, fashionable place where many young people go. Originally there was a book store called "Maruzen" there. They closed a construction site, so we were not able to watch it. Although there was no official announcement, the media reported on the possibility of Apple Store Sapporo's open after the Maruzen left. They enlivened "Apple Store" coming with a huge advertisement of "iPod" hanged on in front of "Mitsukoshi", and also many long and slender life-sized posters around in first floor.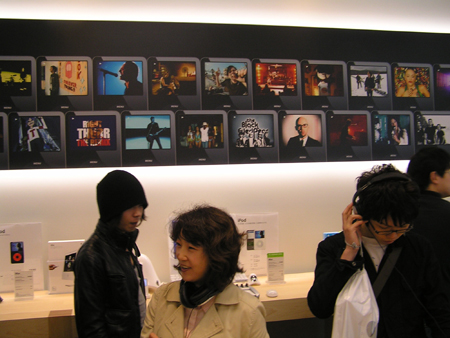 The official announcement for the opening was at 10:00 on Saturday, 24th of June, on the Apple web site, and it was a week before their opening. While going home, I passed by the store at about 22:00 of the day before the opening. I saw inside of store in the middle of preparations. A few people already started making line. At 9:30 on that day of the opening, there was already long waiting line. Lot of reporters waited for opening, too.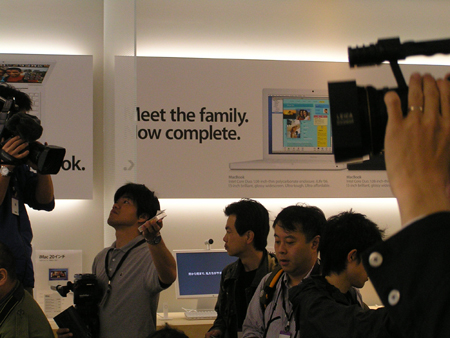 Various people from young people, big fan of Apple to like business man were in the huge line. The line became longer and longer. It seemed to reach to the next town. Finally, "Apple Store Sapporo" opened just on time. Customers come in the store with welcome. They got a present of t-shirt in a box in order of arrival. In addition, they released a limited amount of "iPod case" of the design that the pattern of Ainu and the bear had the salmon in one's mouth as commemoration.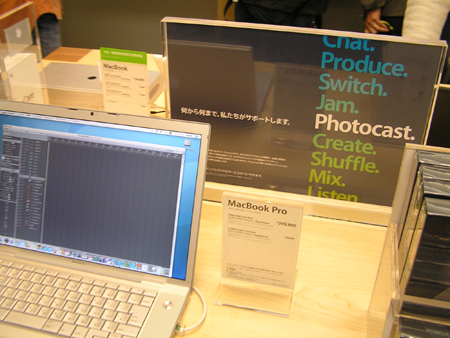 When we enter the store from main entrance, we can look over the whole floor; about 330 square meters. In the front of store, the latest lineup of Apple Computer is exhibited. You can freely look around and touch it.
The interior is quite simple. Posters on the wall are elaborated. Their atmosphere is like a stylish select shop. It can be even a good place for a date couple.
There are customer service, a cash register and a section of software in the rear of the shop. Besides sale/support of Apple product, they have workshops for beginners to professionals everyday. Whichever for beginners or professionals, the workshops are about creative stuff like video and photography and whatnot… that is very Apple like. Above all, it's free. Moreover, they regularly have events with some guest creator, musician, photographer, and visual artist.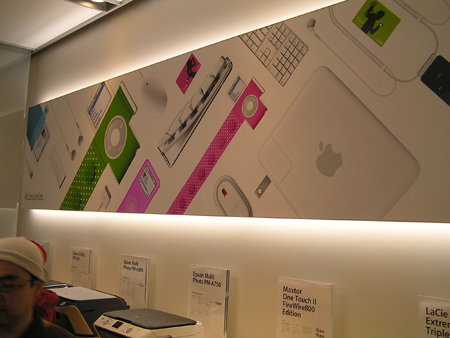 We could buy Apple products in the large-scale electric stores in the city. However, it gets excited with familiarity and expectations to Apple when I see a big logo mark of the Apple store in such a city. I could see that all people have the same feelings that had queued up for the opening. I was expected that Apple Store, such a real and creative place, could give the good culture influence for the entire Sapporo. I am looking forward to see ing more development of Apple Computer, such as a great success of "iPod" and new release of "Boot camp" which will make it possible to use Windows with Mac. I strongly recommend for people who haven't been familiar with Apple products to go to the store . You will have a great time with kind shop assistants

Apple Store Sapporo
Address: QB Sapporo, 8-20, South 1 West 3, Chuo-ku, Sapporo
Open: 10:00-20:00
http://www.apple.com/jp/retail/
Text and photos: Shinichi Ishikawa from Numero Deux
Translation: Naoko Wowsugi
[Help wanted]
Inviting volunteer staff / pro bono for contribution and translation. Please
e-mail
to us.