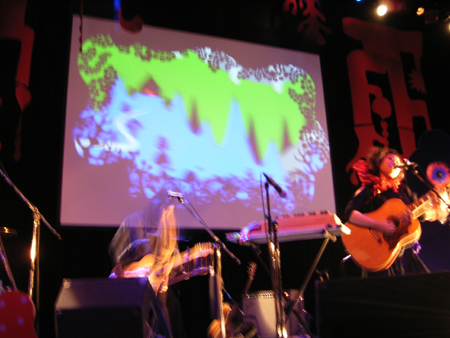 "MEETS" is an entertainment project, started in 2005, that introduces the art and culture of Hokkaido to people. A CD&DVD, containing Hokkaido based artists, has also been released and two other related events have occurred. The 2nd event "LIVE MEETS" has been featured in this INFO – WORLD SAPPORO.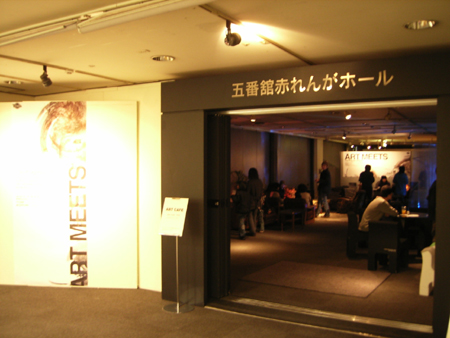 This time, the new event "ART MEETS" was held. Its concept is a transmission of arts in which the artists in Hokkaido from various fields such as music, illustration, fine art, image, space decoration and so on are amalgamated. Concretely speaking, it consisted of two halves: "ART STAGE", live performances by three groups of Hokkaido based artists and "ART CAFE". The venue was Gobankan Akarenga Hall, which is in the 7th floor of the department store Sapporo Loft in front of Sapporo Station. It is a versatile hall, which has a stage and sloping audience seats. The event started at 1:30 PM. "ART MEETS" was free and consisted of people in their 20's and 30's. It seemed that there were more women than men.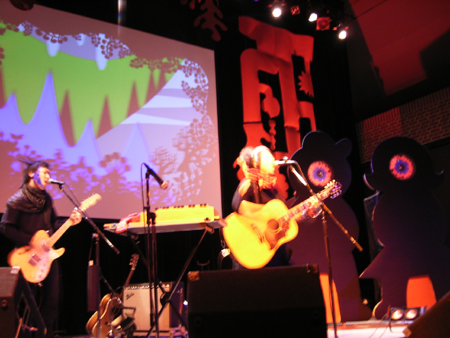 The stage kicked off at 2 PM. The 1st artist, which appeared on the stage, was "Buffalo", whose new album was recently released. It had an unusual composition consisting of two guitarists and vocalists. Its sound had individuality, in which strange and hard feelings meshed together. It was a rare taste for a musical group in Hokkaido. The illustrator Chisato Shinya created the illustration for the jacket of the new album. She did the theatrical design for this day as well and created two objects about 2 meters high, inspired by the members of the group. An original movie with a projector was played at the same time with the performance. This live performance was elaborately staged, for which various creative elements that symbolize this event were associated.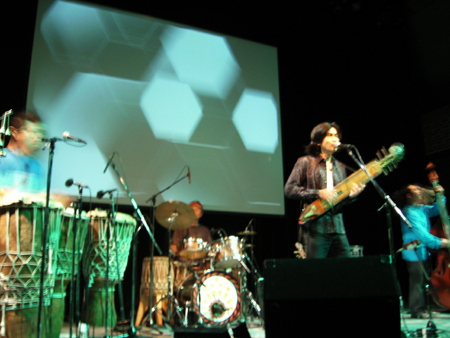 The next group was "OKI DUB AINU BAND", which was lead by OKI, who played Tonkori, an Ainu string instrument from Sakhalin, with VJ "CAD" Ishida. As for a live performance with traditional instruments, we tend to imagine a kind of academic air like sound. However, they had a powerful live performance as instruments from the present worked in wonderful tandem with the traditional instruments. The MC between tunes was humorous and it aroused the audience. They make wide-ranging and energetic live performances not only in Hokkaido but also throughout the country and overseas.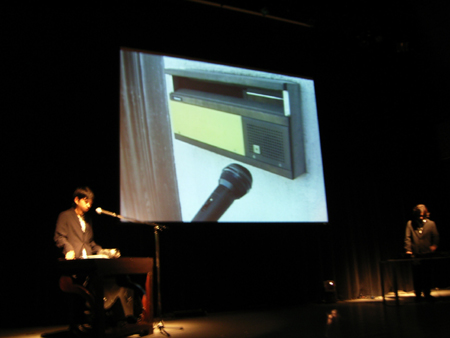 The last act was "scherzo", Masaki Kagajo's project. Since the start of his action in 1999, he arranges images that everyone should have seen and changes it into humorous expressions with images and narration, and in some cases creates a skit. He performs not only in Sapporo but also throughout the country. This time the composition was simple and there were Masaki KAGAJO at the right, a screen at the center and Fuminori Kagajo, who works on sound and is his younger brother. Many people should have experienced scherzo for the first time. I suppose this could be a good sample.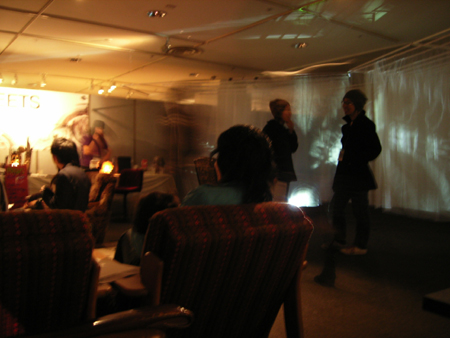 There appeared "ART CAFE", a space for communion in a room the size of about a medium assembly room adjacent to the great hall. The room was staffed by "PROVO" an eating and drinking place within the city. The interiors of sofas, tables and so on were carried from the place for this day, so there was good mood. A movie screened on cloth was prepared for interior, too. An interesting component to the room was that the movie changed according to the selection of a visitor by the tablet in front of the screen. Also, a live painting by "YOMI" was also created. After the performances on the stage, this space was opened for a long time and there were artists and visitors chatting over drinks.
Though I wasn't able to introduce all of them, many other artists in Hokkaido participated in this event as stagehands. If creators, who seldom have contact with people in other fields unite under the guise of an event and continue a good relationship after it, creative activity in Hokkaido will be aroused. I felt this "ART MEETS" was a good occasion. Also, I want to notice the development of "MEETS" in the future.
ART MEETS
Date: 4th December, 2005
Place: Gobankan Akarenga Hall(7th floor of Sapporo Loft)
Presented by: The Hokkaido Shimbun Press
Performance: Buffalo, OKI DUB AINUBAND + CAD., scherzo
http://www.meetshokkaido.jp
Text and Photos: Shinichi Ishikawa from Numero Deux
Translation: Yuhei Kikuchi
[Help wanted]
Inviting volunteer staff / pro bono for contribution and translation. Please
e-mail
to us.