There are many reasons why most Hong Kong people don't have pets– their flats are too small, their housing estate rules are too strict, the animals themselves are too dirty. But despite these real-life impediments, many Hong Kongers continue a passionate love affair with pets in their imagination. Take a look at a typical 7-11 newsstand: you'll see a proliferation of pet and pet fashion magazines (like Post Pet, featuring a jauntily-dressed Chow-Chow on this month's cover). Stroll around a mall and you'll notice distinctly domesticated-animal themed clothing brands and shops (like the preppy label Ceu, whose tagline is "The Dog!") But to truly witness the power of pet-fantasy in the Hong Kong psyche, take a tour of Causeway Bay's pet cafes.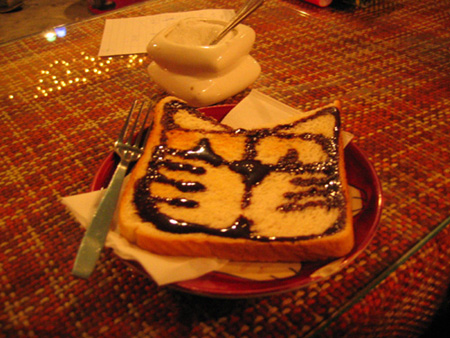 On Kingston Street, if you don't get sidetracked by the glittering boutiques of I.T.'s fashion empire, you might just stumble across "Cat Store." Located on the second-floor (like many of these cafes), Cat Store appears at first to just be a shop filled with every kind of conceivable product related to cats-cat t-shirts, cat jewelry, cat cameras, cat CD-cases, etc. But wander a bit further inside, past the sliding doors of the appropriately-named "Meow Cafe", and you'll see the shop's visual theme come to life, in the form of about 15 cats sleeping, darting, rubbing, jumping and, occasionally, meowing everywhere. Seat yourself at one of the shabby but cozy sofas and order a coffee or "Meow Toast" (in the shape of a cat's face with chocolate syrup whiskers). Don't order milk, though-it might prove too big of a temptation for the adorably chubby tabby cat seated next to you (although the cats do seem to be remarkably well-trained, and I've only once seen them sniffing very mischievously in the direction of a customer's plate). On certain nights you can catch local indie (and extremely cat-friendly) music acts like Edmund Leung and Goodmorningloria perform, and enjoy some soft guitars with your soft furry friends. It must be said that the cats at Cat Store are a bit aloof at times, and don't have any responsibility to cuddle with you (sometimes they are far too content to cuddle on top of a warm TV or amp, without humans bothering them).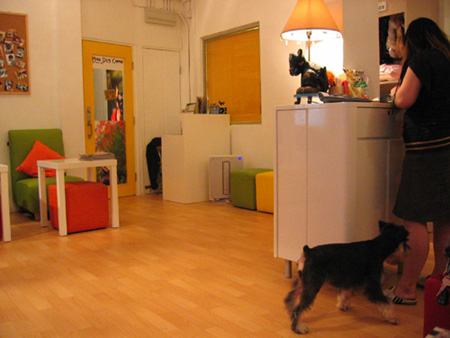 Next stop, "Mad Dog Come: Life with Dog," which is dedicated to Schnausers and has an entirely different vibe than Cat Store's scruffy feline Bohemianism. Instead of weather-beaten couches and chipped wooden tables, plaid patterns and dusty knick-knacks, you'll find gallery-white walls and mod plastic stools, bright geometric patterns and primary-colored couches. Perhaps because Schnausers are dogs, and a sleek German breed at that, Mad Dog Come's interior reflects the same snappy, Teutonic aesthetic with bold colors and shapes to appeal to the canine toy-chewer in all of us. Here, the food items are limited, but the desserts are divine (the chocolate fudge cake made me worry in such close proximity to dogs, as it is a poison to them) and the coffee delicious. Blue, V.V. and Martin are the owner's dogs, and they roam freely around the tables in their chic little raincoats, sometimes stopping to be petted, or, if they're not in the right mood, to growl at each other. Other Schnauser enthusiasts can bring their dogs as well, and there seemed an uneasy peace between the animals, as they are not known to be the most social of dog breeds. But as Schnausers are currently the trendiest dogs in Hong Kong, "Mad Dog Come" is certain to grow in popularity (with hopefully no major dog fights).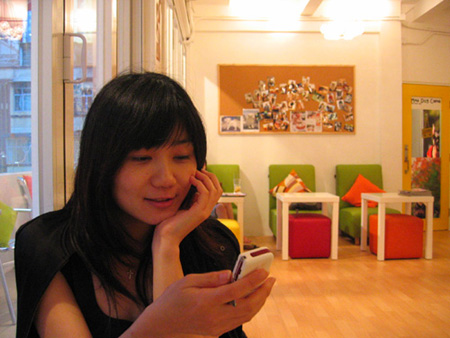 Finally, "Rex Pet/Coffee," where I have never actually been able to order a coffee, since every time I try there seems to be a private party happening ("A private party for dogs or for people?" you might ask, and I'm not sure, because the people always seem to be outnumbered). Though many dogs visit this cafe, they have to stay in a glass enclosure towards the back, except for Rex, the German Spitz of the owner who is permitted to walk around as he pleases.
And just when you thought that three pet cafes were enough for one city, consider the website I just found for Doggylandhk.com, which lists what appear to be a good dozen more such cafes, with such tantalizing names as "Chihuahua Star River" and "Bullmania," "Zoo Zoo Workshop" and "Petogether." So many pet cafes, so little time.
Cat Store
Address: Shop 1, 1/F Kingston building,2-4 Kingston Street, Causeway Bay
Tel: (852) 2710 9953
Mad Dog Come
Address: 3/F, Pennington Road across from 2% Boutique, Causeway Bay
Tel: (852) 2838 3252
Rex Pet/Coffee Shop
Address: 2/F Russell Street, across from Times Square, near People's Bookstore, Causeway Bay
Text and Photos: Samantha Culp
[Help wanted]
Inviting volunteer staff / pro bono for contribution and translation. Please
e-mail
to us.